Russ Cochran comic art auction catalogues -- complete run, 1979 to 2008
Cochran, Russ (1937 -- 2020). A complete run of over 100 auction catalogues by this influential comic book publisher and dealer. West Plains, Mo.: Russ Cochran, 1979 -- 2008. 8½ x 11 in, 8 to 16 pp. each; over 2,600 pages total. Heavily illustrated. Some pencil annotations by the previous owner, a distinguished comic historian. With a few exceptions, the collection is generally in fine condition.


This collection of catalogues comprises the following materials:


1. Russ Cochran's Monthly Original Art List, issues 1 (March 1979) through 7 (May 1980). 8½ x 11 in, folded and stapled. Believed to be a complete run. Numbers 3, 4 and 5 comprise a single issue.


2. Russ Cochran's Comic Art Auction, numbers 1 (October 1980) through 85 (December 2008), the complete run of this historic catalog, with the prices realized for every auction except 47, 48, 56, and 85. (Price for these particular sale may not have been distributed).


3. The Mad Auction Catalog, numbers 1 (October 1986) through 16 (April 1992), the complete run.

4. The Gaines EC File Copies Catalogue.
(DATE?)

8 pp. This list offered Bill Gaines's file copies of the EC comics for sale for the first time. Includes prices realized.

5. Diamond International Galleries "Big Finale" Catalog. [1994]. 32 page, slick paper catalog. Represents "the last original EC comics art available from the Cochran collection" according to the introductory page. 


     An invaluable resource for tracing the provenance of original comic art, these extensively illustrated catalogues feature work by such comic book and comic strip artists as Carl Barks, Milton Caniff, Roy Crane, Johnny Craig, Jack Davis, Will Elder, Virgil Finlay, Harold Foster, Frank Frazetta, Chester Gould, George Herriman, Burne Hogarth, Graham Ingels, Jack Kamen, Bernard Krigstein, Harvey Kurtzman, Alex Raymond, Walt Kelly, Frank King, Roy Krenkel, Winsor McCay, Charles Schultz, E. C. Segar, Cliff Sterrett, Wally Wood, Berni Wrightson, and many others. 
     As the influential publisher of boxed reprints of EC Comics, Russ Cochran worked closely with William "Bill" Gaines (1922-1992), as well as many artists, historians, and fans. Predating auctions of comic art by Sotheby's, Christie's, and Heritage, Cochran's auctions represent the first time that the vast majority of these materials were offered for sale.
     Not represented in institutional collections, and distributed to a relatively small group of collectors, a complete set of Russ Cochran's catalogues would be very difficult to assemble today.


Provenance: From the collection of John Benson, editor of the long-running comic fanzine Squa Tront. Benson's many publications include historical essays first published in Russ Cochran's boxed sets of EC comics.
---
Recommend this product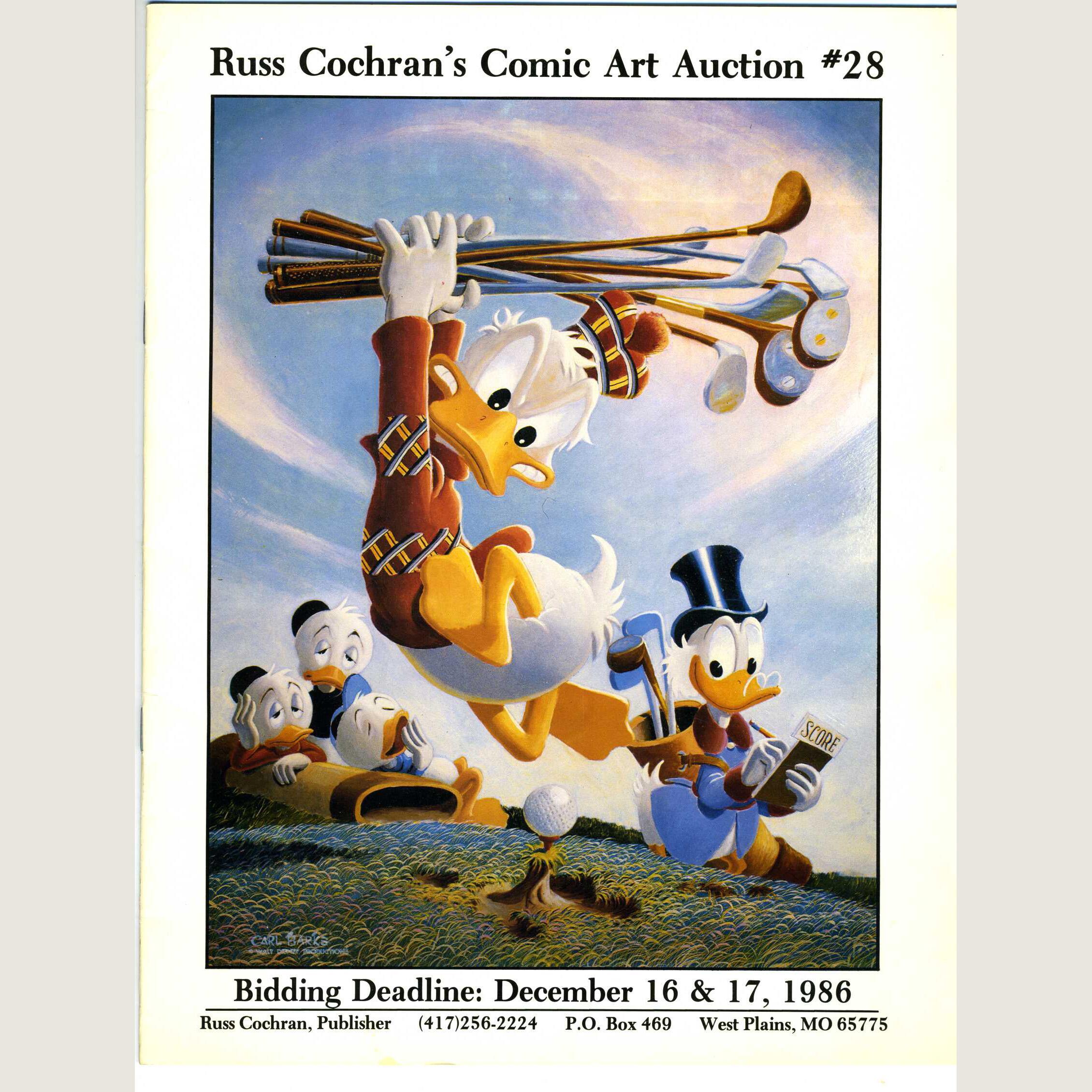 Russ Cochran comic art auction catalogues -- complete run, 1979 to 2008