The original art for A Dark Adapted Eye by Barbara Vine / Ruth Rendell, winner of the Edgar Award
Sciacca, Thomas; Ruth Rendell (1930 – 2015). A Dark-Adapted Eye, 1986. Acrylic on Masonite. 13 ¾ x 11 ½ in. (central image: 11 ½ x 8 ½ in.). Some soiling to white border and light wear to extremities, but the central image is fresh and bright.


The original painting for the cover of the first American edition of the novel by Ruth Rendell, the first of fourteen books she would publish under the pseudonym Barbara Vine. A psychological thriller centered on tragic family secrets, A Dark-Adapted Eye is now considered a modern classic. In her introduction to a 2016 edition of the novel, Val McDermid credited the book for changing the literary landscape. 


"From our vantage point of thirty years distance, it's hard to remember how strikingly ground-breaking A Dark-Adapted Eye was. No other crime writer was producing anything so emotionally and psychologically complex at the time." -- Val McDermid



The book won the Edgar Award for best novel of the year from the Mystery Writers of America. It was adapted for television by the BBC in 1994.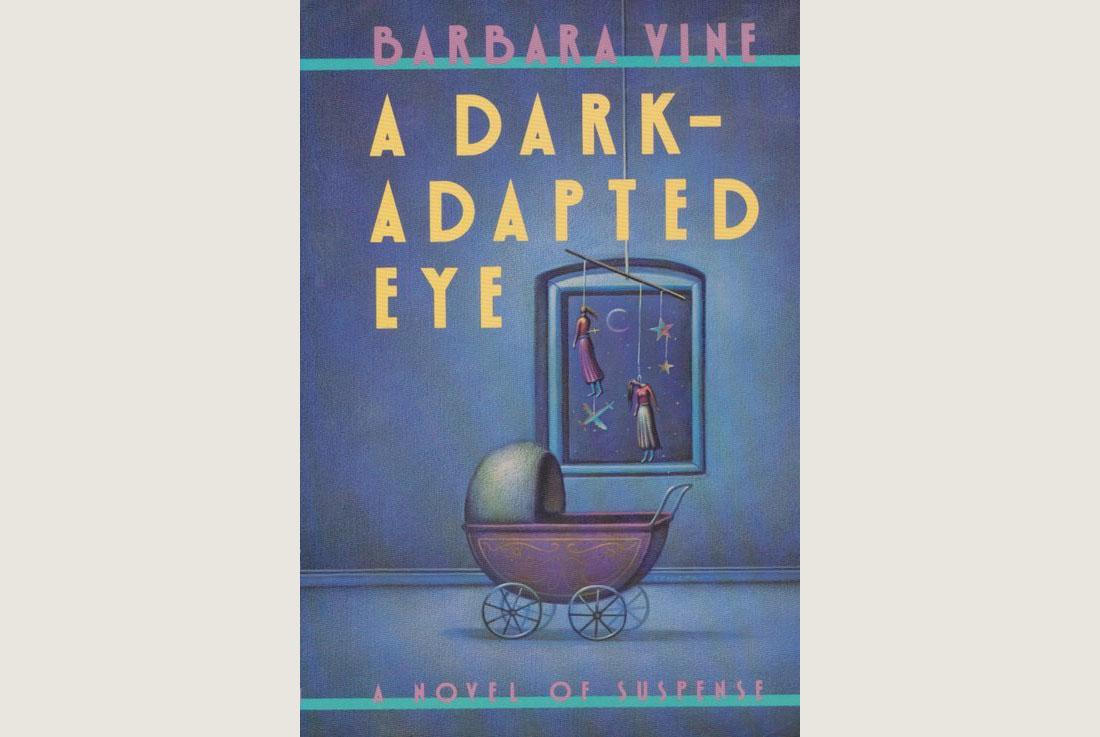 The first American edition of A Dark-Adapted Eye (New York: Bantam, 1986)


The simple but exquisitely detailed painted by Thomas Sciacca captures perfectly the sense of oppressive dread Rendell achieves in her novel without resorting to hackneyed imagery. There is nothing overtly horrific in Sciacca's powerful and understated work. The empty baby carriage, the hanging dolls, and the mobile set slightly askew act as discordant notes to emphasize the greater sense of unease that the artist creates primarily through his darkly luminous palette.
To appreciate the subtlety of Sciacca's approach, compare it with the cover for the first British edition, which piled cliché upon cliché -- a noose, hanging in a closet, reflected in the pupil of an eye open wide in terror, of someone spying in the dark. Surely, any one of those elements would have been enough!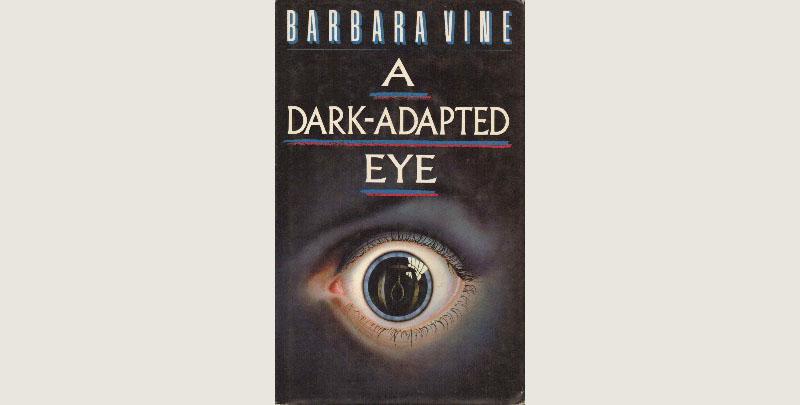 The first British edition (London: Viking, 1986)
A 1985 graduate of the School of Visual Arts in New York City, Thomas Sciaccia has had a long career as an illustrator and designer. Writing in 2020, the artist described his approach:


As a professional illustrator since 1984, my job was (and is) to be an effective communicator. To create images that catch and hold the attention of readers and viewers, while conveying some clear message related to the article, book, show, or product. The more I've done this, the greater my appreciation for communicating clearly and directly, with as little information as possible. Showing only the relevant information, in ways appealing and inviting. Naturally, I am capable of great amounts of detail, and complexity—the type of complexity which works in a context when viewers have time to spend with such an image. When asked to design a poster, or book cover, I look to simplicity. To come up with perhaps, a single element image, aiming at high impact-something which viewers may easily remember, long after they've seen it. With any of my work, comes the question, 'how much detail is necessary?' I ask this based on the project, but in broader terms, I consider what all that I want my work to convey.
My approach with any project, is to establish an emotional/psychological climate. I reach for specific music to listen to, related to that climate, or mood. This with color, and how my subjects are placed within the composition. While there may be descriptive details necessary to the subject, I prefer not to allow detail to call too much attention to itself. I likewise prefer not to call attention to technique(s). Whatever all I put into the picture, it is all there to support the greater emotional mood.
The artists who I've spent time with, caught my attention for what they showed-and as importantly, for what they left out. . . .  [T]hese artists used architecture, color, and compositional devices to evoke powerful emotions.
The emotional intensity of Sciacca's art makes it a perfect complement to Rendell's harrowing narrative.
Selected References
---
Recommend this product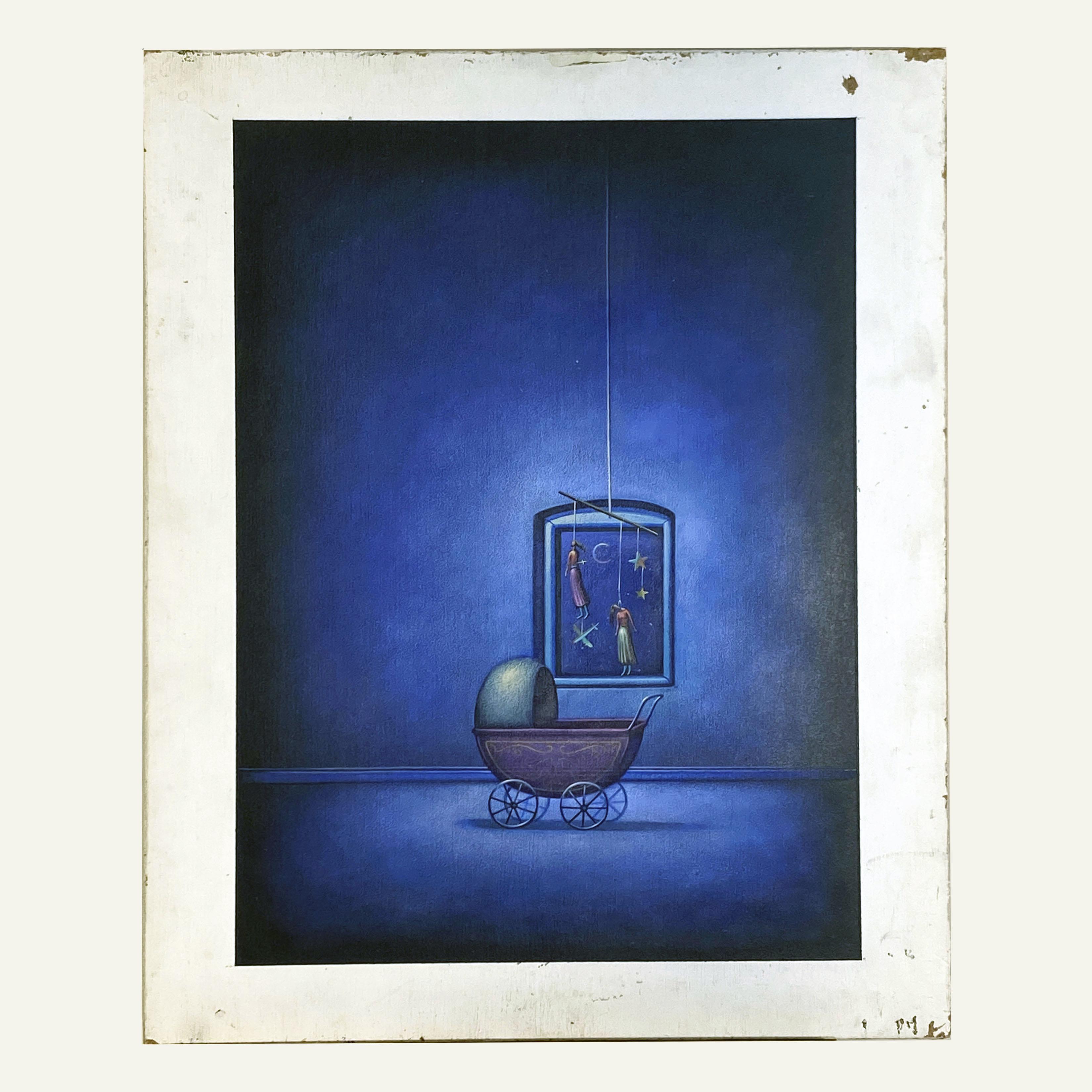 The original art for A Dark Adapted Eye by Barbara Vine / Ruth Rendell, winner of the Edgar Award