A bathhouse poster by Howard Cruse advocating safe sex
Cruse, Howard (1944 – 2019). Great Sex! Don't Let AIDS Stop It / Great Sex is Healthy Sex! New York: Safer Sex Committee, 1984. Photo offset poster, 22 x 15½ inches, 56 x 39.5 cm. Mint condition.


The Committee on Safer Sex was an offshoot of the Gay Men's Health Crisis. In response to an effort to shut down the bathhouses that many feared was a primary vector of the AIDS virus, the Committee produced educational materials aimed at promoting healthy practices within a sex-positive environment.
The much-lauded cartoonist Howard Cruse founded Gay Comix in 1980, but he was best known to the gay community for his comic series Wendel, serialized in The Advocate, a long-running LGBT magazine. The actor Ian McKellan gave voice to popular opinion when he said, "Everybody loves Wendel." Cruse's masterwork, Stuck Rubber Baby (1995), a graphic novel about coming out in the American South during the Civil Rights era, has won many accolades in the United States and abroad, including the Prix de la critique at Angoulême, the Cannes of the comic world.
This candid and charming poster thus represented a celebrity endorsement of sorts for safe sex, and an upbeat response to a mounting climate of fear. The poster had very limited distribution within New York City's bathhouses, most of which were indeed closed down in 1986.  A rare survival, with no copies listed on Worldcat.
NOTE: All proceeds from the sale of this poster will go to Cruse's husband, Ed Sedarbaum.
Selected References
Kunka, Andrew J. The life and comics of Howard Cruse: taking risks in the service of truth (Rutgers University Press, 2022)
Utell, Janine. Howard Cruse (University Press of Mississippi, 2023)
---
Recommend this product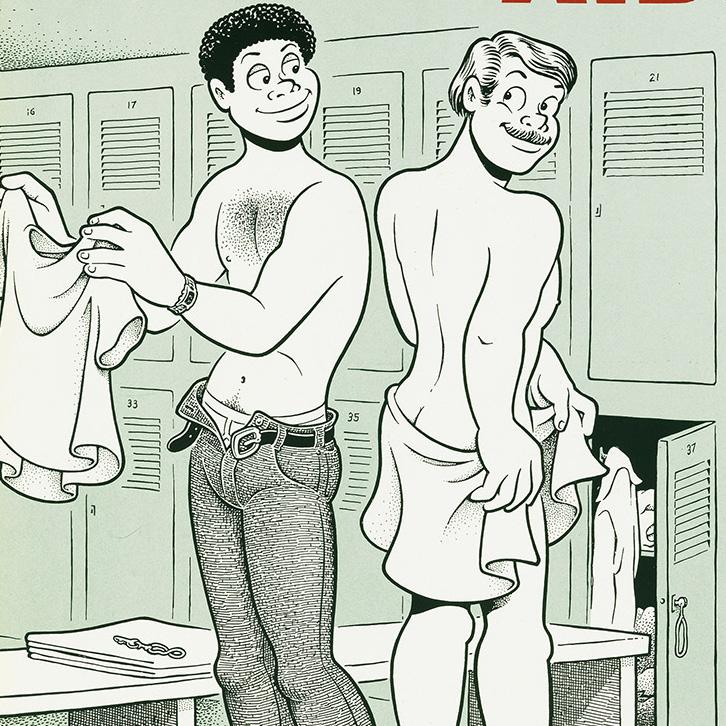 A bathhouse poster by Howard Cruse advocating safe sex