James Tissot, Gouache study of St. Mark
TISSOT, James Jacques Joseph (1836-1902).  Saint Mark, ca. 1886-1894. Brush with opaque (gouache) and transparent watercolor on cream paper, signed in the recto, J. J. Tissot, visible area 123 x 97 mm (about 4¾ x 3¾ in). In original mat with gilded window, about 407 x 318 mm (16 x 12½ in); the edges of the mat are chipped; signature of Thomas H. Hubbard on verso. Framed.
      A superb study in miniature by the great genre painter, depicting Saint Mark as a Jewish scribe at work on the gospel. The final painting, in colors, is lightly larger (15.2 x 117 mm, 6 x 4⅝), and was published in La Vie de Notre Seigneur Jesus Christ (Tours: Alfred Mame, 1896), volume I, p. 143. It now hangs in the Brooklyn Museum.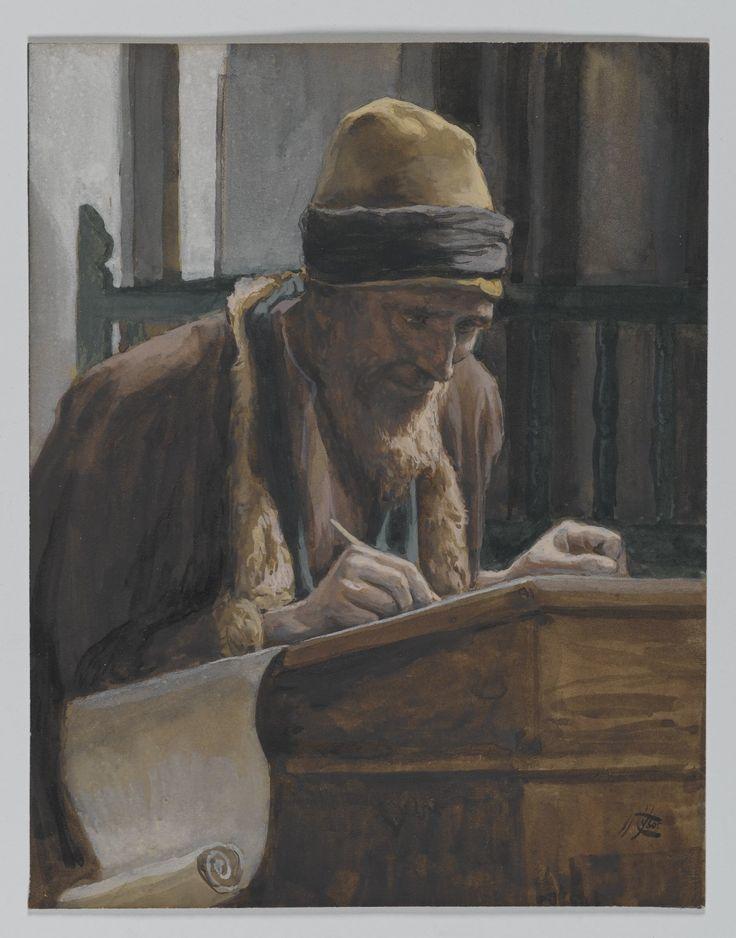 Tissot, St. Mark (Brooklyn Museum)
     Jacques Joseph Tissot, who anglicized his name as James, made his fame with paintings of women of fashion.  But in 1885, he rediscovered his faith – and Spiritualism – and turned to biblical subjects.  Inspired by new scholarship that treated Jesus as a historical subject rooted in a particular time and culture, as well as by recent work by William Holman Hunt and other British painters, he determined that his paintings would strive for an archeological accuracy whose realism would have a spiritual impact more profound than Dore's biblical dreamscapes. Between 1885 and 1896, he made three trips to the Middle East to conduct his research, taking photographs and making innumerable sketches of people, buildings, and landscapes in large albums, now lost.  As he told an interviewer for McClure's in 1899, for his New Testament series he based Christ's clothing on that of the Bedouins, and Mary's on the dress of Syrian women in Bethlehem and villages near Jerusalem. The kippot of his Jewish subjects, including that of the scribe of in this drawing, were modeled on the taqiyah of Mizrahi villagers rather than the yarmulkes of Ashkenazi tradition.For his representation of St. Mark, Tissot evoked one of the most iconic motifs in Jewish art, especially of Eastern European tradition: a scholar poring over a sacred text. The artist was well aware of the importance of the book in Jewish life. His painting Jésus dans la synagogue déroule le livre (illustrating Lk 4:16-24) portrayed Christ not as a priest delivering a homily, but as a reader unrolling a Torah scroll.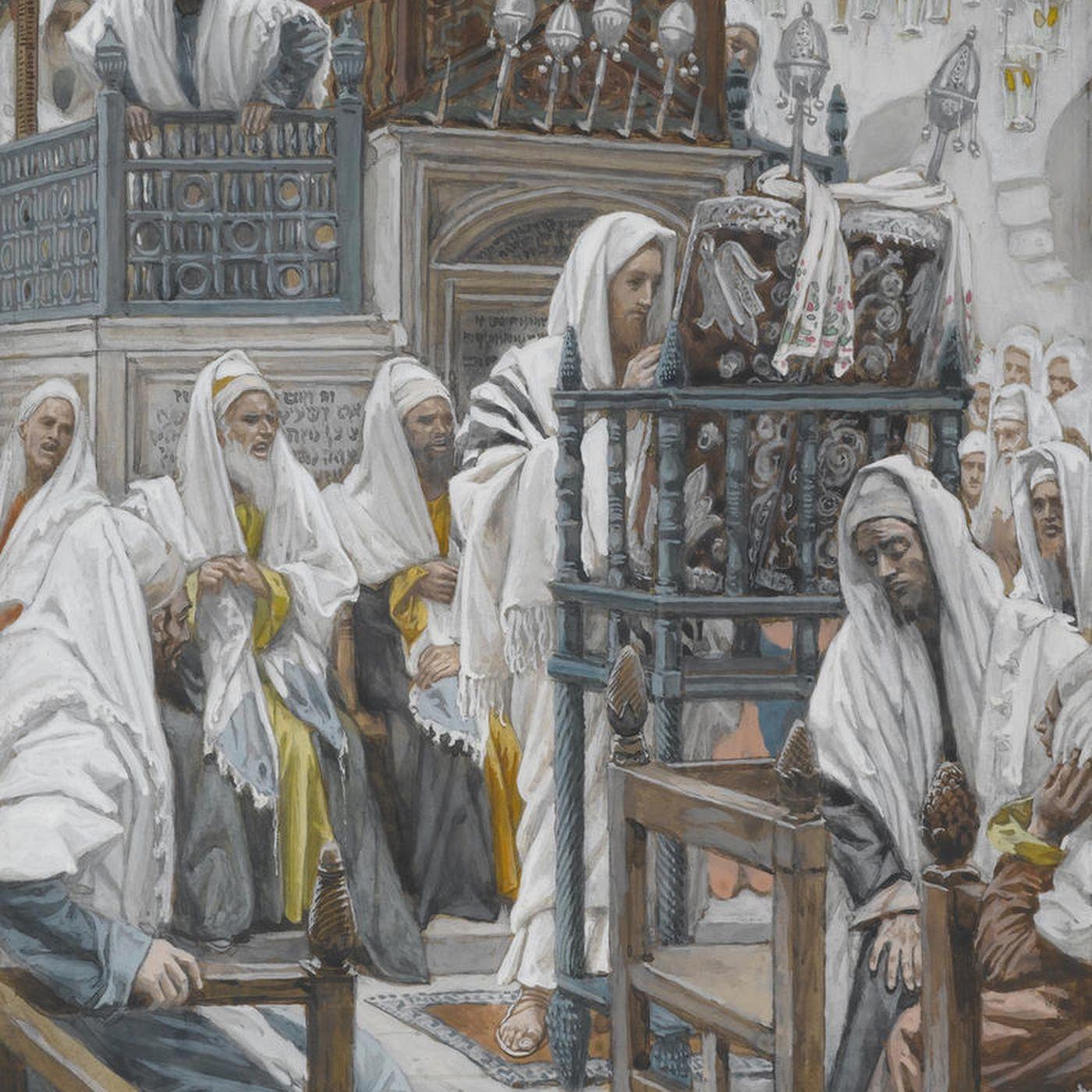 Tissot,  Jésus dans la synagogue déroule le livre, detail (Brooklyn Museum)
     The Orientalist assumption that modern life and fashions in the Middle East had not changed in 2000 years worked both ways. Although Tissot aimed to treat his subjects with respect, some viewers regarded them with disdain. In 1898, a correspondent for the Brooklyn Daily Eagle wrote that the artist represented the Jews of Jesus's time perfectly: "They are poorly fed, they are sallow, they are unwholesome in their aspect, they wear the long, slouchy, unwashed gowns and skull caps that are still used in Palestine; their hair is greasy and inhabited; they are, in brief, the type that one discovers in Hester street."
     Most modern critics tend to dismiss Tissot's religious works as a lamentable detour from his more vivacious canvases. (One is reminded of Ezra Pound's scornful couplet on T. S. Eliot's conversion: "Let us lament the psychosis / Of all those who abandon the Muses for Moses.")  But his religious paintings reached a much wider audience, and were met with vigorous enthusiasm.  His suite of 365 paintings illustrating the New Testament was first exhibited in Paris in 1894, at the dawn of the Dreyfus affair. Touring London, New York, Chicago, St. Louis, Philadelphia, Omaha, and elsewhere, the exhibition brought in $100,000 in entrance fees. The two-volume La Vie de Notre Seigneur Jesus Christ (Tours: Alfred Mame, 1896) was printed with the most sophisticated processes then available, and the sales earned him a million francs. Degas, who had once painted a portrait of Tissot, sniffed that erstwhile friend was "a merchant in Christ's temple," but McClure's praised him as "a mystic and seer of visions."  At John Singer Sargent's instigation, a public subscription was taken up in 1900 to purchase the entire suite for $60,000 for the Brooklyn Museum. The twenty deluxe copies of the "Imperial Memorial Edition" of Tissot's Old Testament sold for up to $5000 each.
     Tissot's imagery remains active in today's cultural imagination.  His works did much to redefine the popular image of Jesus as a Semite (rather than a European), and as a manly rather than a feminized figure. The early film La Passion (1906) by pioneering director Alice Guy-Blaché, was based on Tissot's work, and D. W. Griffith used his paintings to design his set for Intolerance (1916). Tissot's depictions of the Ark of the Covenant (Jos. 3:17) served as the model for the object of Indiana Jones's first quest. As Christopher Wood notes, "Tissot's final, unlikely apotheosis was in the twentieth-century cinema."
     The verso of the mat bears the signature of the original owner, Thomas Hamlin Hubbard (1838-1915).  A graduate of Bowdoin College and Albany Law School, Hubbard served in the Union Army, where he rose to the rank of colonel, and later promoted to the honorary grade of brevet brigadier general. He balanced his numerous business interests with philanthropy.  Among his works was the Hubbard Free Library, and he was a major funder of the arctic expeditions of fellow Bowdoin alumnus Robert E. Peary. Cape Thomas Hubbard on Grant Land facing the North Pole is named in his honor.  His wife, Sibyl Fahnestock Hubbard, was one of the American subscribers for the deluxe edition of La Vie de Notre Seigneur Jesus Christ.
     An important work at the juncture of biblical history, European Orientalism, American culture, the Catholic revival, and Jewish studies, and a pleasing image besides, free of schmaltz.
Select References
Dolkart, Judith F., ed. James Tissot: The Life of Christ: The Complete set of 350 Watercolors (New York : Merrell Publishers, 2009)
"General Thomas H. Hubbard," The Outlook 110 (9 June 1915) 292-93
Moffett, Cleveland. "J. J. Tissot and his Paintings of the Life of Christ," McClure's Magazine 12 (March 1899): 386-96
Tissot, J. James. La Vie de Notre Seigneur Jesus Christ, 2 vols. (Tours: Alfred Mame, 1896)
Wood, Christopher. Tissot: The Life and Work of Jacques Joseph Tissot, 1836-1902 (Boston: Little, Brown, 1986)
---
Recommend this product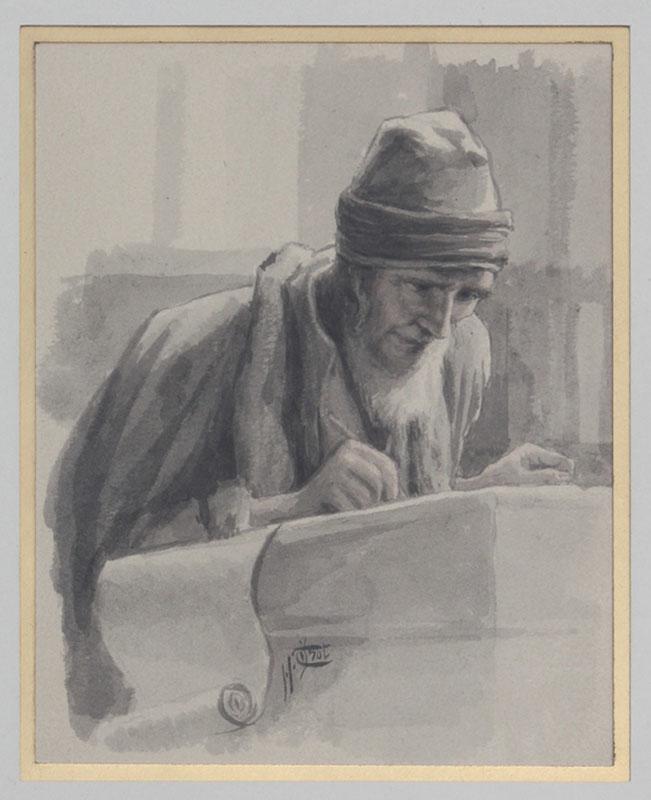 James Tissot, Gouache study of St. Mark