An original copper engraving plate prepared under the supervision of James McNeill Whistler (1880)
Corwin, Charles Abel (1857–1938), Scene in Venice (1880). Original engraved copper plate, 8 ½ x 5 ½ in. Signed in the plate at bottom left corner: "Corwin Venice 1880."   Some discoloration to metal from an old rubber band.
     Charles Abel Corwin was, along with Otto Backer, John Henry Twachtman, and John White Alexander, a student of Frank Duveneck, who founded a painting school in Munich in 1877. William Dean Howells would immortalize the "Duveneck Boys" in his novel, Indian Summer. Duveneck's students spent their winters in Florence and their summers in Venice, where they met Whistler and turned to etching. The work of Duveneck's students in the summer of 1880 were executed under the tutelage of the famous artist, and his influence is evident in many of the etchings they produced.
     Although Corwin is little celebrated today, he was among the most accomplished of Duveneck's Boys.  Born in Newburgh, New York, he enrolled in Cooper Union in 1875. His monotype portrait of Whistler, now at the Metropolitan Museum of New York, is widely regarded as the most compelling portrait of the artist during his Venetian period. As Daniel E. Sutherland noted, "As a study of Whistler's character, stripped of all publicly contrived flamboyance and eccentricities, Corwin's drawing would never be equaled."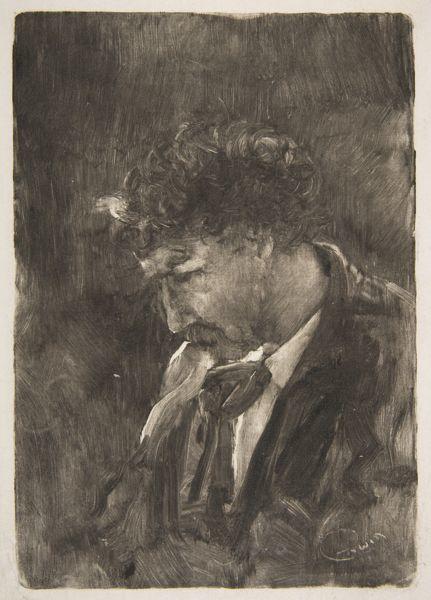 Corwin, Portrait of Whistler (Metropolitan Museum of Art)
     Corwin's etching, executed under Whistler's tutelage, depicts young men swimming in a narrow backwater of a poor neighborhood of the Venezia minore. Completed in 1880, it was exhibited first in 1881 and published in 1885.

The original plate (left) and the etching published by Sylvester Rosa Koehler in 1885 (not included)
     In his sumptuous volume on the art of etching, Sylvester Rosa Koehler treats Corwin as a student not of Duveneck but of Whistler, and discusses this work specifically:
One is in doubt whether to include Mr. James M'N. Whistler among the artists of America or not. I venture to mention him here, as he is an American by birth, and has exercised considerable influence on a number of American etchers. . . . [There follows a discussion of Frank Duveneck, noting that his work lacks the expressiveness of the master] . . . What is true of Mr. Duveneck is true to an even greater degree of the other followers and disciples of Mr. Whistler, and yet I do not wish to say that they have not produced interesting work. The proof to the contrary is furnished by the two plates which accompany these remarks – both of them scenes in Venice, -- by Mr. Otto H. Bacher and Mr. Charles Corwin. . . . [There follows a discussion of an etching by Bacher, originally intended for publication in American Art Review, but printed in this volume instead] . . . Mr. Corwin's plate, bought at the same time and originally for the same purpose as Mr. Bacher's, is equally interesting, although the scene and the effect are quite different. The figures of the young water rats about to take a bath in the canal, are full of life and character, and show that Mr. Corwin has a good understanding of the figure. He does not seem to be a very prolific artist, but this plate, in spite of its spottiness, especially in the foreground, makes one desirous of seeing more of his work. (Koehler 1885, pp. 162-163)

Detail of the plate and the published etching
     Later, Corwin would paint murals and oils for Frank Lloyd Wright, whose partner Cecil Corwin was the artist's brother.  Corwin's mural, Fisherman and the Genii, executed under Wright's direction for the Tavern Room of Midway Gardens, has been cited as the abstract precursor to Wright's later figural designs.  Corwin taught at the Art Institute of Chicago, and finished his career painting backdrops to dioramas at the Field Museum in Chicago.
     This plate appears to have come from the collection of Sylvester Rosa Koehler, who organized both the exhibition and the book. Koehler was a great champion of etching as a medium for high art. He promoted the medium through several monographs, in the pages of the journal he edited, American Art Review (1879-1881) and through the collection he built at the Museum of Fine Arts in Boston, where he served as the first curator of prints.  Koehler originally intended the plate for use in his journal, but ended up publishing it instead in his book, Etching: An outline of its technical processes and its history, with some remarks on collections and collecting. A letter from Corwin to Koehler thanking him for the purchase of the plate is preserved in the Smithsonian's Archives of American Art.
     This copperplate represents Corwin's earliest surviving work.  In the absence of plates by Whistler himself, this example by one of his students represents the best physical evidence for Whistler's techniques.
References
Sylvester Rosa Koehler papers, 1833-1904, bulk 1870-1890. Archives of American Art, Smithsonian Institution. Box 1, Folder 89
Sylvester Rosa Koehler, Exhibition of American etchings, April 11th to May 9th, 1881 (Boston: Alfred Mudge & Son, 1881), cat 78, 79
Sylvester Rosa Koehler, Etching: An outline of its technical processes and its history, with some remarks on collections and collecting (New York, 1885), p. 163
Eric Denker Whistler and His Circle in Venice. Corcoran Gallery of Art, Washington, DC, February 8 - May 5, 2003, fig. no. 103, ill.
Penny Fowler, Frank Lloyd Wright: Graphic Artist (Pomegranate, 2002)
Mark Simpson, Venice, Whistler, and the American Others, in Linda Merrill, ed., After Whistler: The Artist and His Influence on American Painting (High Museum of Art / Yale University Press, 2003), 32-49
Daniel E. Sutherland, Whistler: A Life for Art's Sake (Yale University Press, 2014).
---
Recommend this product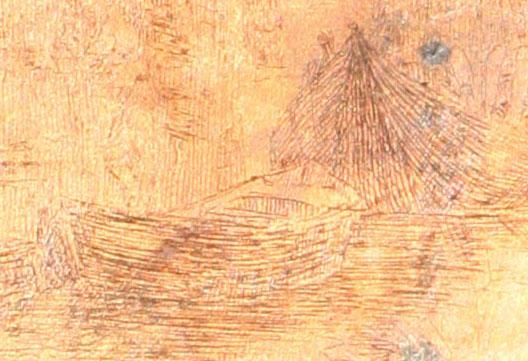 An original copper engraving plate prepared under the supervision of James McNeill Whistler (1880)