Strickland Lowry, John Sebastian Miller, and David Teniers: trompe l'œil, transmission, and transformation
Lowry, Strickland (1737 – c.1785). L'Ecole Flamande. Oil on canvas. 14 ½  x 20 inches; 17 ½ x 23 inches including frame. "S.L." in Gothic letters to rear of canvas.
Born at Whitehaven in Cumberland, Strickland Lowry moved to Belfast around 1762, and spent much of the rest of his life in Ireland. "The surprising fact," notes Anne Crookshank and the Knight of Glin, is that despite the fact that Lowry enjoyed the patronage of several landed families, "he remained very poor." He did decorative work as well as portraits. These skills came together in several remarkable trompe l'œil paintings that depict engravings pinned to boards. Two are in the National Gallery of Ireland, Dublin (n.1 and no. 2 below), a third is in the Hunt Collection, Limerick (n.3), a fourth was auctioned at Sotheby's in 2008 (n.4), and a fifth was sold recently by Daniel Hunt Fine Art (n.5).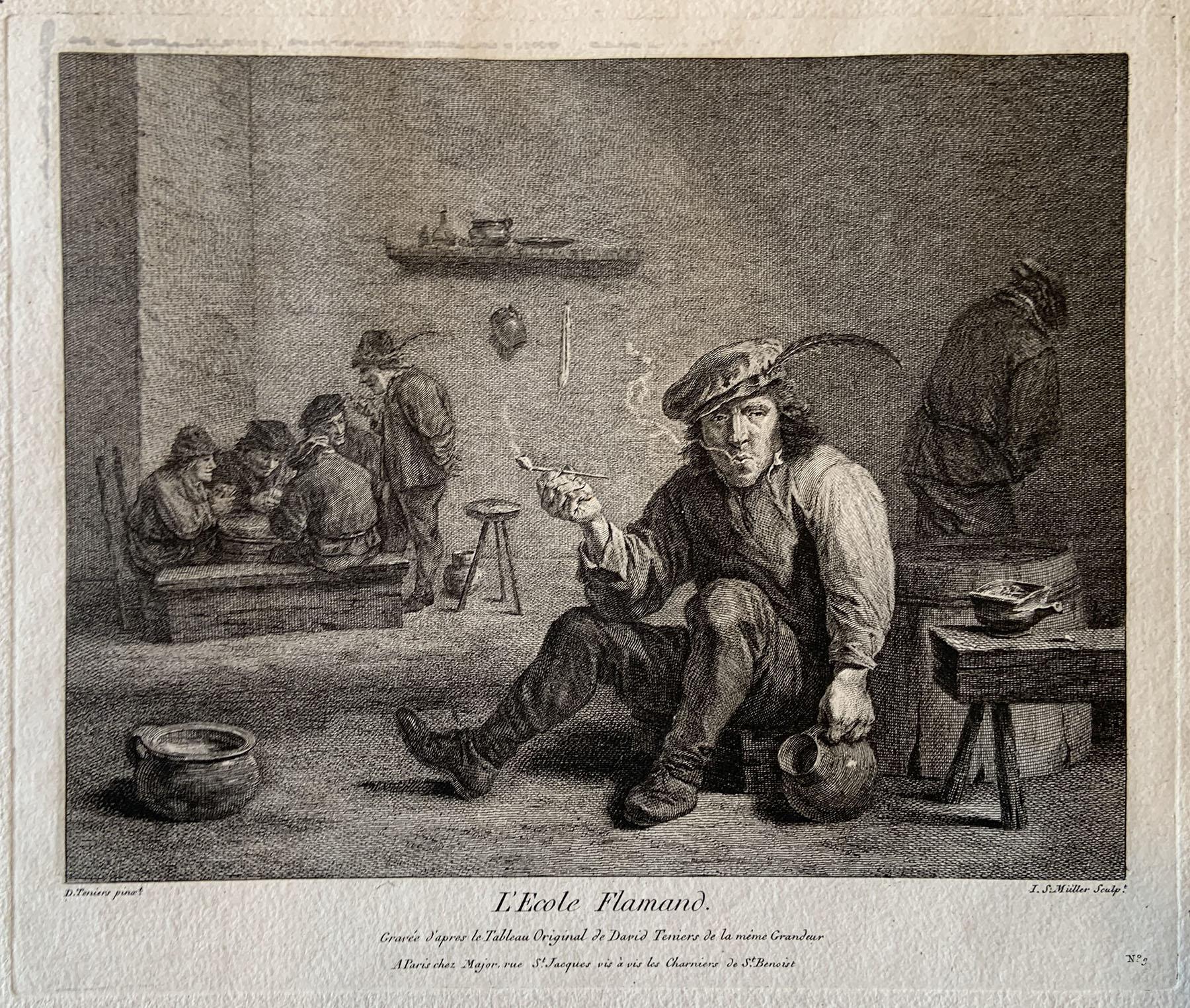 John Sebastian Miller, L'ecole flamand, engraving, 18th Century (Yale Center for British Art, Paul Mellon Collection)
The present example is exceptional in that it can be linked to a known engraving. Lowry's primary source appears to be an etching by John Sebastian Miller (1715 – 1792). Born in Nuremberg, Johann Sebastian Müller anglicized his name when he moved to London in 1744. Miller's source was a painting by David Teniers the Younger (1610 – 1690), now at the Städel Museum, Frankfurt. The painting thus presents an interesting case in artistic transmission and transformation.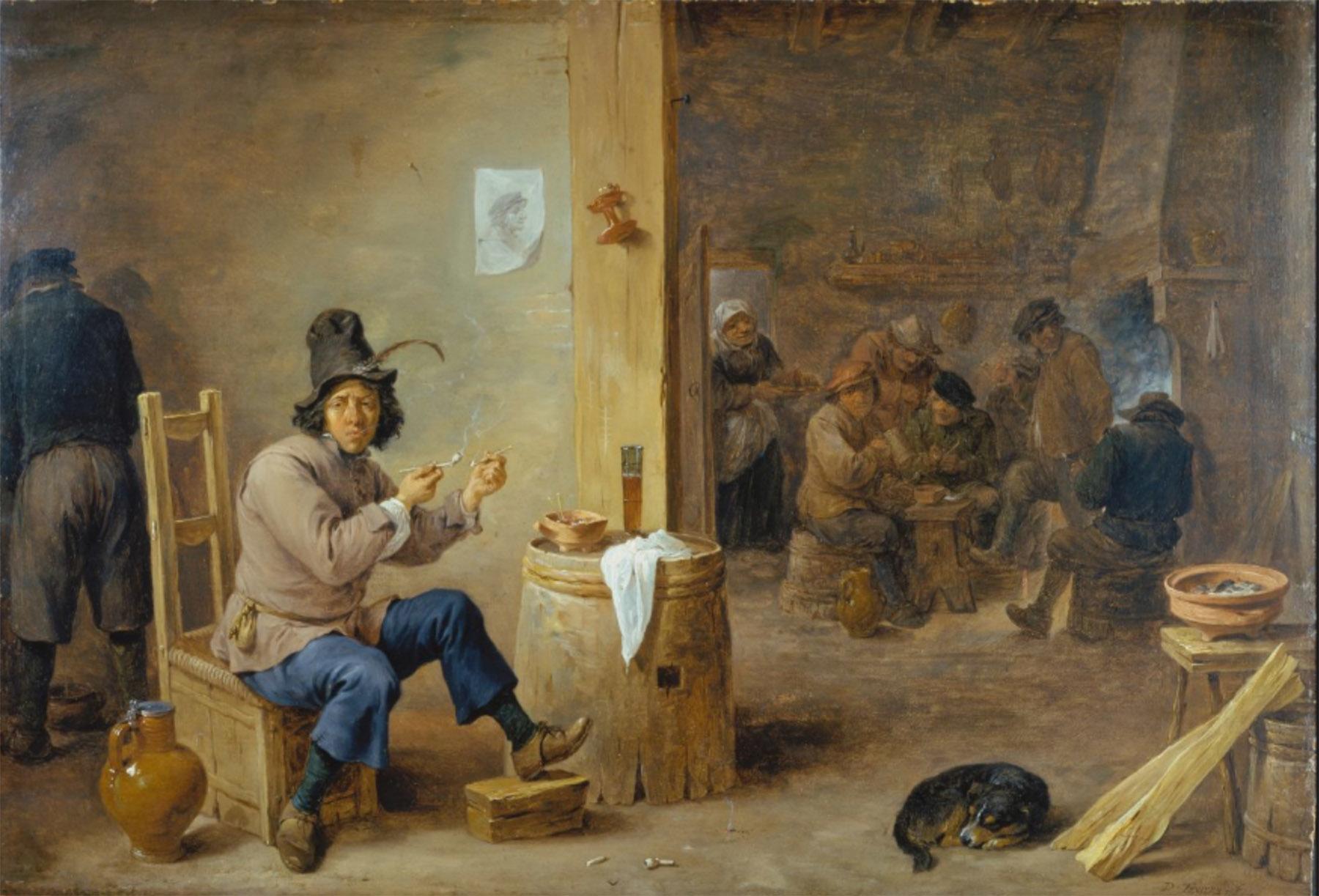 David Teniers the Younger, Smoker at an Inn, oil on canvas, ca. 1659 (Städel Museum)
Several elements link the three works – the setting, the distinctive positioning of the legs of the central figure, the pots of ale. Each artist has left his individual mark on the theme. Miller has reversed the action in Teniers's painting, and adjusted proportions; Teniers's smoker is preparing to puff, Miller's is preparing to quaff. While obviously drawing upon Lowry's engraving, Lowry has taken extensive liberties to produce an imaginary work of the northern Renaissance, drawing upon works by such other artists as Jan Steen and Adriaen Brouwer. He seems to have restored the hands of the smoker to their original position in Teniers's work, and he has corrected the title of Miller's piece (which dropped the final "e" in "flamande"). As with all of Lowry's paintings in this vein, the edges of the print are curled. Here, however, the curling is so extreme that the key element of the etching – the central figure – is obscured, a striking aesthetic decision.

Strickland Lowry, details from L'Ecole Flamande (left) and Sir Joshua Reynolds (right)
As Crookshark and Glin discuss, Lowry was close to the Belfast painter Joseph Wilson (d. 1793), and it is possible that he knew John Sebastian Miller as well. Miller produced a wide range of work but was best celebrated for his illustrations for the works of the naturalists Carl Linnaeus and John Stuart, 3rd Earl of Bute. Miller's son John Frederick Miller (1759 – 1796) continued in his father's footsteps, traveling as draughtsmen for Sir Joseph Banks and Dr. Daniel Solander in their naturalist expeditions in Ireland. Strickland Lowry's son Wilson Lowry (1762 – 1824) also followed in Miller's footsteps, in a sense, attending the Royal Academy and becoming an engraver specializing in technical subjects. On the paneling above the print in the present painting is a tortoiseshell moth (Aglais urticae) Classified by Linnaeus in 1758, the moth may appear as homage to John Sebastian Millers' later work, though a related insect appears in Lowry's painting of a print of Sir Joshua Reynolds (no. 4 below). His trompe l'œil of a letter rack (no. 3 below) employs a fly for similar effect.
            A very attractive painting that offers a number of intriguing possibilities for exhibition and pedagogy.


Condition: The handsome frame is in very good condition with some light losses at sides. The painting itself is stable, but in need of cleaning, some slight bow to stretcher and minor damage under the lip edge.
Provenance: Marshall Field & Company, Chicago; private collection, Chicago. A label from Marshall Field was attached to a dilapidated black lining that has since been removed. The label has been neatly excised and is included with the painting.


Trompe l'oeil paintings by Strickland Lowry
Selected References
DNB, s.v. Miller, John Sebastian.
Crookshank, Anne and the Knight of Glin. Ireland's Painters, 1600-1940 (Paul Mellon Centre, 2002)
Nagle, Georg Kaspar, ed. Neues allgemeines Künstler-Lexicon, oder, Nachrichten von dem Leben und den Werken der Maler, Bildhauer, Baumeister, Kupferstecher, Formschneider, Lithographen, Zeichner, Medailleure, Elfenbeinarbeiter, etc., 3rd ed., Leipzig: Schwarzenberg & Schumann, 1835) 11: 102-3
---
Recommend this product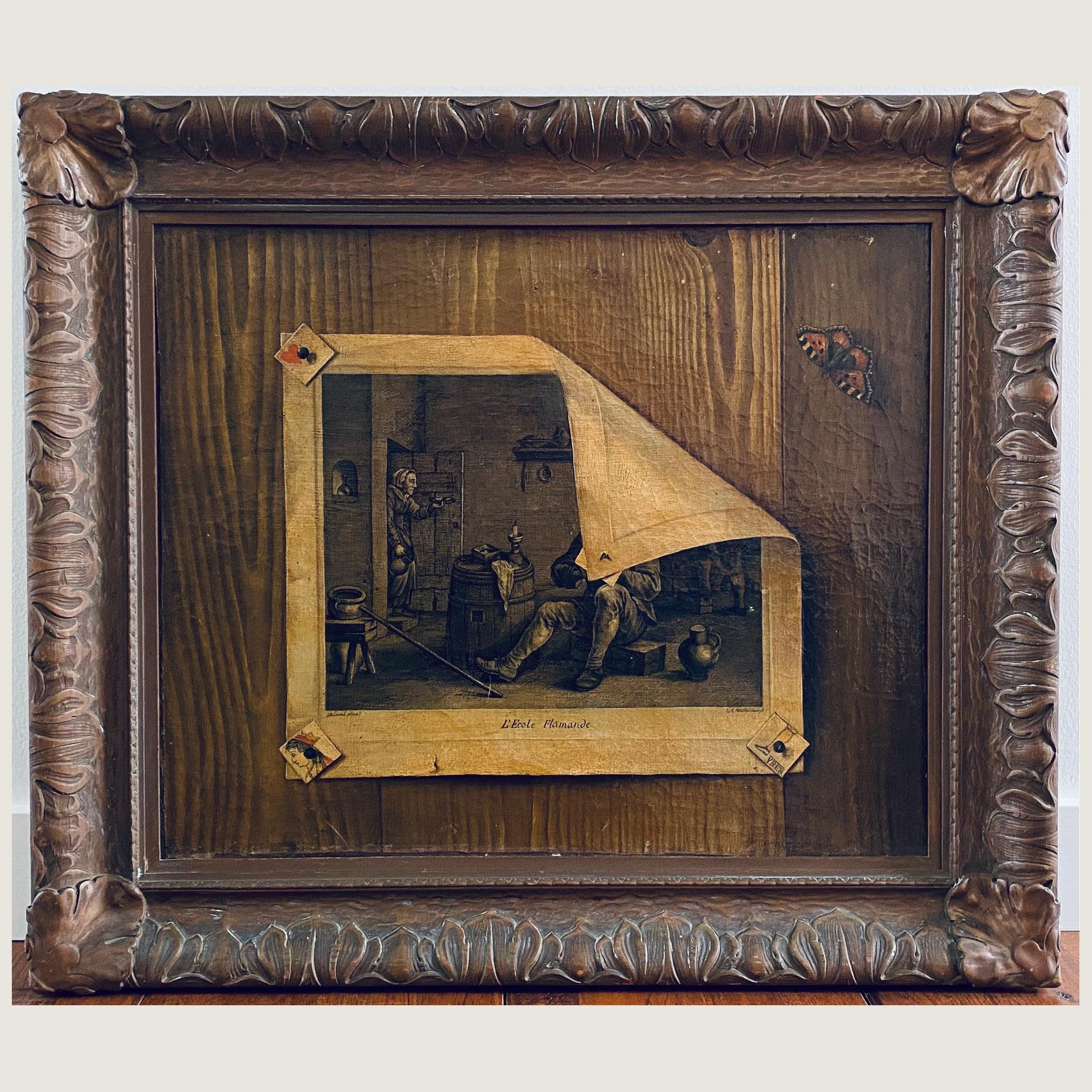 Strickland Lowry, John Sebastian Miller, and David Teniers: trompe l'œil, transmission, and transformation