Original art: T. E. Lawrence meets Irving Berlin
[Lawrence, T. E.] Babson, Angela.  Songs of Arabia, ca. 1920-1930. Pastel, ink, and watercolor on brown paper, signed recto, lower right. Visible image 265 mm x 355 mm (10 ½ x 14 in.), framed to 475 mm x 375 mm (14 ¾ x 18 ¾ in).          
The original art for a collection of sheet music published by Irving Berlin. Although we have not located publication information, it appears to date from the late 1920s or early 1930s, and was likely issued to capitalize on the public fascination with T. E. Lawrence (1888-1935), popularly known as Lawrence of Arabia. 
Although the figure in the foreground is clearly intended to evoke the man whom Lowell Thomas characterized as "a shy but heroic Oxford scholar-turned-warrior," the artist appears to have turned to Hollywood to supplement her inspiration. The white burnous (cloak), red and white keffiyeh (head scarf) and agal (head rope), and green and white thobe (tunic) are drawn from The Son of the Sheik (1926). Starring Rudolph Valentino as a desert-bred Briton, the film was itself based upon the Lawrence legend. The presence of spurs on the figure's boots are a nice European detail.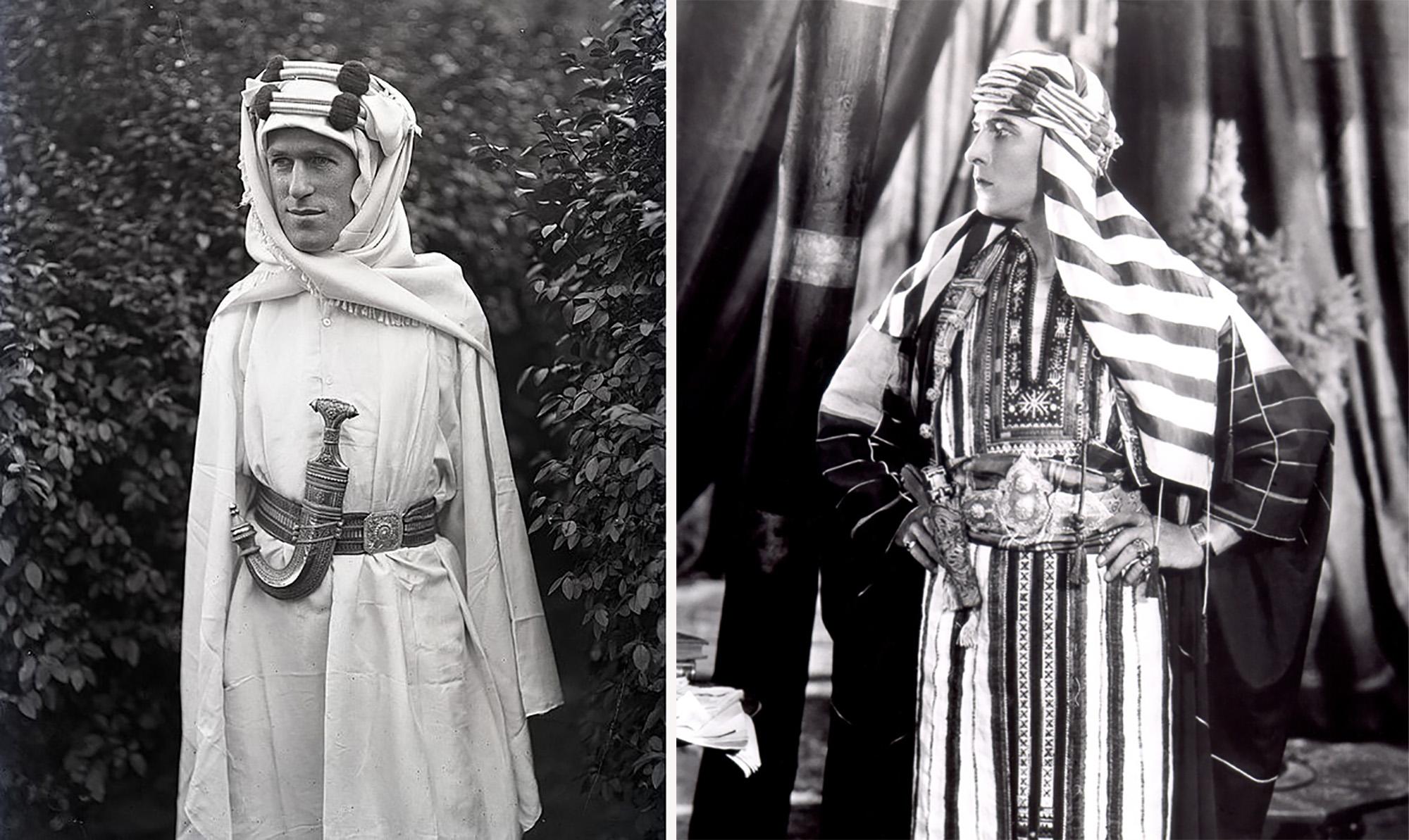 It is conceivable that this illustration was for an American edition, perhaps aborted, of Songs of Arabia by Granville Bantock (1868-1946).  A British composer in the classical tradition living in Birmingham, Bantock was fascinated by all things Oriental and wrote works evocative of Eastern cultures.  Although his compositions include settings of texts by Omar Khayyam and Hafiz, the lyricist for his six songs of Arabia was his wife. (He would follow these up with song sextets of Japan, Egypt, Persia, India, and China.)  But this does seem a stretch.  Bantock's Arabian songs remind one of Victor Herbert more than a maqam, and both are rather distant from Irving Berlin's aesthetic.
About the artist Angela Babson we know nothing.  Although clearly accomplished as a commercial illustrator, her name does not appear in the annals of graphic art.  She has signed the work on the back; obligingly the framer has left a small window to make her signature visible.
Exotically beautiful and shrouded in inscrutable mystery, this striking image both represents and reflects the romantic loneliness and strength of its subject, one of the 20th Century's most compelling heroes.
---
Recommend this product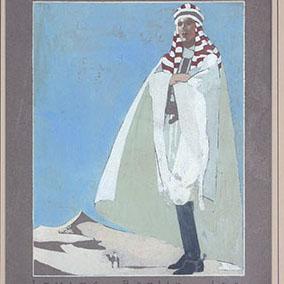 Original art: T. E. Lawrence meets Irving Berlin