Giorgio DE CHIRICO, Hebdomeros (1929), signed, in the rare dustwrapper.
de Chirico, Giorgio.Hebdomeros. Paris: Editions du Carrefour. Collection Bifur, 1929. First edition. 19 cm; 252 p, [1] leaf. One of 2500 numbered copies on Alfa Mousse Navarre. A very good copy in original wrappers, with a near fine example of the very uncommon dustwrapper, which bears a vignette by the artist. In a custom clamshell case.
Signed by de Chirico. The only novel, a roman-a-clef, by this profoundly influential artist, and a landmark of surrealist prose. The perigrinations of de Chirico's extraordinary hero through a hypnotic landscape, may be seen as the key to the artist's "Pittura Metafisica." In fact, as James Thrall Soby observed, many of the poetic titles of his paintings may be traced to phrases from this novel. But it is de Chirico's prose rather than his painting that has drawn such admirers as Paul Bowles and John Ashbery, both of whom tried their hands at translating the work. As Ashbery wrote, "Everything about Hebdomeros is mysterious....[de Chirico] invented for the occasion a new style and a new form of novel that he was not to use again....His language, like his painting, is invisible: a transparent but dense medium containing objects that are more dense than reality." A scarce book, seldom encountered signed, and rarely in jacket.
---
Recommend this product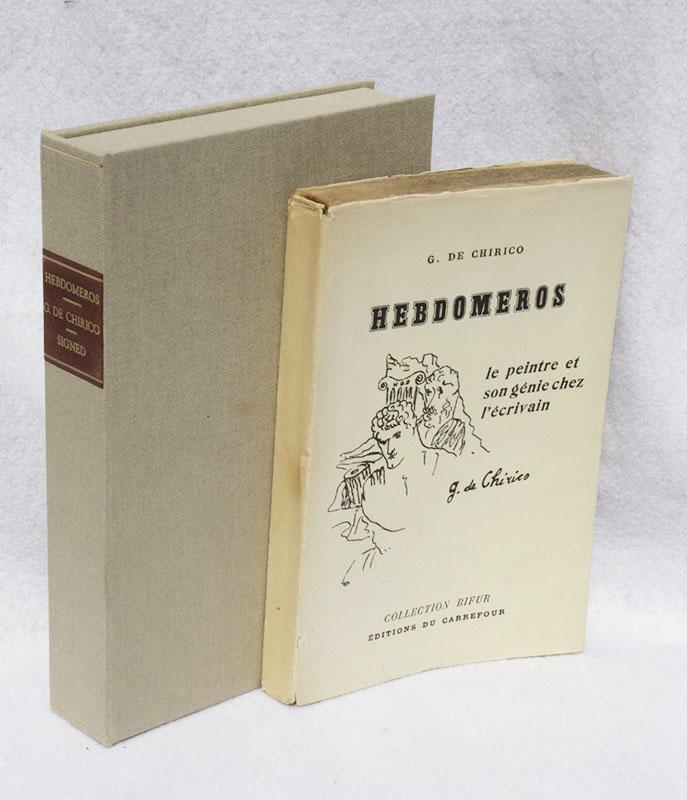 Giorgio DE CHIRICO, Hebdomeros (1929), signed, in the rare dustwrapper.