Beatrix Potter, original watercolor drawing of Peter Rabbit
Potter, Beatrix (1866 – 1943). Peter Rabbit in flight. Original watercolor and ink illustration. Signed and dated in pen center right, August 1927. On laid paper, toned. Sight: 6 ¼ x 3 ½ in. Overall: 8 ½ x 5 ½ in. Framed under glass, with the label of the Sue Page Shop, Wellesley, Massachusetts.
An original portrait of Peter Rabbit, one of the most easily recognizable and beloved characters of children's literature, by his creator, Beatrix Potter.
This wonderful image from Potter's enduring work, depicts her mischievous but sympathetically rendered bunny fleeing Mr. McGregor at the dramatic climax of the tale. The farmer's wrathful personage, brandishing a rake and calling out "Stop, thief!", appeared in the original version of the illustration. In this rendition, the focus is entirely on the young scamp. It is in many ways the central image in the book, bringing together the complex tensions that make Potter's work so universally appealing: Peter is an animal, rendered with close attention to naturalistic detail, but he dressed as a young boy in coat and shoes His behavior is fully rabbit-like, as every frustrated summer gardener knows, and yet fully human. He is headstrong, rebellious, and foolish as all young children are, and wholly lovable.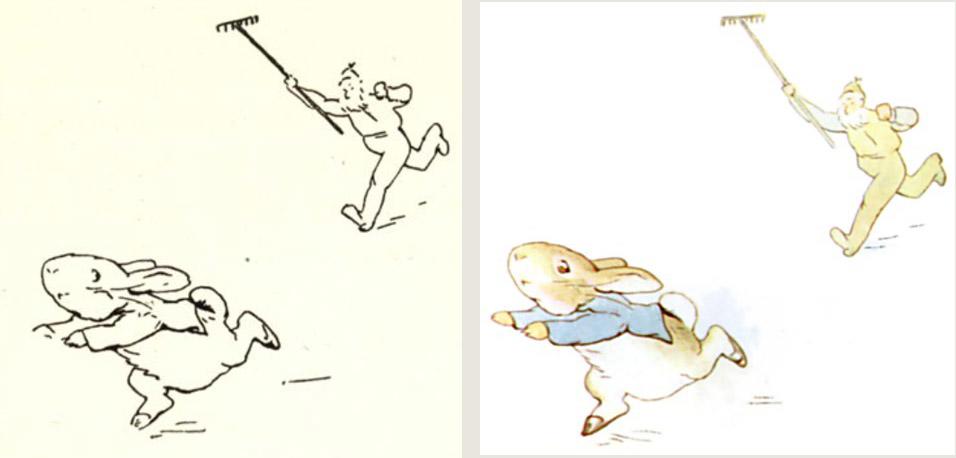 Beatrix Potter's published versions of this drawing from 1901 (left) and 1902 (right)
Potter's first draft of the illustration was published first as a black and white line drawing in her 1901 privately printed edition of the book. She redrew it in color for the first trade edition by Frederick Warne, published in 1902. The present drawing is one of fifty illustrations she executed in August 1927 for a charitable cause. The National Trust had undertaken an urgent appeal for money to purchase a strip of Lake Windermere's shore, Cockshott Point, which was under threat of development. A committed conservationist, Potter decided to contribute by selling some of her pictures in America. She prepared fifty drawings and sent them to one of her American supporters, Bertha Mahony (1882 – 1969), who was both the editor of the Horn Book magazine, and the proprietor of the Bookshop for Boys and Girls in Boston, Massachusetts. Mahoney sold the pictures for $5 each – no mean sum in 1927 -- and together she and Potter were able to make a substantial donation to the cause.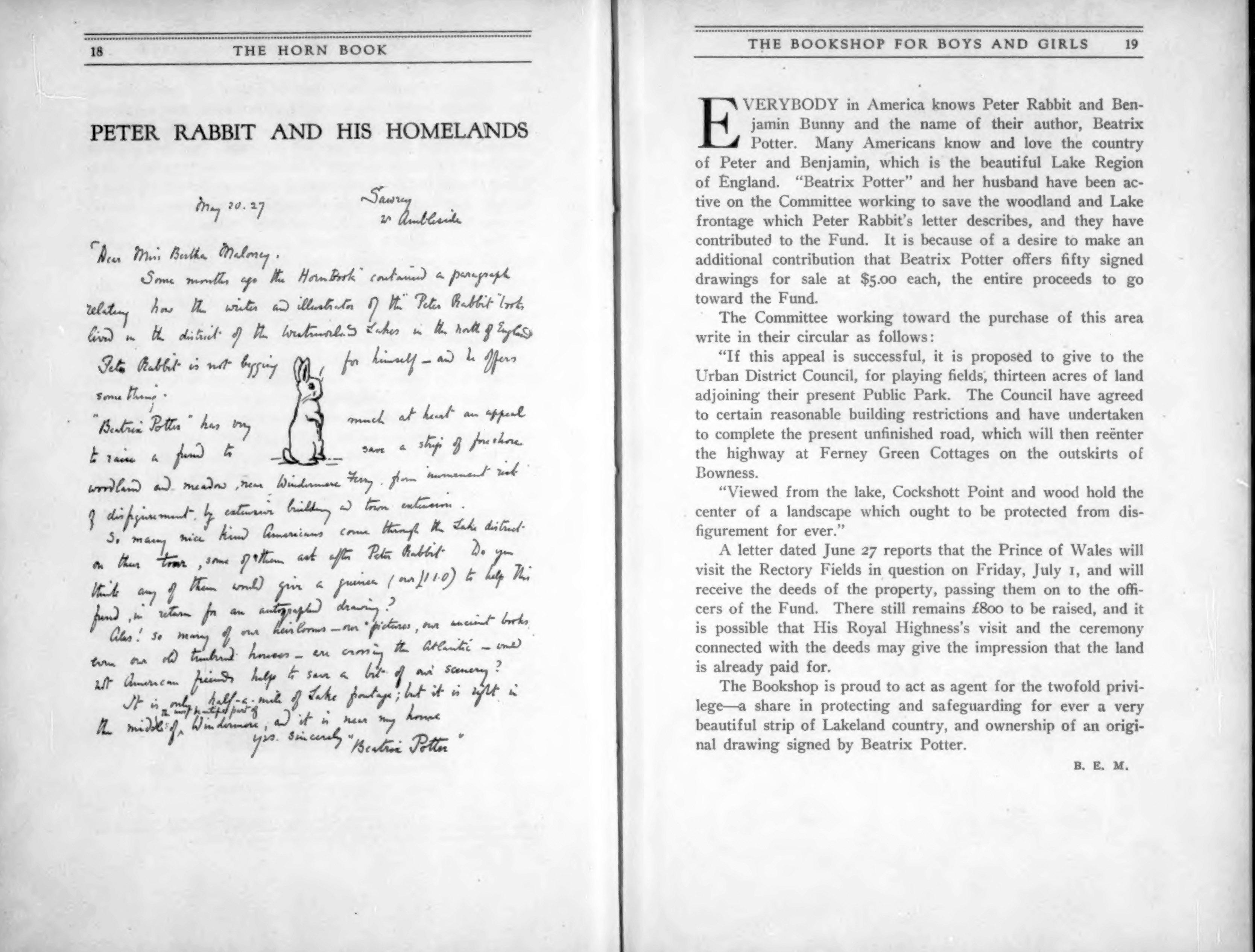 Advertisement for the sale of Potter's art in the Horn Book, August 1927
Original art by Beatrix Potter seldom reaches the market, and none are so prized as her drawings of Peter Rabbit. This will be a cornerstone of any collection of children's book illustration.
Selected Sources
The Horn Book
Hallinan, Camilla. The Ultimate Peter Rabbit: A Visual Guide to the World of Beatrix Potter (London: Dorling Kindersley, 2002)
Lear, Linda. Beatrix Potter: A Life in Nature (New York: St. Martin's Press, 2007)
Mackey, Margaret. The Case of Peter Rabbit. (London: Routledge, 1998)
Ross, Eulalie Steinmetz. The Spirited Life: Bertha Mahony Miller and Children's Books (Horn Book, Inc., 1973)
Taylor, Judy, et al. Beatrix Potter, 1866-1943: the artist and her world (London: Frederick Warne, 1987)
---
Recommend this product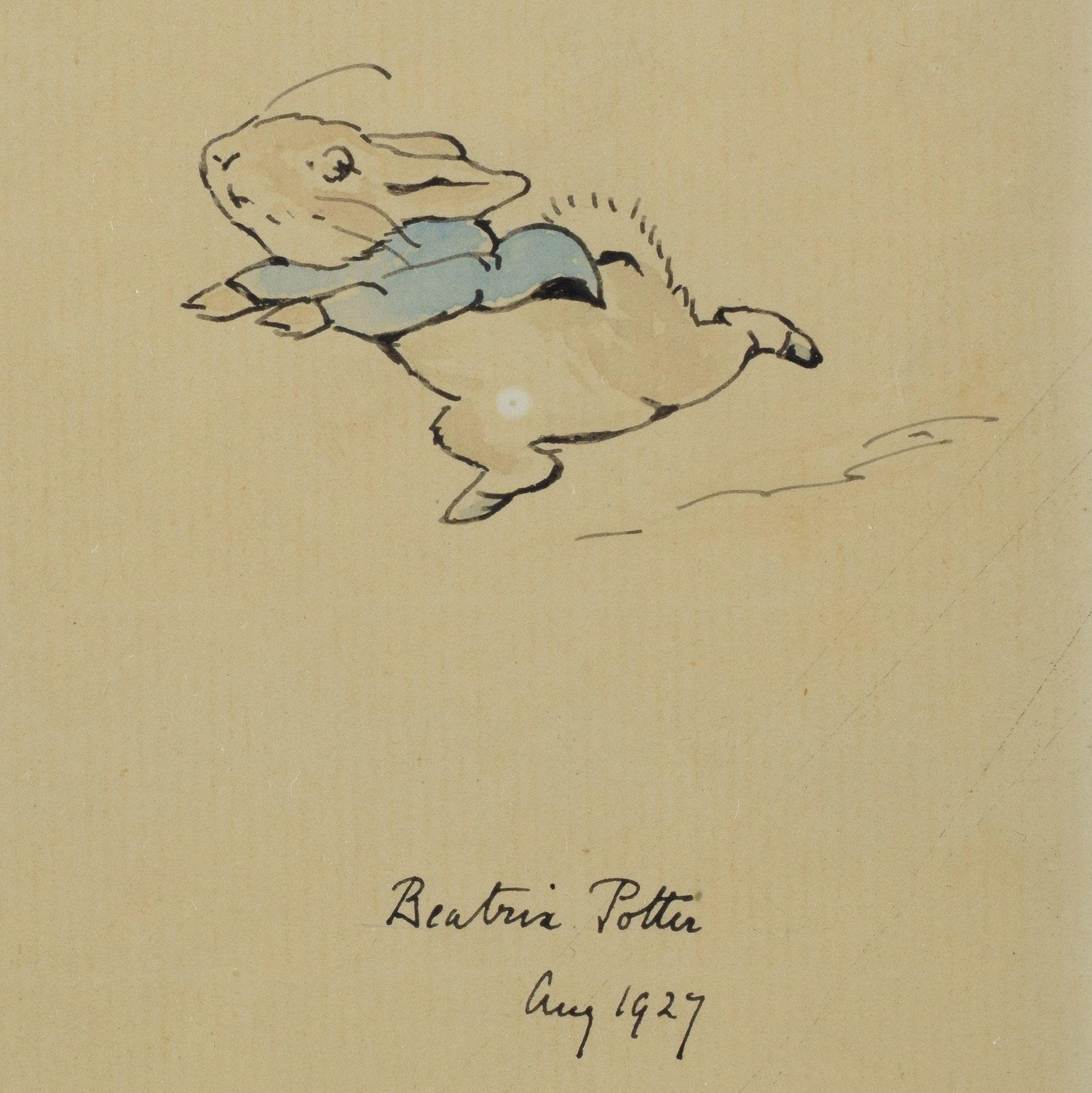 Beatrix Potter, original watercolor drawing of Peter Rabbit