Daniel Defoe. Robinson Crusoe, Illustrated Handkerchief Set (ca. 1820s)
[DEFOE, Daniel]. 

The Life and Adventures of Robinson Crusoe, 1st and 2nd series. Two linen handkerchiefs printed in sepia. [England?], ca. 1820s-1830s. Unhemmed, 31 x 34.5 cm. Affixed to mats, removed from frames. Faded.
An extraordinarily rare set of printed handkerchiefs, each printed with a set of nine captioned illustrations relating the high points of Crusoe's immortal tale; eighteen illustrations in all.
The illustrations present the tale of Crusoe in pictorial form from beginning to end, thus serving essentially as a primitive comic book adaptation of the novel. The drawings, which are highly detailed, are each titled, and further explicated with verbatim passages from Defoe's text. For example, the panel titled "TURNS MULEY OVERBOARD" bears the following subheading: "Muley, said I, I never yet designed to do you any harm, and seek nothing now but my redemption."
The first handkerchief illustrates the narrative from Crusoe's parting from his father, through his shipwreck, his work building a raft and constructing a shelter in a cave, his parrot, and his discovery of corn and Friday's footprint. The second illustrates the episode of the dying goat, Friday's submission, Crusoe's construction of a boat, and skirmish with the natives; Friday's reunion with his father and encounter with a bear, and finally Crusoe's meeting Englishmen and embarking for home. Each has the same central image of Crusoe in his island dress.
Regrettably, the ink is very severely faded, having been framed with exposure to light for many years. The printing is legible for study, but these no longer display quite so well as they must have once. Nevertheless, a very rare production.
Not listed in Lovett; nor could we find in Lovett a record of a book with eighteen illustration that might have served as an iconographic resource for this production. The only comparable we have found is a set in the Cotsen Children's Library collection of handkerchiefs and printed textiles.
---
Recommend this product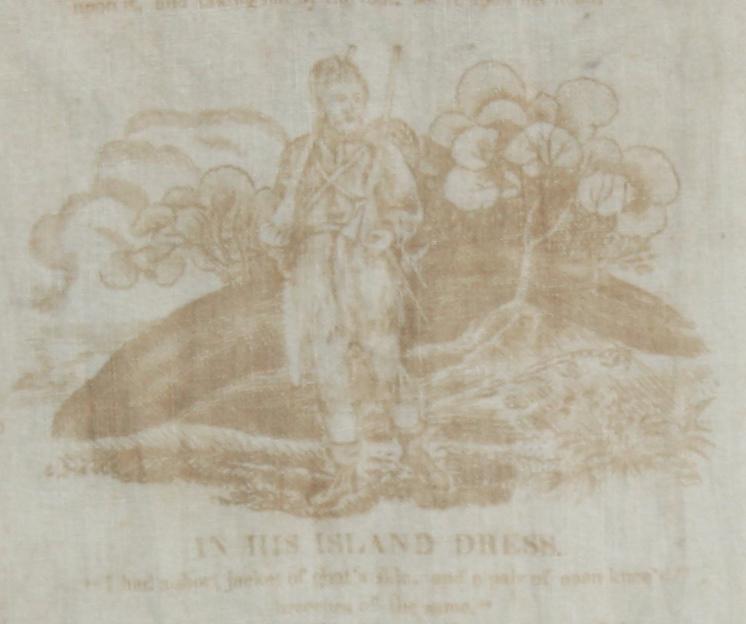 Daniel Defoe. Robinson Crusoe, Illustrated Handkerchief Set (ca. 1820s)