Izaak Walton. Lives (1670), with holograph corrections & a distinguished provenance
Walton, Izaak (1593-1683). The lives of Dr. John Donne, Sir Henry Wotton, Mr Richard Hooker, Mr George Herbert: To which are added some letters written by George Herbert ... with others to his mother, the Lady Magdalen Herbert, written by John Donne. London: Published by Tho. Newcomb for Richard Marriott, 1670. First edition. 8vo., [12], 88, [2], 79, [2], 140, [2], 104 p.; 19 cm. Elegant later full tan morocco by Tout, with raised bands and decorative gilt. All edges gilt. Complete, with all title pages, 4 portraits, and all blanks. Some rubbing to bands and joints, light cracking to front joint, scratch to second panel of spine. Small amount of light discoloration to front board. Pages lightly tanned; else clean and sound overall.


From the collection of the great Victorian bibliographer Harry Buxton Forman, with his bookplate and his pencil annotation dating the binding to 29 June 1889. 


A collection of short biographies by the great angler. It is no coincidence that at least three of Walton's subjects -- Donne, Wotton, and Herbert -- were also devotees of piscatorial pleasures.

     Forman has penned the following note to the binder's blank:
There is one manuscript correction in this beautifully clean and perfect copy of the editio princeps of the Four Lives. It is at the end of Walton's Elegy on Donne, page 88. The printer had put for signature "Iz: Wee:" Walton has corrected him by cancelling ee and substituting a. The blank leaves, sig A1 and A8, do not often occur. HBF.
In addition to the correction Forman noted, there are several other holograph annotations, to p.27 of the Donne ("Rom 14. 22"), p.95 of the life of Hooker (a typo corrected to read "venerable"), and to pp. 66 and 67 of the Herbert (two lines underlined). These notes appear to be in a similar hand to the one Forman attributes to Walton, though we admit no special expertise.
 As John Butt notes in a 1930 article, "Walton formed a habit, pleasing to collectors, of leaving his mark upon those copies of the Lives which passed through his hands." Butt's informal census identified over 20 copies with holograph corrections, including one in the British Museum, and our comparison with samples of the author's handwriting supports the possibility that these emendations are genuine, though the marks here are too incidental to offer grounds for certainty. At any rate, a lovely copy with a great provenance.
Sources
Butt, John Everett. "A Bibliography of Izaak Walton's Lives," Oxford bibliographical society. Proceedings & papers, vol II, pt. IV (1930) p. 327-40.
---
Recommend this product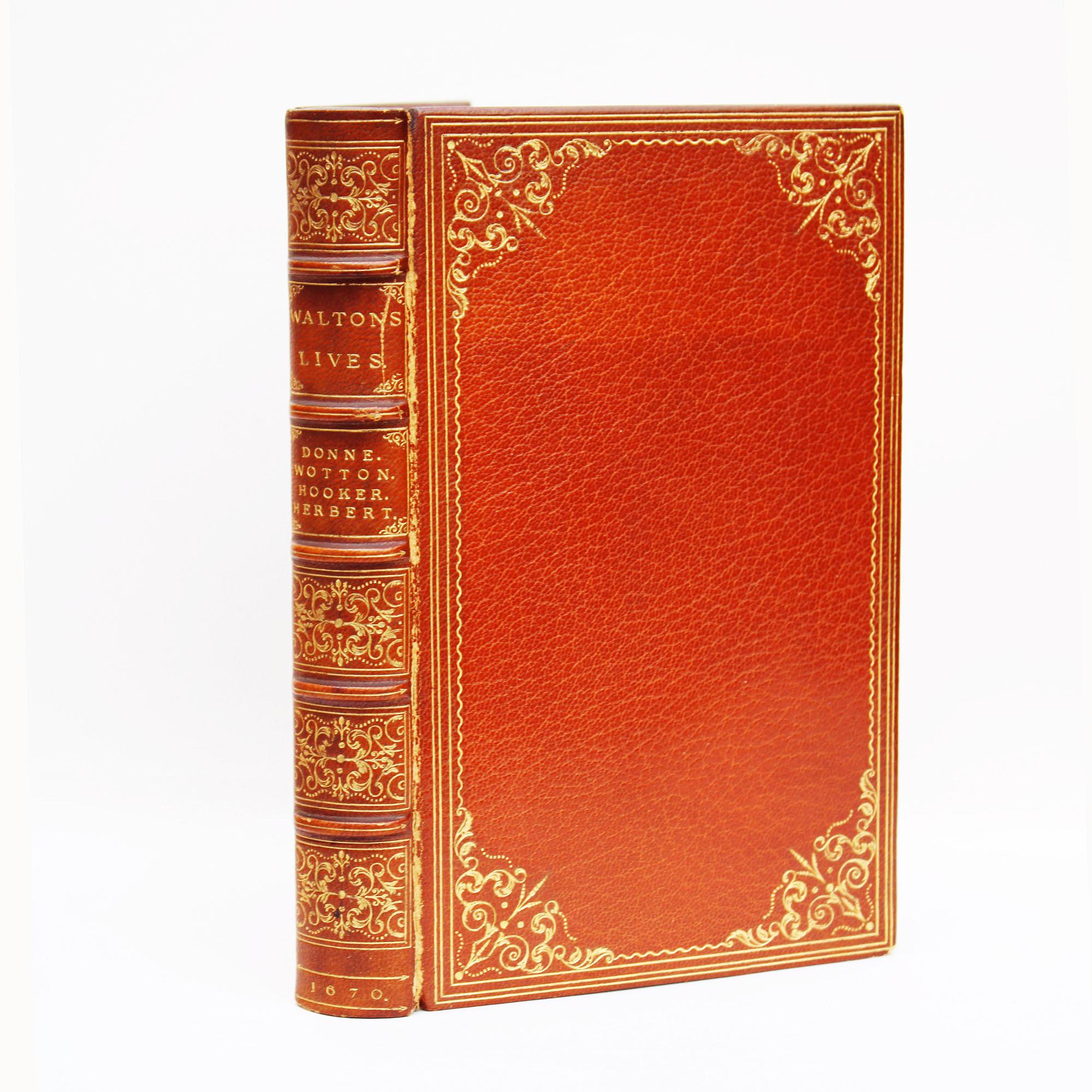 Izaak Walton. Lives (1670), with holograph corrections & a distinguished provenance