Daniel Defoe. The Life and Adventures of Robinson Crusoe. An unrecorded early American edition (ca. 1835)
Defoe, Daniel.The Life and Adventures of Robinson Crusoe. Hartford: Andrus and Judd, ca. 1832-1835. 2 volumes., pp. 313, 293. 13.8 cm. Frontispiece and title vignette in each volume, engraved by A. H. Butterworth. Gift inscription dated 1837, ownership signature of William Maxwell Hall (1824-1847). Pencil annotations to volume one regarding bibliography. A poor set: chip from head of spine of volume one; rear cover of volume two tender. Offered as a handyman's special.
A version of the 1826 edition published by Silas Andrus[1] (Bingham 115; Lovett 278), here published in conjunction with Andrus's on-again, off-again partner J. W. Judd. Brigham and Lovett both list several reissues of the Andrus edition but none under this imprint, which we have found neither at the AAS nor anywhere in OCLC.
---
[1] On whom, see B. J. McMullin, "Hartford: Published by Silas Andrus" Script & Print, 41 (2017): 105-127.
---
Recommend this product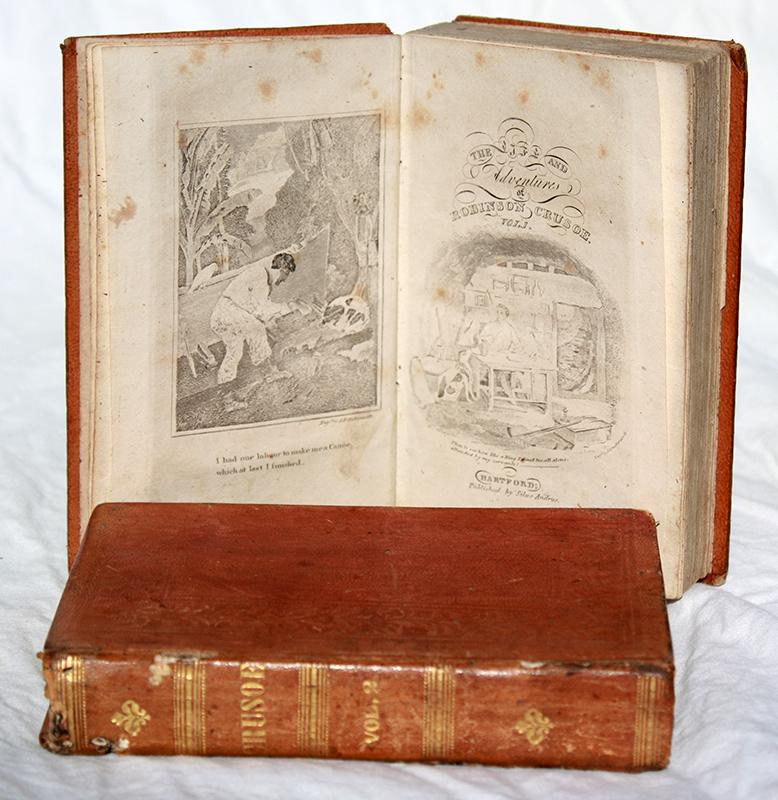 Daniel Defoe. The Life and Adventures of Robinson Crusoe. An unrecorded early American edition (ca. 1835)