Edith Wharton. Ethan Frome. First UK edition. Inscribed to her butler, Alfred White (1911)
Wharton, Edith (1862-1937).Ethan Frome. London: MacMillan, 1911. 195 p., with a 32 page catalogue appended; 19 cm. First English edition from American sheets. First state, with "wearily" in unbroken type on the penultimate line of p. 135. One of 2,000 copies printed. Slight lean, a touch of sunning to spine, light foxing to gutters; otherwise near fine in original cloth. Housed in a custom case. Johnson, Highspots of American Literature; Garrison A19.1.c.


Inscribed by Wharton to her butler, Alfred White, in the month of publication.


     An extraordinary association copy of one of Wharton's most celebrated books, and perhaps the most famous novella in American literature, for generations a staple of the academic curriculum. Signed copies of Ethan Frome are very rare. In fact, we do not know of another, and there has never been one at auction, which is surprising given that this is her most highly sought work. The significance of this particular inscription is unparalleled.
     For almost fifty years, Alfred White (1863-1942) was an intimate member of Wharton's household, serving faithfully as Wharton's factotum from 1888 until her death. A native of England, White was hired as valet to Edward Robbins (Teddy) Wharton, the writer's husband. After the two divorced in 1913, White passed into Wharton's service. He accompanied the Whartons on their travels, and organized their homes in England, France, and Italy. When rheumatism prevented him from discharging his duties as a butler, White was promoted to general manager, "keeping a firm hand over his footmen," and serving as her agent. Wharton's friend Elisina Tyler observed that the writer "needs the freedom which perfect servants bestow on one." White echoed this sentiment in a letter to Bernard Berenson written shortly after his mistress's death: "For 49 years it was my privilege to serve her and protect her from household cares, that she could carry on her work in peace."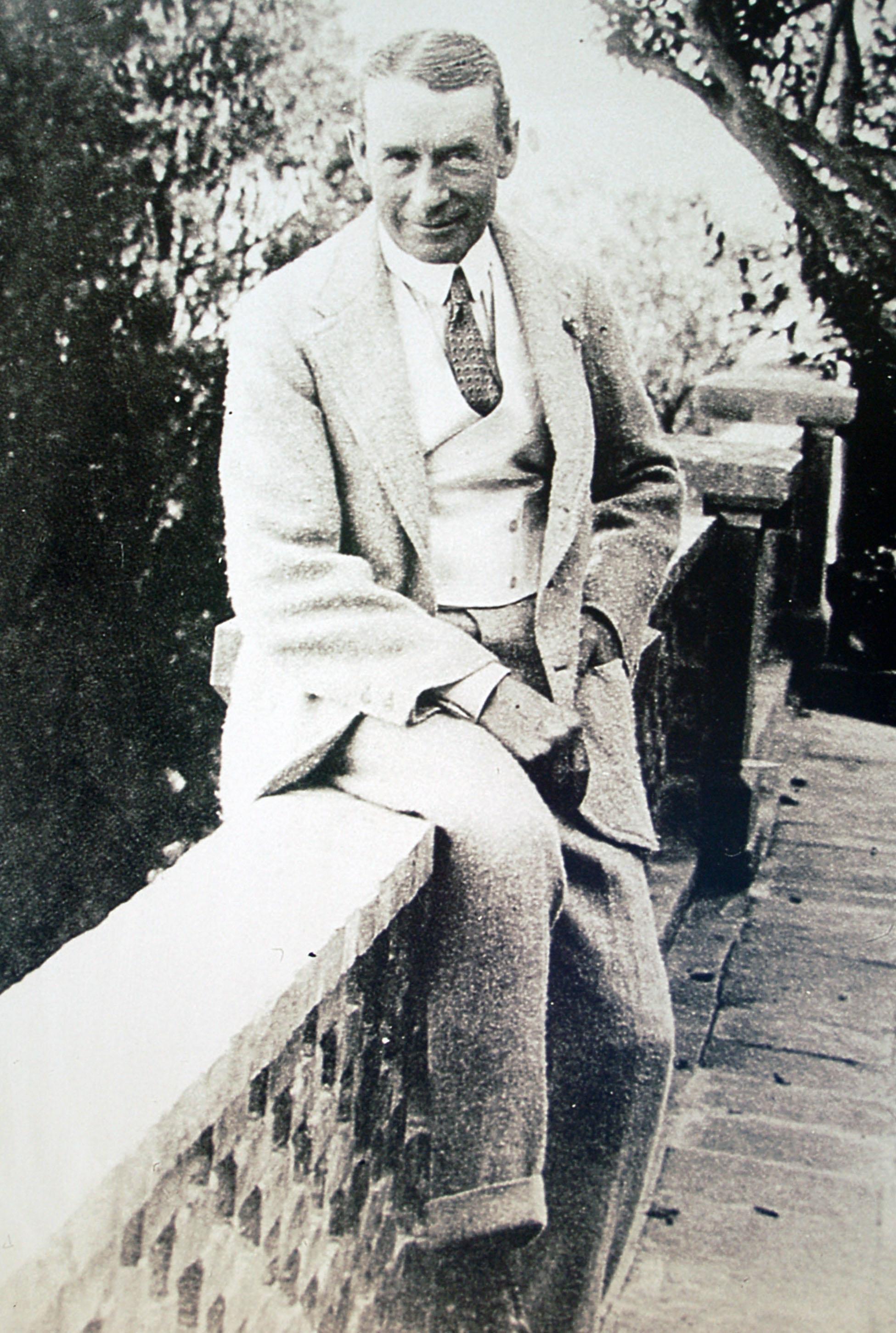 Alfred White, in service to Edith Wharton for forty-nine years.
     While Hermione Lee is correct to note that "Wharton treated her servants like servants," it is also clear that White occupied a special position. "White was the only one ... who stood on an equal moral footing with her," recalled her friend Gaillard Lapsley:
He always treated her with a frank but respectful severity, which so far from resenting she relied upon. ... She very well knew she could rely on him, not only to keep her taste true to the highest mark, but to safe-guard and help her, to lift trouble off her back, in every way that appertained to his department and I don't know in how many more.
Wharton's friends also valued White. During World War I, he served as a go-between for Wharton and Henry James. "I've had some beautiful correspondence with White," James wrote in 1914, expressing his appreciation for the butler's "graceful attentions." When White found himself stuck in England while Wharton was in France, James expressed his desire to help: "[I could] put him put him up at the Athenaeum or something."
      As Hermione Lee notes, Wharton's novel The Fruit of the Tree, and many of her "most alarming ghost stories" reveal the writer's acute awareness of the "mutual dependency of mistress and servants."  Wharton had the architect Ogden Codman, Jr. build a lodge for White at Land's End in Newport, and in 1926 she bought White a house, "Pierre-Lisse," down the hill from her residence at Ste-Claire-du-Chateau. When White fell ill and was feared to be close to death, Wharton expressed her distress to Bernard Berenson: "How alone I shall be when that wise counsellor is gone." When Wharton died in 1937, White was bereft. "Now it's all over," he wrote Berenson after her funeral. "I can't believe she's gone forever -- it seems she's on one of her little motor trips and will come back again."
     Biographers of Edith Wharton cannot be entirely faulted for minimalizing attention to the dynamic between the writer and White, who may have represented the longest -- and most stable -- male relationship of her life. It was a fundamental requirement of the servant's role that he be invisible: seen only when needed, and heard only when duty required. Wharton's first important biographer, R. W. B. Lewis, got White's Christian name wrong, calling him "Arthur," and it took Eleanor Dwight some serious digging in the Villa I Tatti to root out a letter that set the record straight. Claudine Lesage was the first to locate his vital records. 
     If there is one thing we have learned from Upstairs, Downstairs and Downton Abbey, it is that the bonds of intimacy between masters and servants are much more complex than class conventions maintained. Consider, for example, that White attended Teddy during his mental decline, and on the trips to Boston, London, and France where he committed the adulteries that offered welcome grounds for Wharton to sue for divorce. White can hardly have been ignorant of Wharton's simultaneous affair with W. Morton Fullerton, and though devotion and decorum mandated his silence, doubtless no aspect of the tortured marriage of the couple he served was unknown to him. The extent of White's involvement is suggested in a letter Wharton wrote to Fullerton in June, 1910, when her husband was convalescing at a sanitorium in Kreuzlingen, Switzerland, under White's solicitous eye:
I have just had a letter from White saying that things have been again very bad at Kreuzlingen, that Teddy threatens to leave at once & return here, & that he (White) advises me to be prepared for his immediate arrival, as he "doesn't know what to think" about the situation. White is so judicious, & so accustomed to these alterations of mood, that the situation must be grave for him to send me such a letter. Judge of the effect on him!
Although we have not the resources to judge what effect the situation had on White, we have ample evidence for the effect it had on Wharton in the text of Ethan Frome.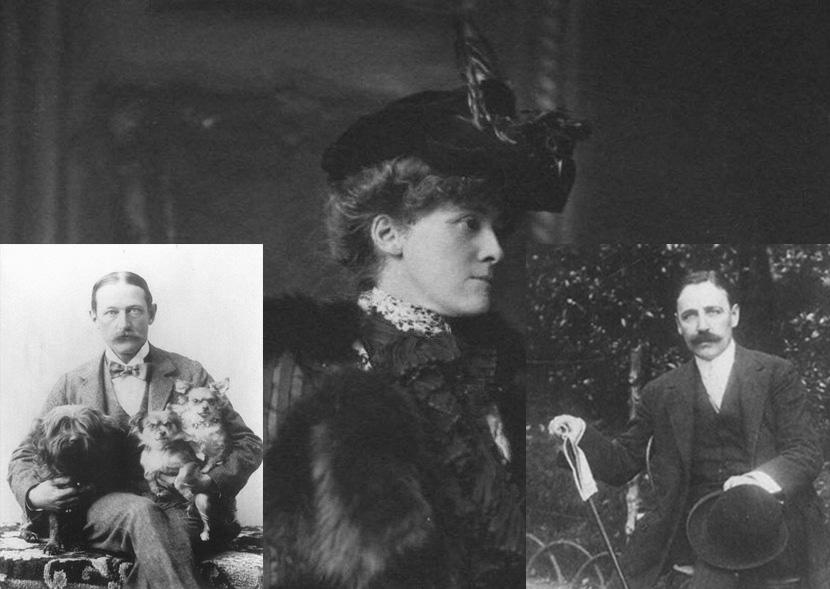 Teddy Wharton, Edith Wharton, and W. Morton Fullerton: the prototypes for Zeena, Ethan, and Mattie.
     It is the consensus of literary scholars that while Ethan Frome can hardly be said to be autobiographical, the novella certainly reflects the strains that beset the author during the period of composition. Set in a lightly disguised version of the town where Wharton maintained her American residence, the story is told from the perspective of a stoical and self-sacrificing individual who, incarcerated in a troubled marriage with a sickly spouse, finds fleeting solace in the companionship of another whom honor and duty has placed beyond reach. As Wharton was writing the book, Teddy was in steep decline and her romance with Fullerton was coming to a melancholy end. It takes no great leap of imagination to see in the anguished dynamics between Ethan, Zeena, and Mattie parallels with the real-life relationships of Edith, Teddy, and Fullerton. As one reviewer wrote when the book was first published, "The wonder is that the spectacle of so much pain can be made to yield so much beauty." 
     In her autobiography, Wharton said that "It was not until I wrote Ethan Frome that I suddenly felt the artisan's full control of his implements." This could best be appreciated by those who knew her well. Alfred White was one of these, and his unique perspective onto the private lives of the Whartons makes this inscribed copy of the novel all the more significant. The book is set in the region around the Mount, which Wharton built in 1902, and which she -- and White -- saw for the last time in the summer of 1911; at the beginning of September she quitted the Berkshires, and before month's end it was sold. This copy, presented in November 1911, when they were in Paris, must have triggered complicated memories of life in a setting they knew so well. The narrative of Ethan Frome may well have had a meaning for White that the author herself did not apprehend. Recalling the brilliance eloquence of Wharton's earlier heroines, Henry James praised the novel's "beautiful artful kept-downness." While White was hardly inarticulate, suppressing one's feelings, guarding one's speech, and preserving one's silence were requisite to a life in service.
     Indeed, given the muted display of emotion that characterizes Wharton's fiction -- and indeed, her life -- the silences that attend her inscription in this volume are eloquent. (What are we to make of the crossed-out E?) To this trusted servant who by 1911 had served the Whartons for two decades, who knew all the family secrets, and who better than most could read between the lines of Ethan Frome, Wharton wrote only: "Alfred White, from the author."
Selected References
Benford, Shari. No gifts from chance : a biography of Edith Wharton. New York: Scribners, 1994.
Bell, Millicent. Edith Wharton and Henry James. New York: George Braziller, 1965.
Dwight, Eleanor. Edith Wharton : an extraordinary life. New York: Harry N. Abrams, 1994.
James, Henry. Henry James and Edith Wharton: letters, 1900-1915, ed. Lyall H. Powers. New York: Scribners, 1990.
Lee, Hermione. Edith Wharton. New York: Knopf, 2007.

Lewis, R. W. B. Edith Wharton: a biography. Harper & Row, 1975.
Murad, Orlene. "Edith Wharton and Ethan Frome." Modern Language Studies, vol. 13, no. 3, 1983, pp. 90–103.
Review of Ethan Frome, The Nation 93 (26 October 1911) 396-97.
Wharton, Edith. A Backwards Glance. New York: Appleton-Century, 1934.
-----. The Letters of Edith Wharton, ed. R. W. B. Lewis and Nancy Lewis. New York: Scribners, 1988.
Wilson, Richard Guy. Edith Wharton at home: life at the Mount. New York: Monacelli Press, 2012.
Wolff, Cynthia Griffin. "Cold Ethan and 'Hot Ethan.'" College Literature, vol. 14, no. 3, 1987, pp. 230–245.
---
Recommend this product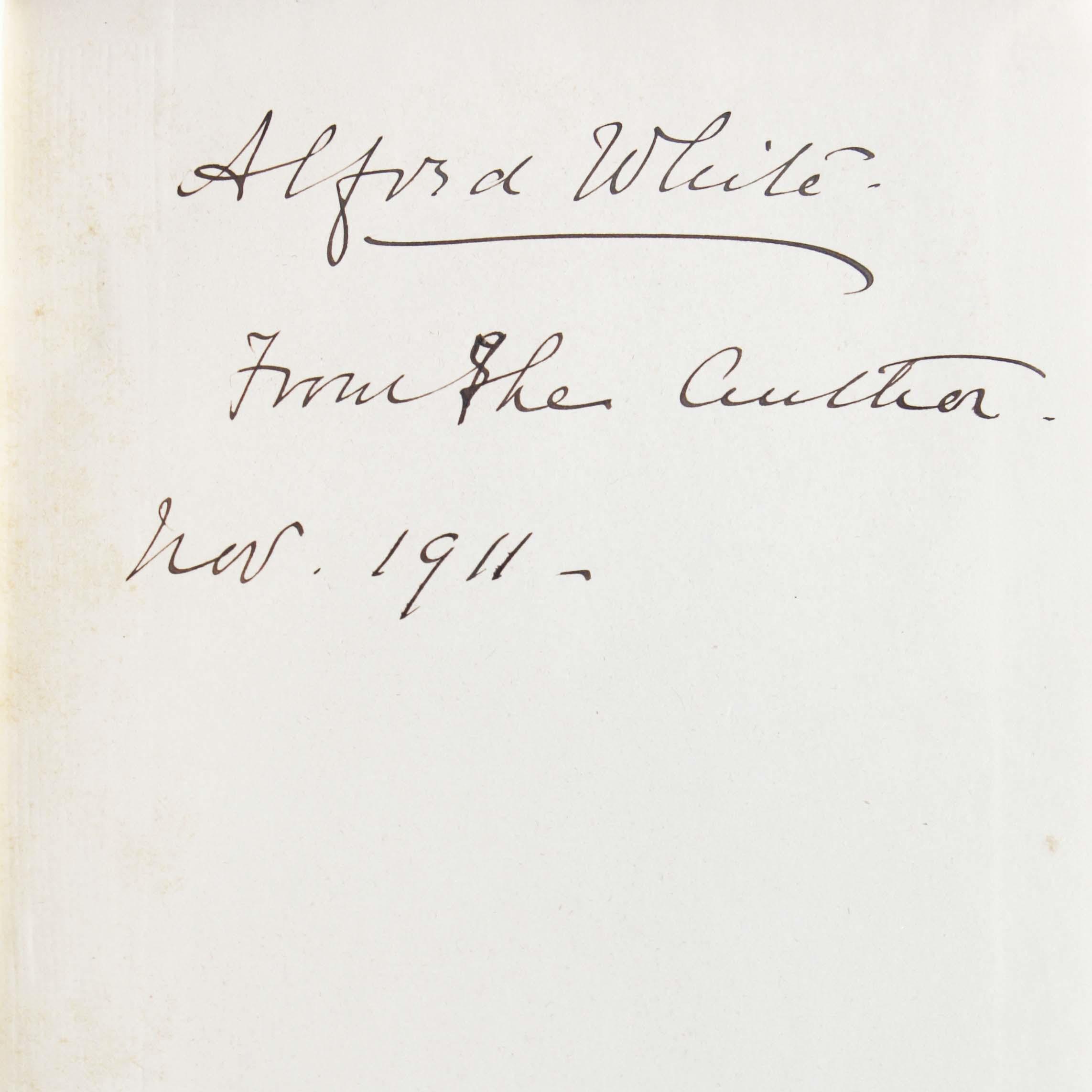 Edith Wharton. Ethan Frome. First UK edition. Inscribed to her butler, Alfred White (1911)