Colonial Recruitment Poster: Doctors in Fiji
NUNNEY, John

 (1897-1966). Learning to be Doctors in Fiji. British Information Service, [1945]. Printed by Alf Cooke Ltd, Leeds and London. 506 mm x 760 mm. Light creases from old folds; a very attractive copy.
A color offset lithograph poster by John Nunney, a prolific artist who executed a number of patriotic posters during World War II. Produced just before the slow fall of the British empire, the poster was likely prepared for distribution in schools by the Central Office of Information for the Colonial Office. It depicts Pacific Islanders studying medicine under the tutelage of a white doctor. The muted tones of the interior scene contrast starkly with the vibrant colors of the world outside of the window.
The legend under the image reads:
Throughout the British Colonial Empire much is being done to improve and maintain the health of the people. This important work is carried on not only by Europeans but also by local men and women who are trained to become doctors or nurses. Here are medical students at work under the supervision of a British doctor in the Central Medical School at Suvam, capital of the Colony of Fiji. They are not all Fijians; some come from other and far-distant Pacific islands. They will go home to heal the sick, to prevent the spread of diseases, and to raise the standard of health among their peoples.
The poster is enumerated among the Consolidated List of Government Publications for 1945, p. 364. Only three copies located worldwide: the National Library of Medicine, the Imperial War Museum, and the Victoria & Albert Museum.
---
Recommend this product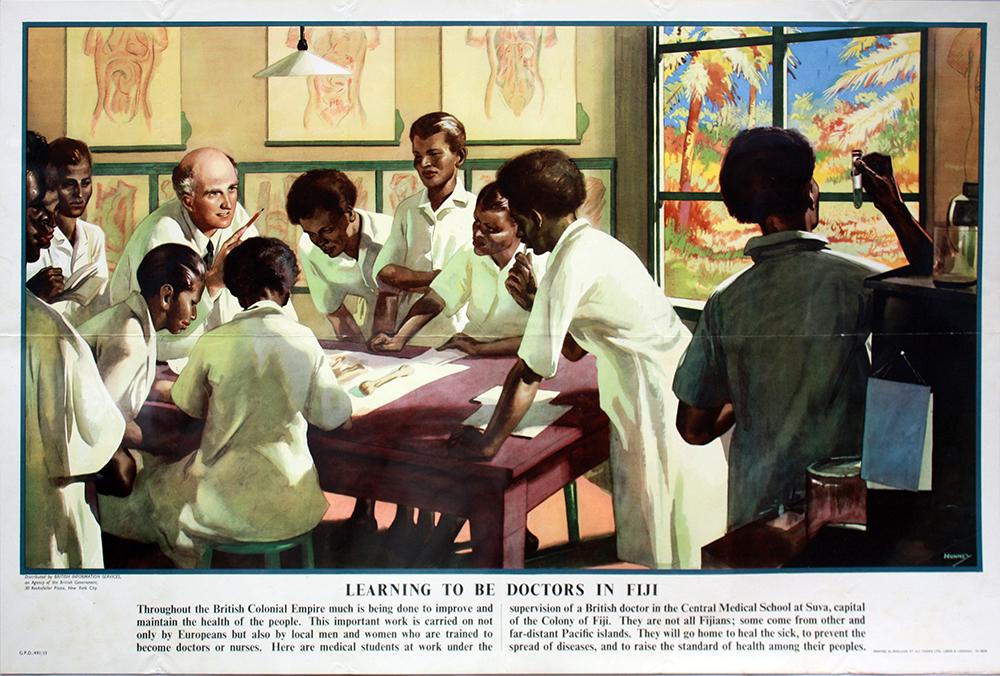 Colonial Recruitment Poster: Doctors in Fiji