Mel Lyman, Boston Avatar: A nearly complete run of underground publications
[Lyman, Mel]Avatar 1, 3-24 (June 9/22, 1967-April 26/May 9, 1968) [with] American Avatar 1-4 (October 1968-Summer 1969; all published) [with] Pluto #1 (1970; all published) [with] U&I 1-2 (1985-1986, all published).
     Melvin James Lyman (1938-1978) was a folk musician and the charismatic leader of a commune in Boston, Massachusetts in the 1960s and 1970s.  At his height, critics regarded his group as a dangerous cult. The cover of Rolling Stone #98 (December 1971) pictured Lyman with the quote, "The Manson Family preached peace and love and went around killing people. We don't preach peace and love."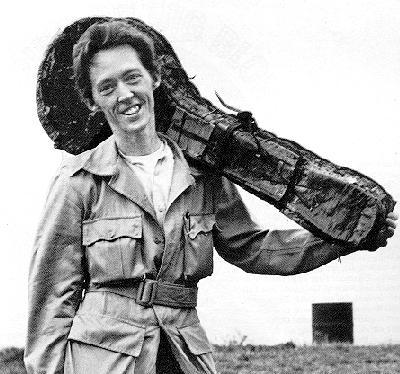 Diane Arbus, Mel Lyman (from Esquire, 1968)
     A banjo and harmonica player specializing in the blues, Lyman was a prominent figure in the folk scence of the the early 1960s, performing as a soloist and with Jim Kweskin's jug band.  He followed Dylan on stage at the 1965 Newport Folk Festival, and was regularly featured in The Broadside,Sing Out and other magazines of the folk revival.  His recordings were released by Reprise records, one of the leading music labels of the alternative scene.
     In 1966, Lyman had a spiritual awakening likely fueled by LSD and his encounters with Timothy Leary.  Proclaiming himself the World Savior, he founded the Lyman Family, also called the Fort Hill Community, in Roxbury, a section of Boston.   His community published an underground newspaper, Avatar, which went through several iterations between 1967 and 1969.
     Lyman's philosophy, revealed in his writings in Avatar, blended a cosmic millenarianism with nihilism rooted in a perception of himself as the living embodiment of Truth, Jesus Christ, and an alien sent to deliver humanity. Members of the community described a totalitarian personality cult with violent overtones, intensely patriarchal. Lyman reportedly liked guns.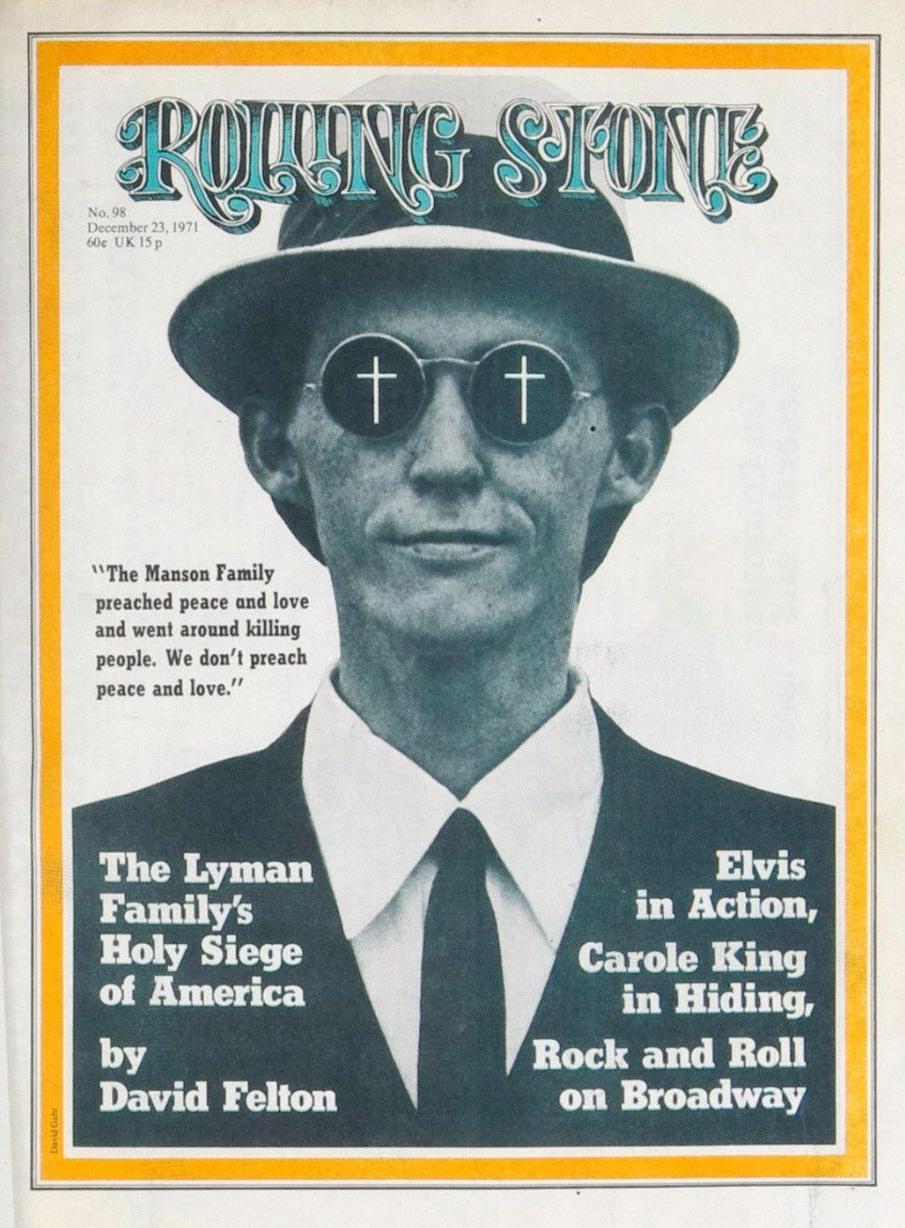 Lyman on the cover of Rolling Stone #98
     Lyman's connections with prominent Boston families complicated matters.  He married Jessie Benton, the daughter of the American artist Thomas Hart Benton.  The staff illustrator for Avatar was Eben Given, whose father was an artist associated with e. e. cummings, Eugene O'Neill, Madeline L'Engle, John Dos Santos and Mary McCarthy.
     In 1973, several members of the Lyman Family, including Mark Frechette, who had starred in Michelangelo Antonioni's Zabriskie Point, staged a bank robbery that ended tragically.  The community withdrew from public life after that point. Lyman died in 1978. Surviving community members published two issues of a new magazine, U&I in the mid-1980s, but these failed to revive interest. 
     Journalist David Felton included a chapter on Lyman in his book, Mindfuckers: A Source Book on the Rise of Acid Fascism in America, and Bruce Chatwin described his encounter in a chapter in What Am I Doing Here? Lyman is one of the major figures in Ryan Walsh's study of the underground scene in Boston in 1968, Astral Weeks. But the best source for this Boston communal experiment is Avatar, which published over 1,000 articles, poems, and letters by Lyman and his associates.


I am going to burn down the world 
I am going to tear down everything that cannot stand alone 
I am going to shove hope up your ass 
I am going to turn ideals to shit  
I am going to reduce everything that stands to rubble
and then I am going to burn the rubble
and then I am going to scatter the ashes
and then maybe someone will be able to see something as it really is
Watch Out 
- Mel Lyman
     In addition to serving as the organ for the Lyman Family, Avatar also sought to reach a general audience in Boston and Cambridge, and published local news, political commentary and cultural criticism alongside Lyman's spiritual teachings.
     Here is offered a nearly complete run of Avatar #1-24 (lacking #2).  The issues range in size from large newspaper (17½ x 23") to tabloid (11½ x 17 ½"). The issues are lightly creased at the folds but are otherwise in fine, unread condition.
     A schism within the Lyman family in the spring of 1968 led to the collapse of Avatar.  Lyman revived the magazine in October 1968 with a new publication, American Avatar, a tabloid (generally around 11½ x 17½") which ran for four issues, offered here in their entirety, all issues in fine, unread condition.
     This gathering also includes a fine copy of Pluto, "An Occult Magazine for the Devil's Country," produced by the Lyman Family in 1970.  
"Once you've been turned on, the next step is to learn about the planet Pluto. What it is. How mankind feels its influences. Who Plutonians are. And how to recognize them. Once all this is realized, then perhaps you as readers will create a purpose for Pluto Magazine."
     Finally, we offer both published issues of U and I, a magazine produced by members of the Fort Hill Community in 1985-1986 in an effort to recast their image in an agrarian mode.
     A nearly complete gathering of published materials from this controversial and intriguing communal experiment located in the heart of Boston. Thirty publications in all.


If I believe it, it will be so.
Give me belief in goodness growing,
In epic love,
In simple charity,
And a subtle knowledge of sin.
And give me time to voice belief,
Clothed in my own strange clothes.
--- U and I, #1
Selected References
Chatwin, Bruce. "The Lyman family -- a story," in What am I doing here? (New York: Viking, 1989), pp. 36-41
Felton, David, Robin Green and David Dalton. Mindfuckers: a source book on the rise of acid fascism in America including material on Charles Manson, Mel Lyman, Victor Baranco, and their followers. San Francisco: Straight Arrow Books, 1972
Walsh, Ryan H. Astral weeks: a secret history of 1968 (London: Penguin Books, 2019)
---
Recommend this product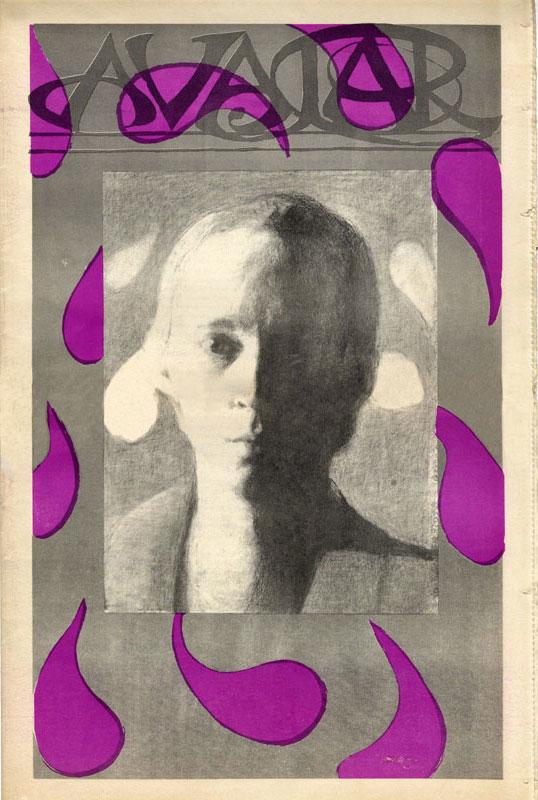 Mel Lyman, Boston Avatar: A nearly complete run of underground publications