Photographs from the Evangelical Association, precursor to the United Methodist Church
[Breyfogel, Seneca P. (1823 – 1884)]. Photo album, c. 1860 to 1880. 5 ½ x 7 ¼ inches, decorative calf binding. The album contains 73 images, six of which are tintypes. The rest are cartes-de-visite with backstamps of Pennsylvania photographers verso. Most photographs are identified in margins by a later hand. There are some empty spaces to the album, and two pictures that have been labeled are missing but appears to be largely complete. Heavy wear to album; binding cracked, with several signatures loose.


     A collection of scarce images compiled we believe by Rev. Seneca Breyfogel, including images of the first bishops and other early members of the Evangelical Association, which over time would give rise to the United Methodist Church.
     The album opens with the founding bishops of the Evangelical Association. There are CDVs of paintings of Jacob Albright (1759 – 1808) and Bishop John Seybert (1791 – 1860). There is a very striking late photographic portrait of Joseph Long (1800 – 1869). John Jacob Esher (1823 – 1901), whose allegedly despotic behavior would lead to a schism in the church in 1890,  is represented by no fewer than three early photographs. Pictures of these founding bishops of the United Methodist Church are very rare indeed. There is also a photograph of the first church of the Evangelical Association, built in New Berlin, Pennsylvania in 1818.
     The album continues with portraits of the family of Seneca Breyfogel, including his wife, parents, and children including Sylvanus C. Breyfogel (1851 – 1934), who was so close to the annotator that his pictures are not identified. Most of the men display what one family historian called the "Breyfogel look – dark complexions, with dark hair and eyes … thick and wide sloping shoulder and black beards. … The women were what might be expected in their female counterparts. They were not paragons of soft, feminine beauty, but at 50, they looked about as they did at 25."
     Raised on the family farm in Kutztown, Seneca Breyfogel moved to Reading to work in the coal business, at which he reportedly was highly successful. It was there evidently that he encountered the Evangelical Association, whose Salem Church in Reading had been established in 1843. Breyfogel abandoned his vocation to pursue his calling. Licensed in 1859, he rose to become an important figure in the Evangelical Association. He organized the Immanuel Church as an exclusively English-language congregation (the Salem Church conducted its services in German), holding services in his house until constructing a separate edifice on Chestnut Street in Reading – the first of four constructed under his superintendence. Received into the itinerancy, he took responsibility for a circuit in eastern Pennsylvania before widening his responsibly even further to Morristown, Port Carbon, Tamaqua, and Easton, where he presided over successful revivals. "His influence as a preacher and pastor is felt to-day on every charge where he labored," wrote his eulogist. "Many pious men and women thank God for his life, and for his private and public ministrations."
     Rev. Breyfogel's son Sylvanus was licensed to preach in 1873 and elevated to the rank of elder in 1877. As author, editor of the Evangelical Messenger, and educator, he became a leading figure in the Evangelical Association. His history Evangelical Landmarks (1888) is one of the standard sources on the denomination. He was elected bishop in 1891, and led the Schuylkill Seminary (later the Evangelical School of Theology), later incorporated into Albright College. The seminary's major building (now Teel Hall at Albright) was dedicated in 1929 in his honor. Bishop Breyfogel is also memorialized in the name of the Chapel at the United Theological Seminary.
     In addition to these luminaries of the church, the album contains other portraits of interest. Seneca Breyfogels's cousins went to California to mine gold and one, Charles C. Breyfogel, achieved such wide notoriety for first finding then losing a rich deposit that "Breyfogeling" became a synonym for prospecting. Other relatives fought in the Civil War, and there are several portraits here of men in uniform. There are several early photographs of Dr. Charles Wesley Breyfogel (1841 – 1895), another cousin who emigrated to California. Trained as a homeopathist, he thrived as a business and civil leader in San Jose. There are a number of other photographs we have not identified.
     Most intriguing is a portrait of an unidentified elderly African American woman dressed in a manner associated with the Wesleyan Holiness tradition. The photograph bears the stamp of W[illiam] R. Mortimer of Pottstown, Pennsylvania. Pottstown had a small Black population, but it was a hotbed of abolitionist sentiment and hosted a stop on the Underground Railroad. Mortimer's 1861 photograph of Nicholas Biddle, a Union soldier who had the dubious honor of being the first soldier to be wounded in the Civil War, was the first commercially sold portrait of an African American.  The woman here depicted may have been a member of the African Union Church of South Coventry, which in 1856 amalgamated with the AME church. There were close ties between the Bethel AME church in Reading and that in Pottstown. This photograph suggests the involvement of the Breyfogel family. As Behney and Eller note, the Evangelical Association was noted for its anti-slavery stance. "The slave question led to a bitter struggle in the church," they write, "not between anti-slavery and pro-slavery members, but between extreme anti-slavery people or abolitionists and anti-slavery people who hoped to have the national issue eventually settled amicably."
     The pictures are identified by a later hand, probably that of Rev. Breyfogel's daughter Ellen (1855 – 1937), who married the bookseller James W. Miller (1851 – 1947). The Millers lived with Rev. Breyfogel and his wife – they appear together in the 1880 census. Internal evidence suggests that this album was passed down through the family of the Millers' first son, Ralph (1880 – 1953).
     An important resource for the early history of the United Methodist Church.

Selected References
Behney, J. Bruce and Paul H. Eller, The history of the Evangelical United Brethren Church. Nashville, Abingdon, 1979.
Blockson, Charles. African Americans in Pennsylvania: a history and guide. Baltimore, MD : Black Classic Press, 1994.
Breyfogle, Lewis W., What I know about the Breyfogle family; through the first five generations in America. Chanute, Kansas: Lewis D. Breyfogle, 1963
Breyfogel, Sylvanus C. Landmarks of the Evangelical Association. Reading, Pa., 1888
Evangelical messenger. Evangelical album: issued as a premium for our weekly church organs, the Evangelical Messenger and der Christliche Botschafter for the year 1895. Cleveland, Oh: Thomas & Mattill, 1894.
Gingrich, F. Wilbur and Eugene Howard Barth. A history of Albright College, 1856-1956. Reading, Pa.: Albright College, 1956.
---
Recommend this product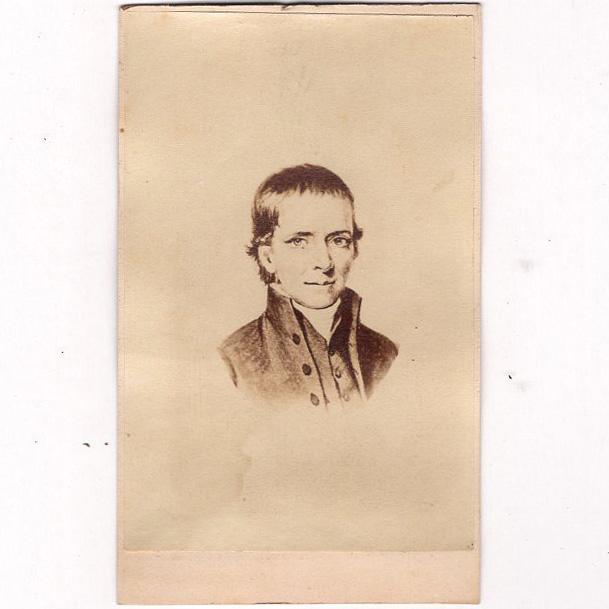 Photographs from the Evangelical Association, precursor to the United Methodist Church