A Calligraphic Manuscript for a Pioneer in Religious Education
[Athearn, Walter S.]To Our Friend Walter S. Athearn, Dean, Boston University School of Religious Education and Social Service, 1918-1928.  Four vellum sheets folded to make 8 pages, and sewn into a leather folder ornately tooled with Athearn's monogram. 23½ x 18½ cm. The silk thread is still present, but the sheets are loose. The binder is sunned and rather worn.
An elaborate calligraphic manuscript presented by the President of Boston University and other officers to Walter Scott Athearn (1872-1934), on the occasion of a decade of service as the first dean of the School of Religious Education and Social Service. Comprising a title page plus four pages of text written in red and black, the text expresses congratulations "upon the completion of a decennium of pioneering service in a relatively new profession." Fifteen signatures follow, including those of BU president Daniel L. Marsh, chairman Alonzo R. Weed, trustee William E. Chenery (who in 1939 would donate the Castle), treasurer E. Ray Speare, and others.
The Boston University School of Theology, the oldest American school in the Methodist tradition, created a special department of religious education in 1911, one of the first to be established in the United States. In 1918, this department was expanded into school for training Christian workers under the auspices of Boston University, Morgan Memorial, and the New England Deaconess Association. Athearn, an instructor in the Graduate School, was chosen as its first director.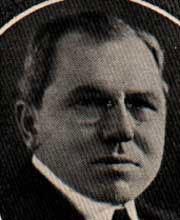 Athearn's first major post was at his alma mater, Drake University in Des Moines, Iowa, which he joined as professor of religious education and applied psychology in 1909. There he developed the principles that would guide his later efforts. Religion, he said, was "a fundamental element in human character which the college is under obligation to develop both by formal instruction in class room and laboratory, and by furnishing opportunities for living normal religious lives while within the college halls." Religious education was a pedagogical approach that would revolutionize not just the school but also the church, and through it, the world; it was "a new method, a new instrument which the church will use in giving to people the doctrine of the church, the missionary spirit and passion, and the evangelical fervor of the soul that has entered into fellowship with God."
Beginning in 1913, Athearn began a summer tenure at Columbia University as a visiting professor in religious education. He took a sabbatical in 1915-1916 to work with John Dewey at the University of Chicago. And in 1916 he accepted a position at the Graduate School of Boston University that was soon elevated to Dean. As he would later note, in establishing a new graduate school, Boston University afforded the field of religious education a recognition and status that it rarely enjoyed elsewhere:
During the past ten years, religious education has found its way into many American colleges. Its status is usually one of the following subordinate positions in the academic organizations. . . In all of these cases, religious education is subordinate to some other academic or vocational interest. In Boston University, religious education is organized as an independent school and granted the same academic and professional recognition as is accorded to medicine, law, theology, and education.
Athearn's years at Boston University were highly productive. He wrote or edited 21 volumes and scores of articles, and assumed leadership positions in the International Sunday School Association, and the Inter-Church World Movement, and the World Federation of Education. In 1928, Athearn announced that he was taking a year's leave to pursue these extra-curricular activities. The present token expressed the expectation that he would return to lead the BU School of Religious Education and Social Service to new heights:
Fondly do we hope, earnestly do we pra­­y that the past ten years may be but a dim prophecy of the glorious material and academic triumph which await the School in the future. And that is why we bid you a hearty Godspeed as you enter upon your year of well-earned rest.
May you return not only with renewed strength, but also with renewed confidence that the future is "bright as the promises of God."
But it was not to be. Athearn had clashed with the trustees over the financial aspects of the school's mission. As one sympathetic commentator noted, "They saw the dollar; he saw the soul. They, the representatives of a church college, expected to make a profit on the religious education of American youth. Dr. Athearn, the friend of the students, expected that a church college would serve the youth and make it as easy as possible for them to secure the education that would enable them, in turn, to serve the church."
Once they separated, neither School of Religious Education and Social Service nor Athearn flourished. Enrollments in BU's program declined swiftly, and the school was closed in 1939. Athearn floundered for a few years before accepting the post of president of Butler University in 1931. After 20 months he was asked to resign. In 1934 he was elected president of Oklahoma City University, but he died before the year was over.
Sources
Bostonia, XXIX:1 (October 1929)
Jennifer Lowe and Charles Russell Gresham, "Walter Scott Athearn," Christian Educators of the 20th Century Project, http://www.talbot.edu/ce20/educators/protestant/walter_athearn/
School of Religious Education and Social Service, 1918-39, A People's History of the School of Theology http://www.bu.edu/sth-history/graduates/school-of-religious-education-and-social-service/
---
Recommend this product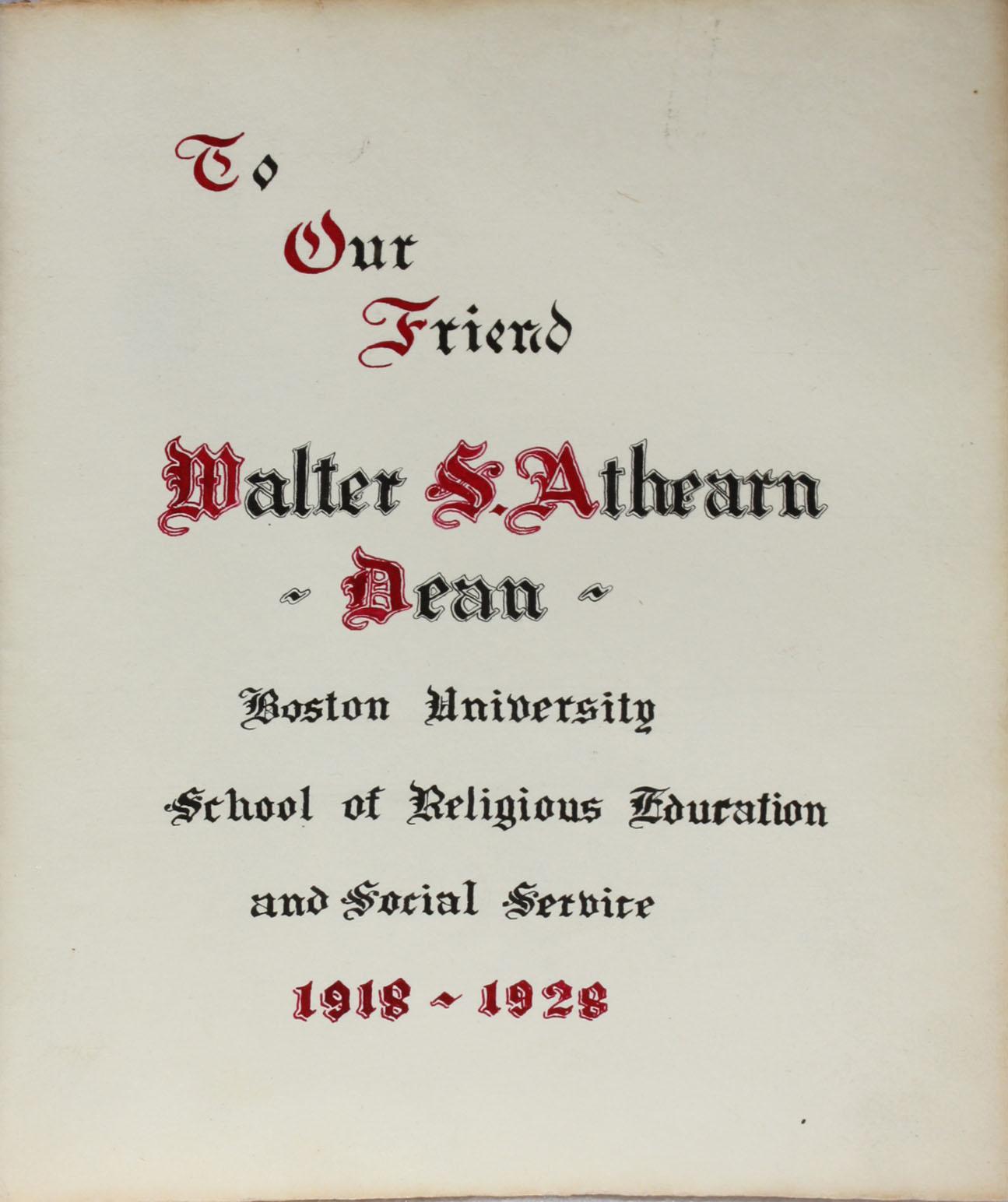 A Calligraphic Manuscript for a Pioneer in Religious Education