Manuscript Archive for the First Cold War Spy Novel
Linebarger, Paul Myron Anthony (1913-1966). Atomsk: A Novel of Suspense by "Carmichael Smith." Original manuscript archive for the novel published pseudonymously in 1948, including multiple drafts, research materials, and editorial correspondence. Housed in a single three-ring binder prepared by the author.
     A small but important archive of material relating to the first Cold War spy novel, a speculative work by Paul Myron Anthony Linebarger, whose work published under the pseudonym "Cordwainer Smith" – a little over two dozen stories and single novel – have earned him an international cult following. Linebarger was himself a CIA operative, and the work may be read as a romaticized roman à clef.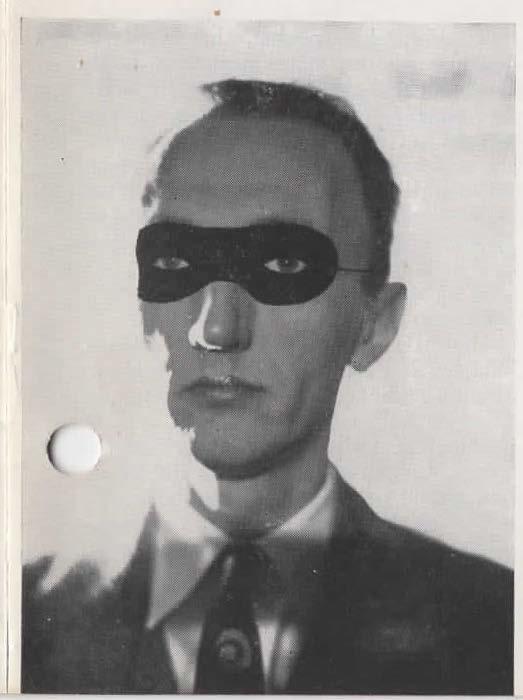 "Carmichael Smith" pictured in the Unicorn Mystery Book Club News, vol. 1, no. 9 (1949), in the archive.
    A polymath, Linebarger was a political scientist with close ties to the intelligence community. The godson of Sun Yat-Sen (for whom his father served as legal advisor), Linebarger attended school in Shanghai and Washington before receiving his PhD. at Johns Hopkins at age 22. After postgraduate work at Harvard, he took a position at Duke in 1938.  In 1942 he joined the War Department as chief of Eastern Section of the Psychological Warfare Branch of Military Intelligence Service. His handbook of psychological warfare, published in 1948, would be the standard for many years to come.  During the Cold War he consulted regularly for intelligence services. In the early 1950s, he was a frequent traveler to the Middle East as "a visitor to small wars." In 1955, he was one of a secret panel of experts assembled by Nelson Rockefeller in Quantico to assess vulnerabilities in the Communist bloc. In 1969, Miles Copeland, Jr., one of Linebarger's colleagues in the CIA praised him as "perhaps the leading practitioner of 'black' and "gray' propaganda in the Western world."
     It is likely that Linebarger was also the subject that the psychiatrist Robert Lindner wrote about in his collection of case studies, The Fifty Minute Hour (1955), as "Kirk Allen," who suffered from the delusion that he was spending part of his life in other planets.
      Atomsk was Linebarger's seventh book, following his treatise on PsyOps, three monographs on China, and two mainstream novels published under the pseudonym Felix C. Forrest. While hardly a roman à clef, it does draw upon his work in military intelligence, and it does not take too great a leap to recognize in the protagonist an idealized portrait of the author.  Like Linebarger himself, Major Michael Andreanov Dugan ("the greatest spy in the world") is a cultural hybrid (in this case, Irish/Aleut) who adeptly straddles two worlds divided by a Cold War, all the while struggling with the question of his self-identity. Dugan is charged with sabotaging a secret Russian base that turns out to be a vast underground city, suggesting a speculative bent that would come to full flower in 1950, when Linebarger published the first of his stories centered on the Instrumentality of Mankind, and introduced the world to Cordwainer Smith. As Tony Lewis has noted, Atomsk anticipates the techno-thrillers of a later generation. Indeed, it appears to be the first espionage novel to be spawned by the Cold War, anticipating the literary efforts of Ian Fleming, John LeCarre, Len Deighton, Tom Clancy, and countless others.
     The archive, housed in a single thick red three-ring binder assembled by the author, includes Smith's carbon copy of the first draft typescript, with numerous holograph corrections, signed in pen on the last page, "Carmichael Smith, 25. iv. 1948."  With the typescript are extensive ancillary materials: numerous drafts and corrected pages, and correspondence with his agents Jacques Chambrun and Desmond Hall, and his editor Cap Pearce (of Duell, Sloan & Pearce) – their originals, and Linebarger's carbons.  In a letter to Chambrun dated 1 December 1948 Smith summarizes his revisions to the original manuscript:


1. Love theme added, beginning and end, with new heroine, Captain Sarah Lomax.
2. "Peace" theme salted here and there.
3. Approach to Atomsk by Dugan simplified.
4. Egress supplied with more action.
5. Superfluous characters deleted.
6. About 16,000 new words of which 12,000 are replacement.


     The materials give insight into Linebarger's process: at the end of several hundred pages of drafts is a copy of a page copied at random from a hardboiled mystery by Frank Gruber, and there is a map with the location of the fictional Russian base carefully marked.  There are letters from his typist, and correspondence concerning the books republication in the Unicorn Mystery Book Club.  There are several pages where he works out the dedication, in Cyrillic, to a free Russia.  There are also publicity materials prepared by Linebarger: a blurb for the book, a startling autobiographical statement ("Espionage turned out to be sad, shabby and cheapening"), and the draft transcript of a radio interview conducted to promote the book.  Letters from the United States Information Agency discuss a Farsi translation of the novel.  Newspaper clippings (including a long, denunciatory review from Pravda) and royalty statements round out the archive.
     The bulk of Linebarger's fiction was sold by Larry McMurtry to the Spencer Research Library at the University of Kansas in 1982. Materials relating to Linebarger's professional career in political science and espionage are at the Hoover Institute at Standford. The archival binder for Atomsk, traded separately, is the only major manuscript currently in private hands. 
     An important gathering of material for a landmark book by this widely read and much-studied writer.
Sources
John G. Cawelti and Bruce A. Rosenberg, The Spy Story (University of Chicago Press, 1987)
Miles Copeland, Jr., The Game of Nations (Simon & Schuster, 1969)
Alan C. Elms, "Behind the Jet-Propelled Couch: Cordwainer Smith and Kirk Allen," New York Review of Science Fiction, May 2002.
Karen L. Hellekson, The Science Fiction of Cordwainer Smith (McFarland., 2001)
Anthony R. Lewis, Concordance to Cordwainer Smith, 3rd ed. (NESFA Press, 2000)
Robert Lindner, "The Jet-Propelled Couch," parts I and II, Harper's Magazine, December 1954 and January 1955.
Brett F. Woods, Neutral Ground: A Political History of Espionage Fiction (Algora Publishing, 2008)
---
Recommend this product
Manuscript Archive for the First Cold War Spy Novel