Visiting Enrique Creel, Governor of Chihuahua
Creel, Hattie Virginia (1856-1915). Lengthy TLS to "Cousin Lucy" on visiting their cousin Enrique Creel in Chihuahua, Mexico, nd [circa 1909], carbon copy with corrections. 11 pp. Very good condition.
     Born in Wood, Mason County, West Virginia, Hattie V. Creel never married and was therefore free to pursue her own adventures. She lived in Parkersburg, W. Va., until 1884, when she moved to Angola, Indiana, to attend the newly-founded Tri-State Normal College  (now Trine University), where her brother Lorenzo Dow Creel (1853-1926) served on the faculty. She was the school's first graduate, earning a degree in voice in 1887. She pursued advanced studies at the New England Conservatory of Music during the summers of 1888 and 1889.  In 1889, she took a position teaching music in the high school of Salem, Ohio. In 1895, she moved to Cincinnati, Ohio, to work in the music department of a textbook publisher, the American Book Company, where she remained until 1912. A frequent traveler – the Creels were a very large clan – she visited her cousin Enrique in Chihuahua in 1908.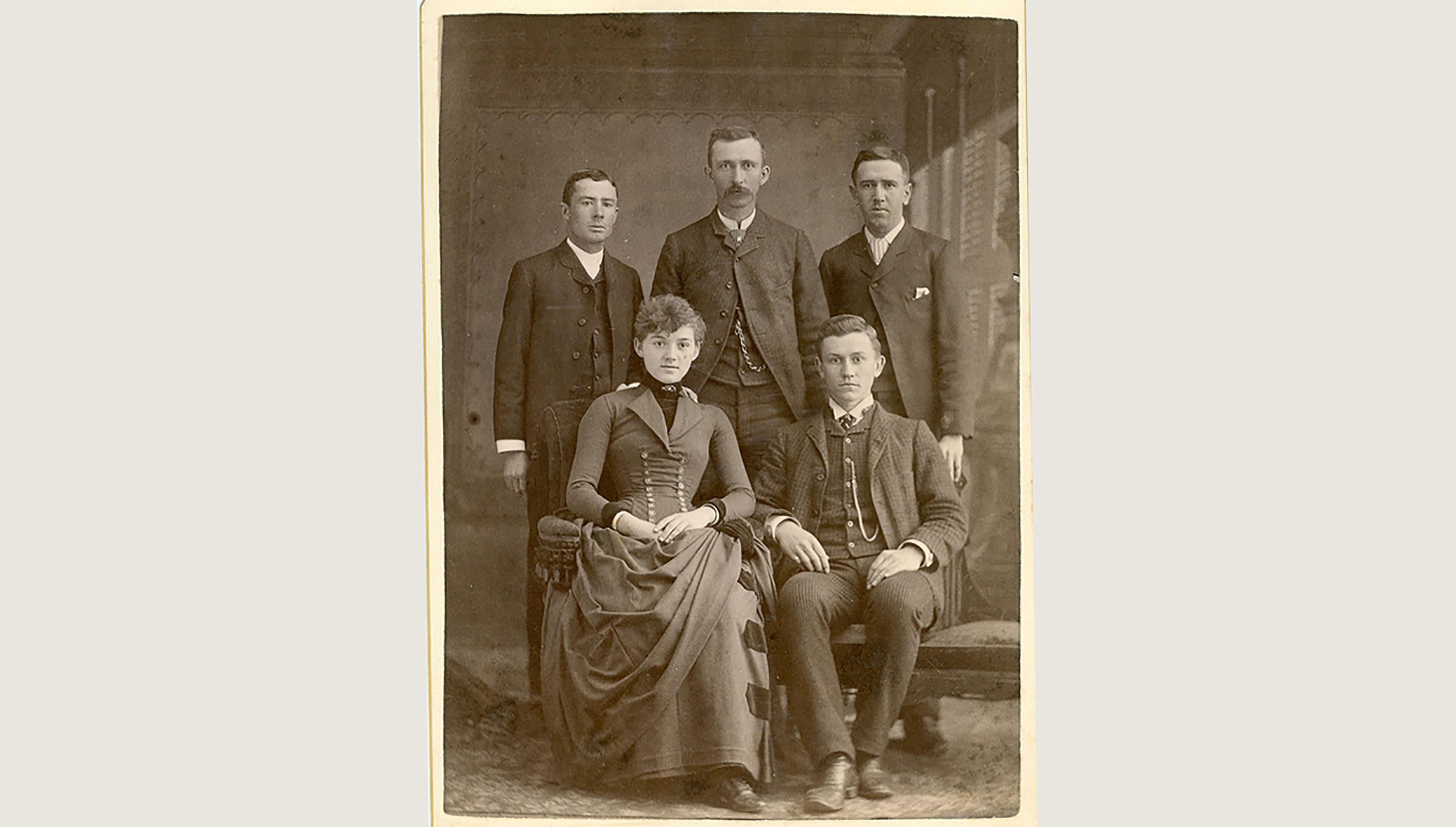 Lorenzo Dow Creel stands at the center of this picture from Tri-State Normal School, circa 1885. His brother Thomas Jefferson Creel is seated. The young woman may be Hattie V. Creel. (cbrandt.com)


     Enrique Clay Creel Cuilty (1854-1931) was born in Chihuahua, the largest state in the Mexican republic, where his father was U.S. Consul. Serving in the cabinet of Porfirio Diaz from 1876 to 1910, Creel amassed a considerable fortune and became, as historian Mark Wasserman notes, "one of the most hated symbols of the Porfirian regime." Wasserman summarizes his significance thus:
As a member of Mexico's greatest landowning and cattle-exporting family, the nation's leading banker, the most influential Mexican representative of foreign capital, and a major industrialist, Creel was at the center of the key economic trends of the era of Porfirio Díaz. As the son-in-law and second-in-command of the nation's most powerful regional political boss, Luis Terrazas of Chihuahua, he was also squarely in the middle of the major political struggle of the Porfiriato … As governor of Chihuahua on the eve of the outbreak of revolution in 1910, as head of Díaz's secret service along the northern border,  and as Mexican ambassador to the United States, Creel stood in the midst of the social and political upheaval that erupted in 1910 and 1911. … He, perhaps better than any of his contemporaries, mastered the interrelationships between business and politics.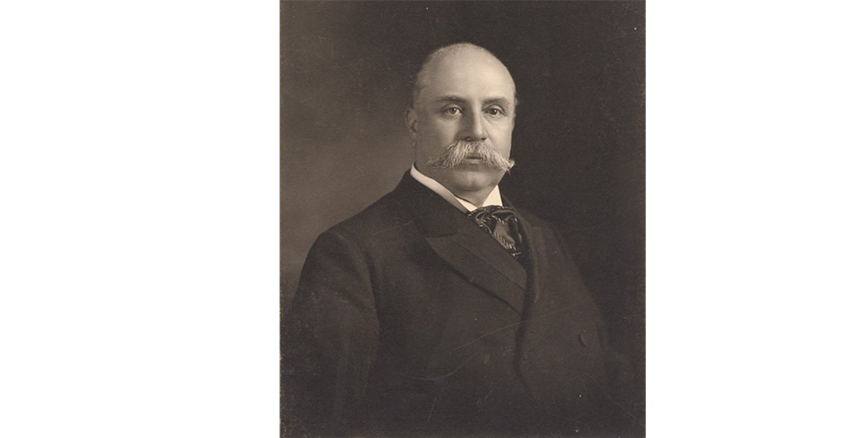 Enrique C. Creel, 1908
     The present document appears to be a circular letter sent by Hattie Creel (who here signs herself H. Virginia Creel) in response to "letters from my numerous relatives urging me to tell them something of my adventures in Mexico," which extended from December 1908 to January 1909. She describes her trip to Texas on behalf of the American Book Company, and her crossing the border to be greeted by Governor Creel, "a veritable king in his own country," as well as his siblings Juan Creel and Maria Helmus, "a typical blonde."  Over the next two weeks, she met Enrique Creel's mother, who spoke no English, and "almost the entire Terrazes family, which included all the sisters, husbands, cousins, aunts, nephews and nieces." She notes that throughout her stay she was universally addressed as Virginia.

Cincinnati Enquirer, 10 November 1910


     Hattie Creel is full of praise for Governor Creel and enchanted by life in Mexico. But reading between the lines, one is also able to discern the faint echoes of the critiques that she must have heard when she was there:
You will all feel proud to know that, throughout his life, he has always been actuated by the highest motives and honest purposes; his money is clean money, and although he has been the far sighted financier and possibly a shrewd trader, he has never been accused of wrong doing, and the humblest peon never fears but he will always receive justice at his hands.
She remarks that his friends believe Governor Creel to be destined for the presidency, but also note that "he has aged very fast in the last ten years." It would not be long after Hattie Creel's visit that Mexico would break out in revolution and the Terrazas-Creel clan forced into exile.
     A fascinating intimate portrait of one of the most powerful families in Mexico during the Porfiriato.

Steuben Republican (Angola, Indiana), 9 April 1913
Selected References
Steuben Republican (Angola, Indiana), 1884-1913
Salem Daily News, 1889-1896
Cincinnati Enquirer, 1910
Cobian, Alejandro Creel. Enrique C. Creel: apuntes para su biografía (Mexico City, 1974).
Creel, George Edison, et al. Creel Family History, April 2003. (Hernando Beach, FL, 2003). https://digital.ncdcr.gov/digital/collection/p15012coll1/id/64583/rec/1
Creel, Lorenzo Dow. The Genealogy of the Creel and Related Families. http://cbrandt.com/Creel_Family/THE_GENEOLOGY_OF_THE_CREEL_AND_RELATED_FAMILIES.pdf
Owens, James Adolphus. Anywhere I Wander I Find Facts and Legends Relating to the Creel Family (Warrior, Alaska, 1975)
Montaro Mena, María Esther. El México porfiriano y sus relaciones con Centroamérica. Una mirada a la labor diplomática de Enrique C. Creel (1907-1910). Revista UCR (May 2008). https://revistas.ucr.ac.cr/index.php/dialogos/article/download/31332/31036/
Wasserman, Mark. Capitalists, Caciques, and Revolution: the Native Elite and Foreign Enterprise in Chihuahua, Mexico. Chapel Hill: University of North Carolina Press 1984.
-----. "Enrique C. Creel: business and politics in Mexico, 1880-1930." Business History Review 59 (Winter 1985) 645-662.
---
Recommend this product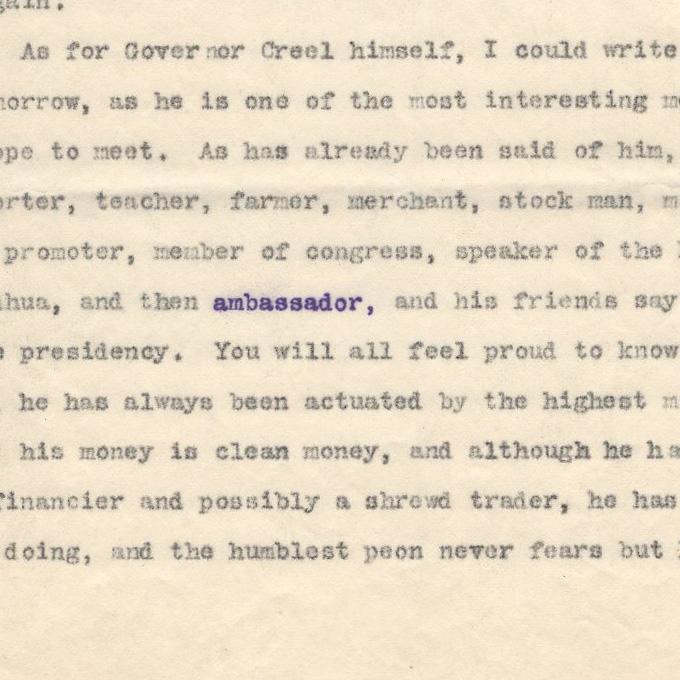 Visiting Enrique Creel, Governor of Chihuahua