Lynn Riggs, a letter and a book for Isaac Goldberg (1930)
Riggs, Lynn (1899-1954).  ALS to Isaac Goldberg (1887-1938). [With] Lynn Riggs, The Iron Dish. Garden City, New York: Doubleday, Doran & Company, 1930. First edition. Inscribed to Isaac Goldberg. Offsetting to front endpapers, else a near fine copy lacking the dustwrapper. With newspaper clippings laid in.
A bright copy of this collection of poems written between 1925 and 1929, inscribed to the Jewish man of letters, Isaac Goldberg: "For Dr. Goldberg -- who allows a playwright to be a poet / Lynn Riggs / Boston / Dec. 16, 1930."
With a letter to Goldberg thanking him for his attention to his work:
I've been so attentive to the wanderings of Green Grow the Lilacs that I haven't had a chance before to say my gratitude to you for many things: your extremely illuminating study of my work which preceded our opening in Boston; your kindly presentation of me in the article mainly concerned with Roadside; the pleasant afternoon I had with you as an interlude between hours of rather agonizing difficulty. And now Mr. Paul Green tells me that you have reviewed very handsomely my book of poetry. I haven't seen the article but will soon....
Fluent in Yiddish and several other European languages, Goldberg was a prolific author, critic, and translator based in Boston. From 1923 to 1932 he served as literary editor of the American Freeman, a newspaper published by E. Haldeman-Julius. In 1930, he published an interview with Riggs in the Boston Evening Transcript that was excerpted in the New York Times. Goldberg, whose many books include biographies of H. L. Mencken, George Gershwin, and Gilbert & Sullivan, described the poet and playwright in fulsome terms. "It is a great man indeed who has the courage of his convictions," he wrote. "It is a rarer one who has the courage of his exaltations. This is the quiet but unshatterable courage that characterizes Lynn Riggs." Several clippings of articles by Goldberg on Riggs, including a review of The Iron Dish from The American Freeman, are laid in.
A wonderful association between leading literary representatives of two divergent cultural communities.
Sources
Braunlich, Phyllis Cole. Haunted by home: the life and letters of Lynn Riggs. University of Oklahoma Press, 2002.
Crandall, Allen. Isaac Goldberg, an appreciation. Sterling, Col.: The author, 1934.
Ewen, David. "Isaac Goldberg at Fifty," The American Hebrew, 5 November 1937 , p . 5
Goldberg, Isaac. Profile of Riggs in the Boston Transcript excerpted in "And Now Lynn Riggs," New York Times, 1 February 1931.
Goldberg, Isaac. "In the World of Books: A New poetic Lochinvar out of the west," The American Freeman, 24 January 1931, p. 4.
Recommend this product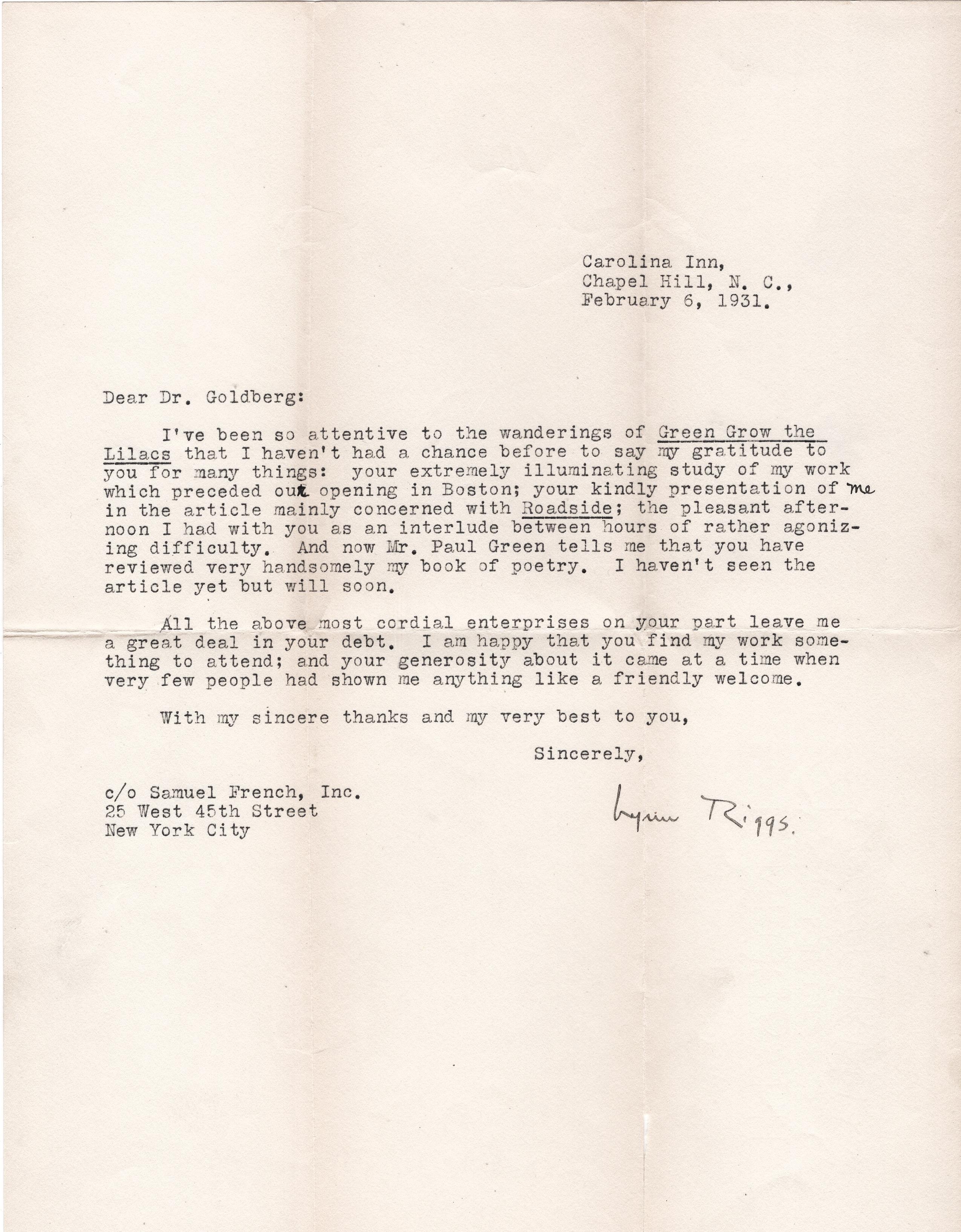 Lynn Riggs, a letter and a book for Isaac Goldberg (1930)