Charles COTTON. Signed document (1663). A bond to the creditor who acquired Beresford Hall
Cotton, Charles (1630-1687), Bond for the performance of covenants between Charles Cotton and Joseph Woodhouse, dated August 1, 1663. Parchment, about 22.2 x 23.5 cm (8¾ x 9¼ in.), Text in Latin and English, signed by Cotton, with affixed seal. Signed also by John Bordman and John Fynney as witnesses. Docketed on verso.  Housed in a custom chemise and slipcase.
     An interesting and highly suggestive document, adding to the sparse biographical information on the great Restoration poet and angler Charles Cotton, for whom only a limited number of published sources and very little archival material remains.
     On the one hand, 1663 was a highly productive year for Cotton. On 27 February, Cotton completed his translation of a French work on Stoic moral philosophy that he dedicated to his kinsman John Ferrers. He also wrote The Valiant Knight, or the Legend of St. Peregrine, published anonymously in 1663, and began work on Scarronides, published in­ 1664, both notable for their licentiousness and scatology.
     Yet 1663 was also a time of financial straits, brought on by improvident living. As John William Cousin summarized pithily, with his father's death in 1658, Cotton "succeeded to an embarrassed estate, which his happy-go-lucky methods did not improve" (Cousin, 96). As Hartle and other critics have noted, debt is a recurring theme, notably in his Poverty: Pindaric Ode:
Obstrep'rous creditors besiege my door,
            And my whole house clamourous echoes fill;
From these there can be no retirement free,
From room to room, they hunt, and follow me;
            They will not let me eat, nor sleep, nor pray,
            But persecute me night and day… (IV: 3-8)
It was to discharge his debts that Cotton in 1681 surrendered Beresford Hall, the estate which he inherited from his father, and where he built the retreat where he and Izaak Walton passed so many hours angling in the River Dove. The purchaser was Joseph Woodhouse of Wolescote (i.e., Wolfscote) Hall, Derbyshire. Woodhouse was evidently a speculator: he appears in records as the purchaser of several large estates and sold Beresford Hall soon after he acquired it.

Charles Cotton and Beresford Hall, fore-edge painting ca. 1835, Boston Public Library
     The present document offers insight into the background for that sale. Dated 1663, eighteen years before Cotton parted with the house, it is a bond from Charles Cotton of Berrisford [sic] Hall in the County of Staffordshire to Joseph Woodhouse of Woolcote Hall in the county of Derbyshire for "ducentis libris legalis monete Anglie" (two hundred pounds of lawful English money). Such a round figure suggests that this was a loan, and a very substantial one indeed.
     Transactions as these doubtless provided the occasion for losing Beresford Hall. The estate was worth many thousands of pounds (see Cliffe, ch. 1), but Woodhouse paid only £653 0s. 10d. (Beresford & Beresford, 101) -- clearly the major part of the sale was executed as a credit against Cotton's debt. The document is witnessed by John Bordman and John Fynney, the latter a scion of a local family descended from a deputy of William the Conqueror, and likely a relative of Frances Fynney, who appears to have been another of Cotton's creditors. 
     In a letter that may be dated to 1664 (by the reference to the marriage of Cotton's daughter), the poet's cousin John Beresford appears to reference to Cotton's bond with Woodhouse secured against the estate:
Had I liberty I should be afraid (having accidentally seen Mr. Woodhouse and been informed by him of some late discourses youve had) yt you would conferre a friendly visit .... wch truly I was a stranger to all manner of promotion of it till he told mee, but I think myself obliged since I am so unfortunate I cannot see you to acquaint you yt if you please to propose anything of your intent to Mr. Woodhouse hee fully knows my mind in it and can inform you yt I am not unwilling of anything that can bee thought equall and reasonable to us both or at any time (now & always) to doe [so that] I may in any sense be serviceable & obliging to you. (Beresford & Beresford, 102)
     Indeed, this document suggests that an historical inquiry into Joseph Woodhouse's financial practices as might prove interesting. A title deed that survives in the Derbyshire Record Office records another sale to Woodhouse, a property of some 121 acres that Cotton sold, along with Arthur and William Stanhope, sold on 11-12 October 1666 (CELM, *CnC 152). When Woodhouse assumed ownership of Cotton's estate in 1681, he sold it immediately to John Beresford.
     Based on Parks's careful work on the Derby manuscript, it is easy to confirm Cotton's autograph, with the bold initial C, the characteristic terminal n, the period following the signature, and so on. Although Cotton had served as a Justice of the Peace for Staffordshire and would have been familiar with the standard legal formulae, we believe that the text of the bond is not in his hand but rather represents scribal fair copy The document retains original blind seal bearing the crest of the Cotton family, a chevron between three hanks of cotton (see below). Very little manuscript material pertaining to Cotton has survived, including only two documents signed by him (for a census, see CELM).  The present manuscript thus represents a significant addition to the record.
     A fascinating and illuminating document from the life of a much revered author whose works have given generations of anglers so much pleasure.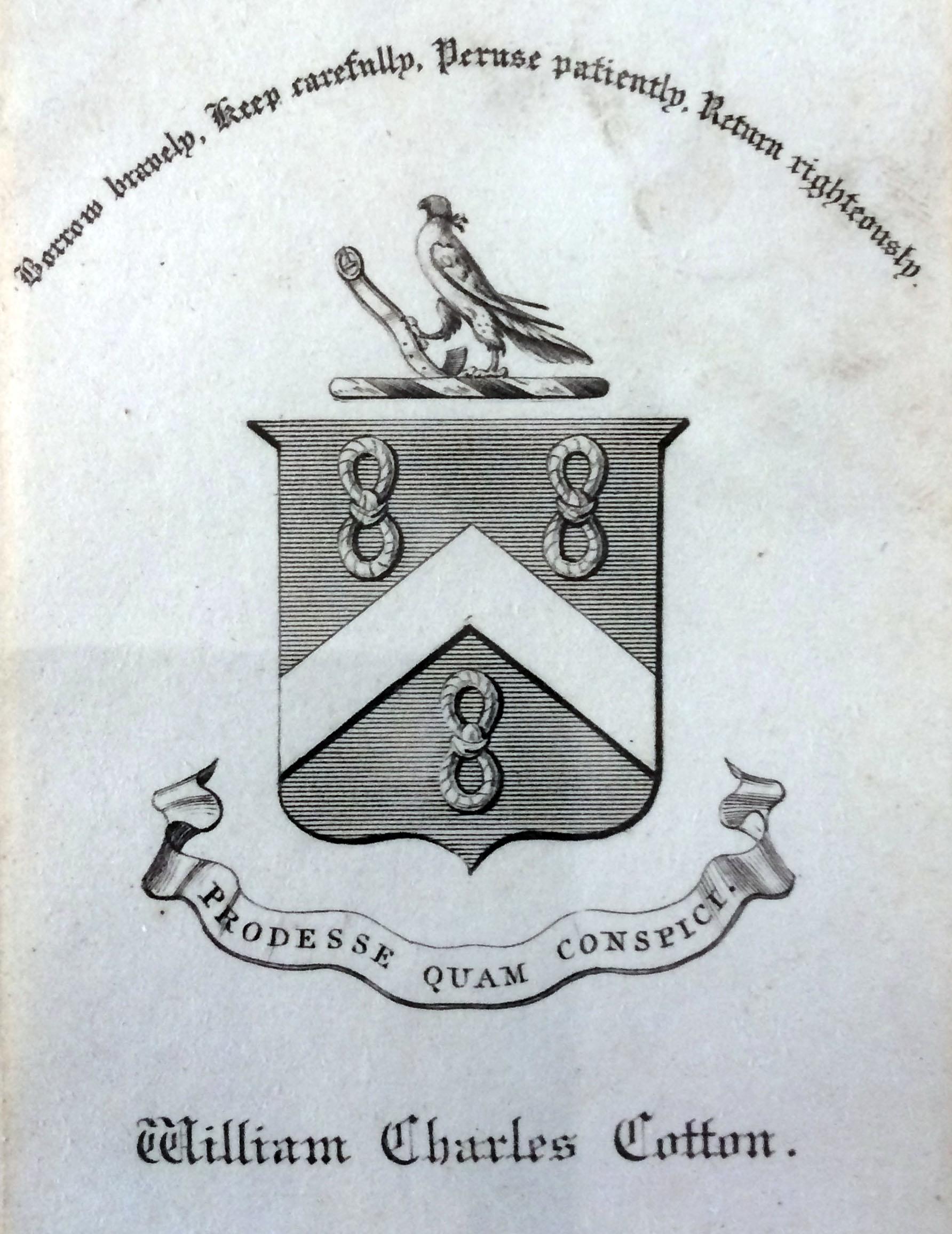 The Cotton family crest reproduced on a bookplate (photograph courtesy of Dr.  P. N. Hardle)
Provenance:Sold in 1902 by T. A. Taylor of Grand Rapids, Wisconsin (1866-1961), then operating as a rare book dealer specializing in British literature. Sold again in the sale of Edward N. Crane's Library in 1913 (item 207A). It has since passed through the hands of several private collectors of angling material.
     We gratefully acknowledge the expert assistance of Dr. P. N. Hartle, Christopher Knowles, and John J. Tunesi of Liongam.


Sources
Beresford, John, ed. Poems of Charles Cotton, 1630-1687 (London, 1923)
Beresford, William and Samuel B. Beresford, A History of the manor of Beresford, in the County of Stafford (Leek, 1908)
CELM = Catalogue of English Literary Manuscripts, 1450-1700, s.v. Cotton, Charles. https://celm-ms.org.uk/authors/cottoncharles.html#national-archives-kew_id667074
Cliffe, J. T. The World of the country house in seventeenth-century England (New Haven, 1999)
Cousin, Charles William. A short Biographical dictionary of English literature (London, 1910)
Crane, Edward N. The library of Edward N. Crane, being an important collection of Americana. To be sold March 24th - 28th (New York, 1913)
Dust, Alvin I., "Charles Cotton: his books and autographs," Notes and Queries, 19 (1972) 20-23.
Hartle, Paul N. "Mr. Cotton, of merry memory: Charles Cotton (1630-1687), Poet," Neophilologus 73 (1989) 605-619
------- (ed) The poetry of Charles Cotton, 2 vol. (Oxford, 2017)
Parks, Stephen. "Charles Cotton and the Derby manuscript," in Parks and P. J. Croft, Literary autographs (Los Angeles, 1983), 3-35
Sembower, C. J. The Life and the poetry of Charles Cotton (Philadelphia, 1911)
Taylor, T. A. [Advertisement], The Book-Lover vol. 2 no. 10 (1902), p. ix
---
Recommend this product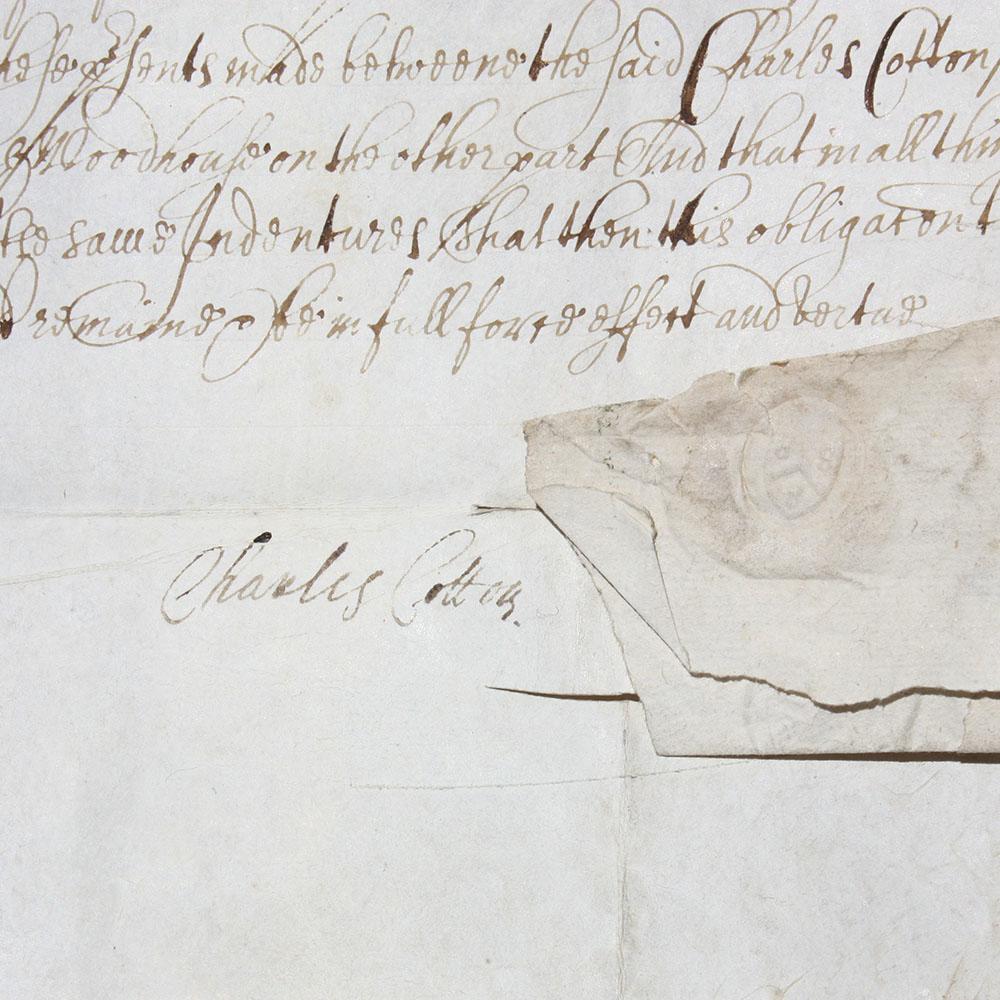 Charles COTTON. Signed document (1663). A bond to the creditor who acquired Beresford Hall