A revolutionary Tagalog manuscript from the Philippine-American War
Trinidad, Críspulo (1839-1925). Buhay ni Judit. Holograph manuscript, signed by the author and dated 22 September 1899. 16 x 22 cm; 99 pp. written on both sides of 50 numbered leaves. Fair copy, written in a school notebook, the cover of which is torn and separated. The pages are fragile, browned, and waterstained with a number of short marginal tears and other faults. The first leaf is loose and others are weakly bound. But the text is complete and the neat handwriting is legible.
     Written in Tagalog and recounted in 629 numbered quatrains of dodecasyllabic stanzas – the meter associated with the awit – Buhay ni Judit presents the biblical story of Judith, the Jewish widow who lures an Assyrian general to his death and thereby delivers Israel from imperial oppression. As a metrical romance, Buhay ni Judit falls within the Filipino tradition of didactic stories in the Catholic tradition rendered in verse for a popular audience. It features all of the elements that Dean S. Fansler, Damiana L. Eugenio, and Patricia May Jurilla have identified as central to the genre: "romantic love, religion and didacticism, and magic and marvel" (Jurilla, 132). But in the context of the Philippine-American War, it is impossible not to see this poetic epic as an explicitly anticolonial work.
     A note from the author at the end of the text records that Buhay ni Judit was begun on 9 July 1899, about one year after the Philippine Declaration of Independence, five months after the Battle of Manila, and one month after the Philippine Republic formally declared war against the United States. The struggle against American oppression unified Filipino ilustrados (intellectuals), principales (political leaders) and peasants in a fight for political and cultural self-determination. Dramatically outgunned, Filipino forces accepted guerilla tactics early on, seeking "not to vanquish the U.S. Army but to inflict on them constant losses," as General Francisco Macabulos put it. President Emilio Aguinaldo authorized guerilla tactics as a military strategy on 14 September 1899, one week before Críspulo Trinidad completed this manuscript.
     As Reynaldo Ileto argued in his study of pasyons, under colonial rule, biblical narratives served as what James Scott called "hidden transcripts," blending religious, social, and political themes to raise consciousness and offer models for resistance. Scholars who have followed Ileto, including Lawrence Castillo and Joseph Scalice, have identified politically subversive elements in other awits and corridos of the period by tracing subtle links to Filipino folklore and Catholic tradition. In the case of Buhay ni Judit, the revolutionary intent is much closer to the surface. 
     It is worth noting that unlike the politically inflected metrical romances that have been the focus of earlier research, this text focuses on an explicitly female model of resistance to colonial subjugation. There are two other surviving Tagalog treatments of the story of Judith, one by Joaquin Tuason published in 1879, and the other by Cleto R. Ignacia, undated but from the early 20th century. Comparing these with the present manuscript may be instructive.
     About Críspulo Trinidad we know relatively little. The sole biographical source on the poet is based on an interview with an acquaintance in 1972, long after his death. The son of a Manila craftsman, Trinidad attended the University of Santo Tomás. He appears in directories from the 1890s as the director of a private secondary school (Latinidad) residing at Magallanes no. 27, Manila. He was the author or translator of six publications that have been identified. Two were issued between 1887 and 1890, and the other four were all published in 1919. This suggests either that he suffered from a long period of writer's block or – more likely – that he may be credited with other works that have not been identified or are lost.
     Buhay ni Judit appears to be unpublished. It is likely that the war made publication of Trinidad's subversive text impractical. Another possibility is that these verses were intended not to be read but to be performed. Drawn from oral tradition, awits were commonly recited or sung to music in andante. Ileto and others have emphasized the importance of public recitations of poetic narratives during periods of nationalist insurgency as a form of revolutionary theater. Trinidad's poem may therefore offer further insight into the performative aspects of the Filipino struggle against imperialism at the turn of the twentieth century.
     A substantial and significant work, and an extraordinary survival.


Works Cited
Castillo, Lawrence Marvin S. "The (Anti)Colonial Awit of Juan Tamad: Didacticism and Subversion in a Colonial Metrical Romance," Philippine Studies 65 (2017) 357-

Datos Estadísticos de facultad, estudios superior y segunda enseñanza del curso académico de 1891 á 1892 (Manila: Establecimiento Tipográfico del Colegio de Santo Tomás, 1892)

Eugenio, Damiana L. Awit and Corrido: Philippine Metrical Romances (Quezon City: University of the Philippines Press, 1987)

Fansler, Dean S. "Metrical Romances in the Philippines," Journal of American Folk-Lore 29 (1916) 203-34.

Ignacia, Cleto R. Ang katutohanang buhay nang Infanta Judit, Sinipi sa tunay na historia at tinula ni Cleto R. Ignacia (Manila: Bahay Palimbagan ni P[raxedes] Sayo Balo ni Soriano, n.d.)

Ileto, Reynaldo, Pasyon and Revolution: Popular movements in the Philippines 1840–1910 (Quezon City: Ateneo de Manila University Press, 1979)

Jurilla, Patricia May Bantug. Tagalog Bestsellers and History of the Book in the Philippines, Ph.D. Thesis, SOAS, 2006.

Manuel, E. Arsenio, "Trinidad, Críspulo," Dictionary of Philippine biography (Quezon City: Filipiniana Publications, 1955-), 3: 527-28

Scalice, Joseph.Pasyon. Awit, Legend: Reynaldo Ileto's Pasyon and Revolution Revisited, a critique. M.A. Thesis, University of California, Berkeley, 2009.

Scott, James. Domination and the Arts of Resistance: Hidden Transcripts (New Haven: Yale, 1990)

Tuason, Joaquin. Ang bayaning Judit na nagligtas sa Betulia sa lubhang daquilang capañganiban (Manila: s.n., 1879)
---
Recommend this product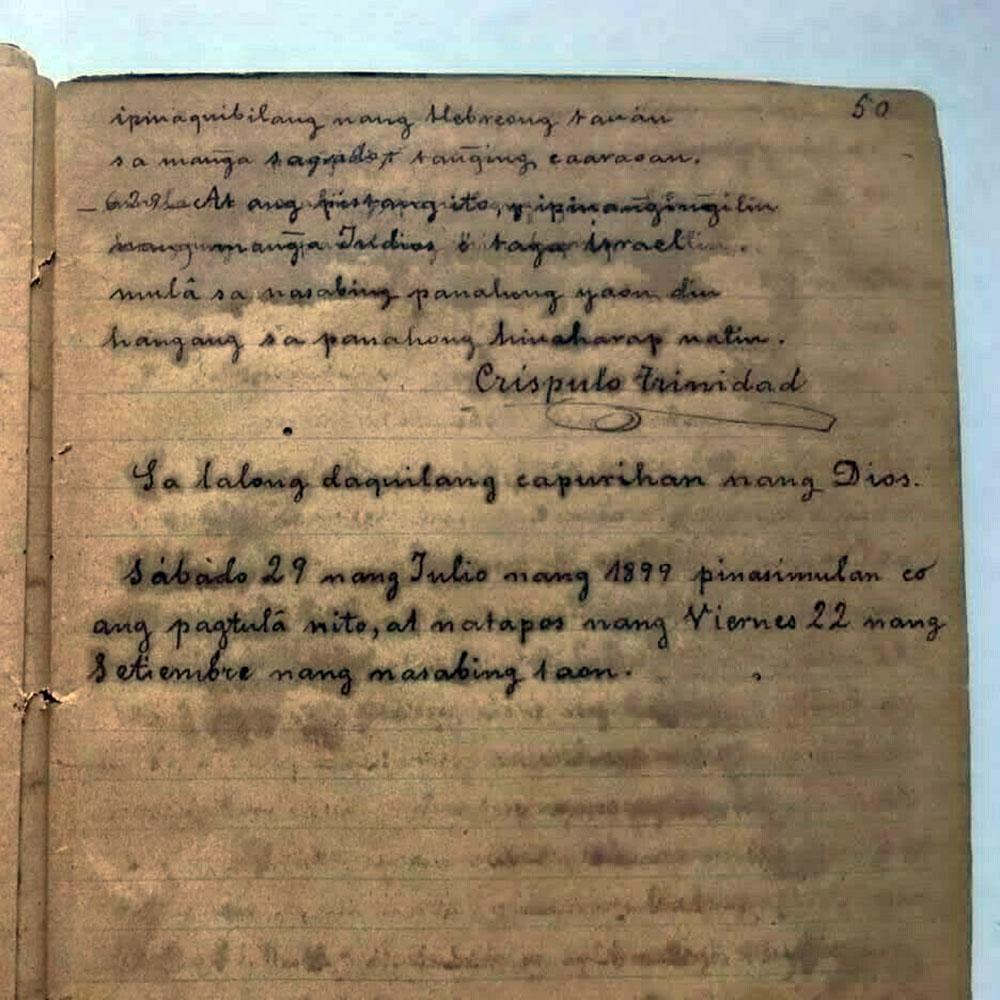 A revolutionary Tagalog manuscript from the Philippine-American War