French chansons of the 1780s
Receuil de Chansons Romances et­ Vaudeville. Manuscript, circa 1780-1789. Title + 21 pp. of text, 20.5 cm. Written on six sheets of paper with the "Vryheyt" watermark – a crowned double circle enclosing a lion rampant and the motto Pro Patria Eiusque Libertate, folded and unbound. Light foxing, otherwise in fine condition.


     A charming collection of songs and poems, mostly erotic in the older sense of the term – rated VG rather than X. The texts, written in a clear and elegant hand, are by such authors as Claude Joseph Dorat (1734-1780), Sylvain Maréchal (1750-1803), Jean-François de La Harpe (1739-1803), Francois de Neufchâteau (1750-1828), and Stanislas, chevalier de Boufflers (1738-1815). All appear to be derived from books published before the Revolution, including Le petit chansonnier François (Geneva, 1778), Chansons choisies, avec les Aires notés (Geneva, 1777), and so on.
     That this is a personal anthology derived from multiple texts is confirmed by several notable variations. For example, the impromptu that that been ascribed both to Neufchâteau and the Comte de Buffon appears here thus:


Sur vos genoux, ô ma belle Eugénie
À des couplets je songerais en vain.
Le sentiment vient troubler le génie,
Et le pupitre égare l'écrivain.


In some publications "vient troubler" in the third line is replaced by "étouffe." In some texts, as in this manuscript, the lyric is set to the air of Triste raison. 
     The poem by La Harpe best known through its musical setting by Pierre-Alexandre Monsigny as "O ma tendre musette" is here titled simply "Romance." Sylvain Maréchal's "L'age pour l'amour" (which the author sets at fifteen, incidentally), appears in Chansons choisies set to the air De l'oiseau qui t'a fait envie. The poem appears here anonymously as "Le bel age" and is set to a completely different air. We note also variations in spelling appropriate to old French – "dous" for doux," for example.
     The contents of the manuscript, the watermark, and the hand all suggest that it dates from the mid 1780s. The manuscript was acquired from a bookseller in Tuscany, and although we have no proof to this effect, we like to think that this suggests that this collection may have been compiled by a member of one of the noble families who fled the Revolution to find refuge in Italy.




---
Recommend this product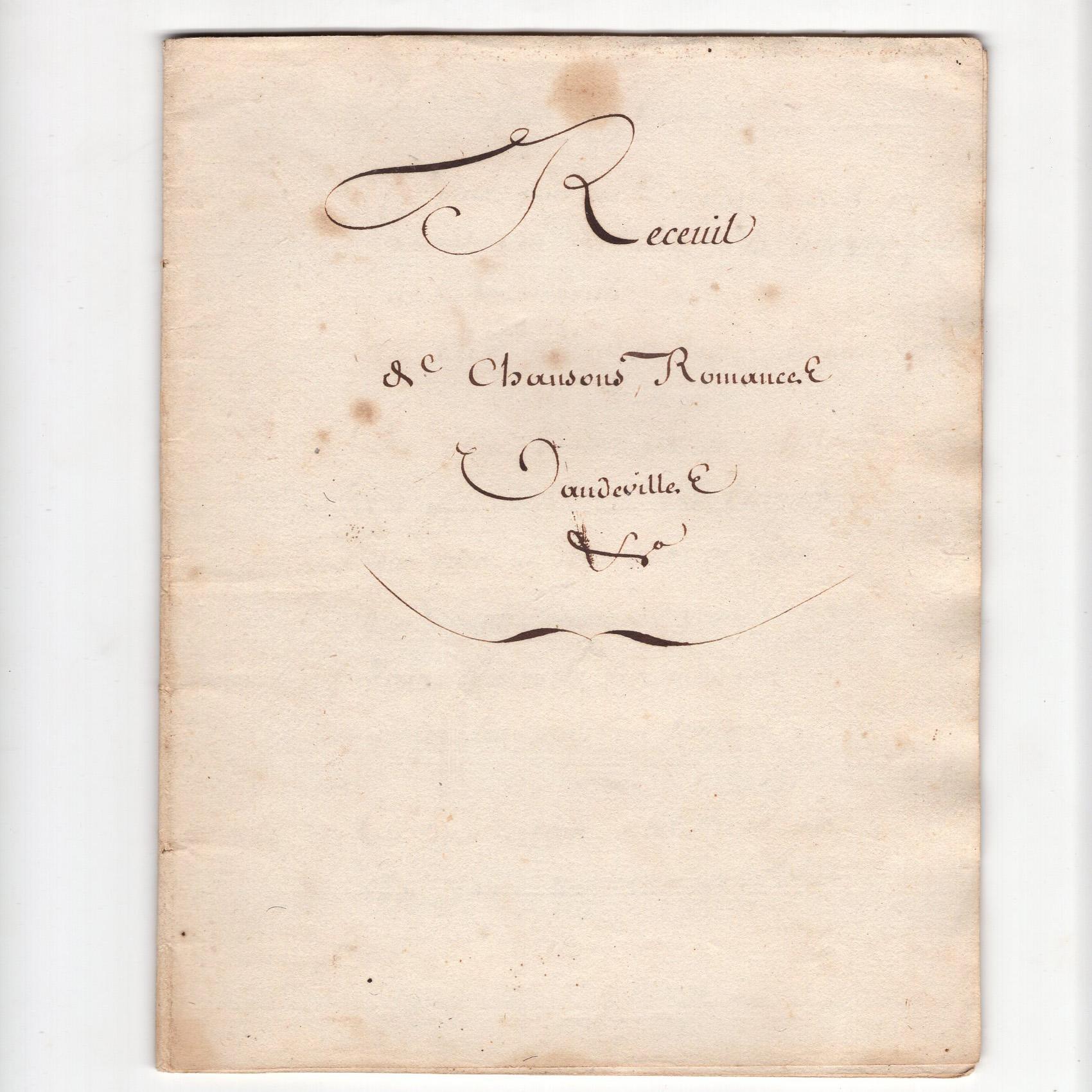 French chansons of the 1780s