Rhode Island General Assembly Proceedings, June 1771
Rhode Island. General Assembly.June, 1771. At the General Assembly of the governor and Company of the English colony of Rhode-Island, and Providence Plantations, in New-England, in America; : begun and holden, by adjournment, at Newport, within and for the said colony, on the second Monday in June, in the year of our Lord, one thousand seven hundred and seventy-one, and eleventh of the reign of His Most Sacred Majesty, George the Third, by the grace of God, king of Great-Britain, and so forth. ... Newport [R.I.]: Printed by Solomon Southwick., [1771]. p. 27-46 ; 32 cm (fol.). Embossed paper seal to front wrapper; signed in manuscript on the final page by Henry Ward, secretary. Worn with some old tears and stains: good to very good in wrappers. Evans 12212; ESTC W33029; Alden, Rhode Island imprints 476.


A compilation of acts and resolutions richly evocative of life in colonial Rhode Island, proudly bearing the Royal coat of arms. Published annually since 1747, this collection includes an act incorporating the Second Congregational Church in Newport, whose pastor was Ezra Stiles (1727-1795), one of the founders of Brown University. There are also notices about counterfeiting coin and collecting outdated paper money. Early conservationist legislation imposed a hefty fine (£10) for fishing from the Barrington River from March through May.


The final page bears the manuscript signature of Henry Ward (1732-1797), who served as Rhode Island's secretary of state from 1760 until his death. A patriot, he was a member of the 1765 Stamp Act Congress, and of the committee of correspondence during the revolution.


A fascinating record.
---
Recommend this product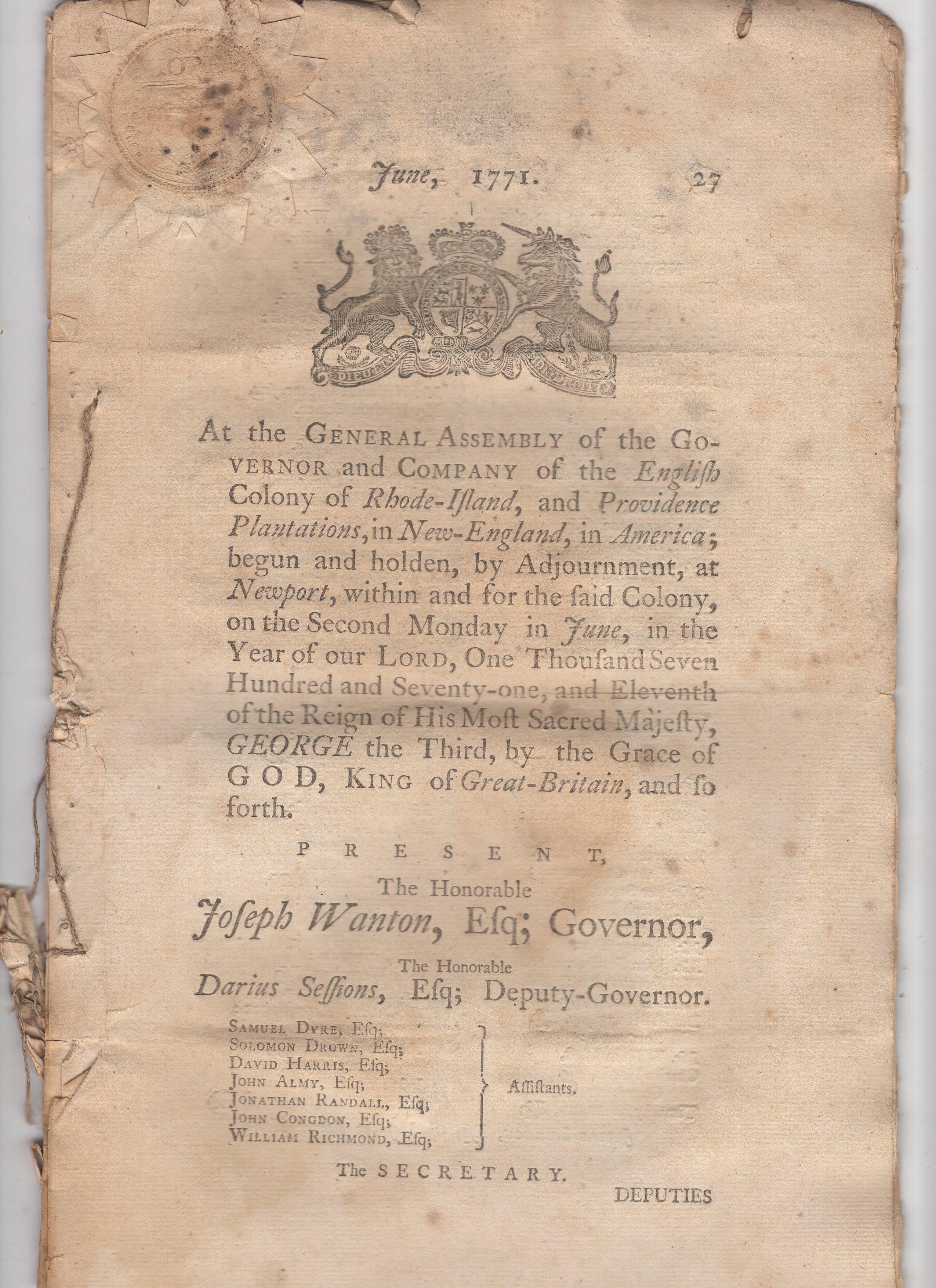 Rhode Island General Assembly Proceedings, June 1771