Rockabilly notebook of a teenage fan
[Rockabilly] Lyric Notebook. Manuscript, pencil. [ca. 1960] 11 ff. + [5] blanks. 10½ x8 ¼ in. Spiral bound notebook. Soiling and wear; very good condition overall.


     A notebook of lyrics to twelve rockabilly hits from 1954-1960 transcribed by a teenage hepcat of the era. 
     Occupying eleven leaves of a 16-page vintage Spiral Combination Theme and Notebook, the lyrics include songs by such well-known figures as Elvis Presley ("Mystery Train," "Blue Guitar," "I Forgot to Remember to Forget"), Carl Perkins ("Blue Suede Shoes"), Chuck Berry (Maybellene"), and Fats Domino ("Ain't it a Shame") alongside those by performers now remembered only by aficionados of the genre such as Gloria Mann ("Teen Age Prayer"), Jim Reeves ("Yonder Comes a Sucker"), Jimmy C. Newman ("Blue Darlin'), and Faron Young ("All Right"). The inclusion of Kay Starr's "Rock and Roll Waltz" reveals the catholicity of the young compiler's taste. 
     The lyrics to Hank Thompson's "Most of All" dates the notebook to 1960. In the absence of easily accessible published lyrics, the transcriber would have had to rely on his or her ear, which is doubtless why these lyrics are written in pencil rather than ink. Occasional marginal glosses ("Sing cho[r]us and second verse together"; "Sing 1st verse over") and signs of use suggest that the teen rocker was not content to spin platters but occasionally tore a tonsil.
     To quote the immortal bard*: 
It seems we lead our life in quest of treasure, 
A phantom that eludes us one and all.
...Don't let this one slip away!
--------------
*i.e., Hank Thompson
---
Recommend this product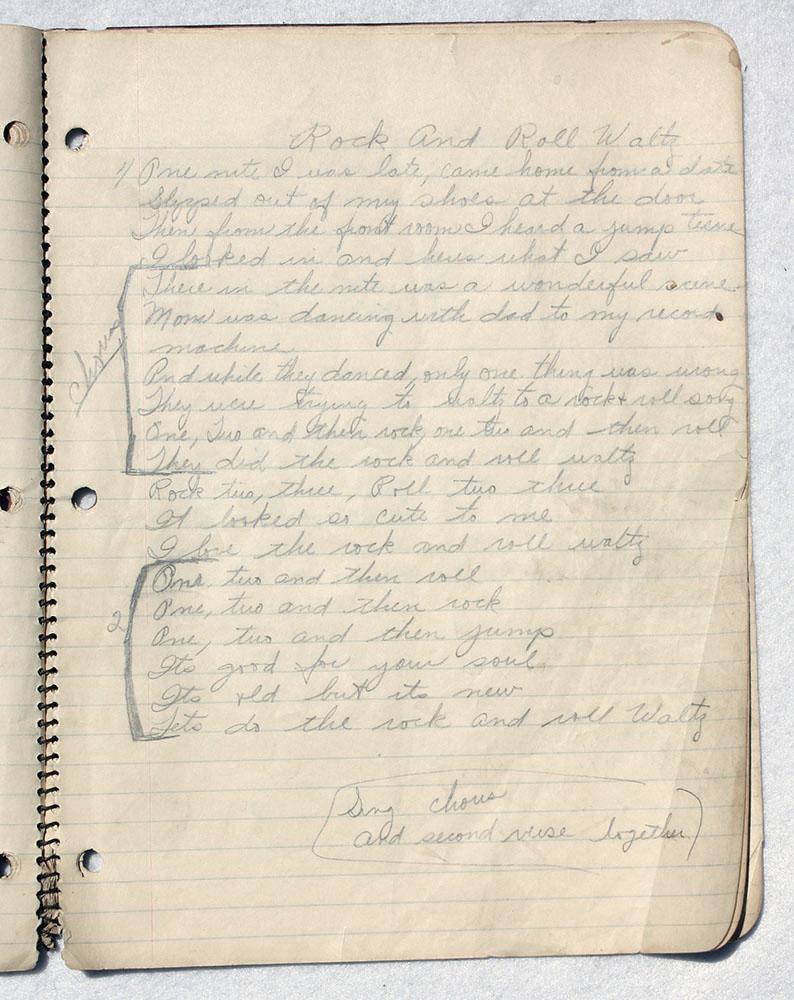 Rockabilly notebook of a teenage fan