John HAWKES. Fiasco Hall (1943). Juvenilia, from His Juvenile Library
Hawkes, John (1925-1998). Fiasco Hall, by J. C. B. Hawkes, Jr. Cambridge, MA: Privately Printed, 1943. First edition. [5] + 14p.; 21 cm. Bound (with cloth tape) in cheap library boards, with typewritten label (partially perished) reading "Jack Hawkes." Pawling High School Library stamp to copyright page, library pocket and slip at rear.
Signed by the author on the title page (possibly at a later date). 
John Clendennin Burne Hawkes, Jr. (1925-1998) had already led an itinerant childhood in Connecticut, Alaska, and New York City before his mother relocated the family once again in 1942. As he explained later, they were refugees of war:
My mother began to fear that New York City would be bombed and devastated, so decided that we should move again and to some rural and hence safer place. Randomly she stuck a pin into a map of New York State: chance yielded the little upstate farming town of Pawling where we settled.
Although Hawkes claimed that the choice of Pawling was accidental, it was a most fortuitous choice. The town had a thriving literary community centered around William Slater Brown, the "B" in E. E. Cummings's The Enormous Room, who settled in a large farm house in 1925 and drew a circle after him.  Among the writers and artists who visited "Robber Rocks" or settled nearby were Allen Tate and Caroline Gordon, Malcolm and Peggy Cowley, Robert Coates, John Wheelwright, Nathan Asch, and Matthew Josephson. Hart Crane was a frequent visitor too, but that of course was before Hawkes's time.
While he was too young to rub shoulders with the neighborhood luminaries, young Hawkes must have affected by the airs of literary bohemianism that circulated in Pawling.  As he recalled:
I went to the local high school and spent my time as an outcast in "The Sweet Shop," the neighborhood ice cream parlor, or sitting on a rock at the edge of town and writing morbid verse on the backs of envelopes. I wanted to be a poet; I love Poe; I was proud of a snapshot that was taken of me wearing a homburg, a checked waistcoat, and carrying a copy of the Bible in one hand and a bottle of whiskey in the other.
When he left for Harvard in the summer of 1943, Hawkes showed the poems that he had written at Pawling High School ("all of it terrible") to Robert Hillyer, Boylston Professor of Rhetoric and Oratory.  "A lot of these poems reflected romantic notions about the war," recalled Hawkes. "I certainly thought I was probably going to be killed in the war, and I had the same romantic sensibility of some of the World War I poets -- Wilfred Owen or Rupert Brooke." (In the opinion of this cataloguer, Hawkes's debt in these poems is less to Owen, Brooke, and Poe than to A. E. Housman.) Hillyer made a selection, and encouraged the student, "So I had these dreadful poems printed."
Several years later, Hawkes took courses with Theodore Spencer and Albert Guerard and met fellow students John Ashbery and Frank O'Hara. Ashamed of his early output, he destroyed all of his copies of Fiasco Hall.
This particular copy dates to the period when Hawkes was still proud of his work. It was presented to the institution that nurtured him as he wrote these poems, and bears the stamp, "Pawling High School Library." The school honored the young alumnus by labeling the binding with the name by which he was locally known, "Jack Hawkes." But the book does not appear to have been avidly read. The pages are in excellent condition, and the slip at the real reveals that the volume was borrowed exactly once, on January 10, 1950. "A prophet is not without honor save in his own country," as someone once said.
Sources
Susan Jenkins Brown, Robber Rocks: Letters and Memories of Hart Crane, 1923-1932 (Wesleyan University Press, 1969)
John Hawkes, "John Hawkes: An Interview with Bradford Morrow," Conjunctions 12 (Spring 1989)
John Hawkes, "A Stationary Traveler, Autobiographical Notes," Delta 22 (February 1986)
Patrick O'Donnell, "Art and Life: A Conversation with John Hawkes," Review of Contemporary Fiction 3 (Fall 1983)
---
Recommend this product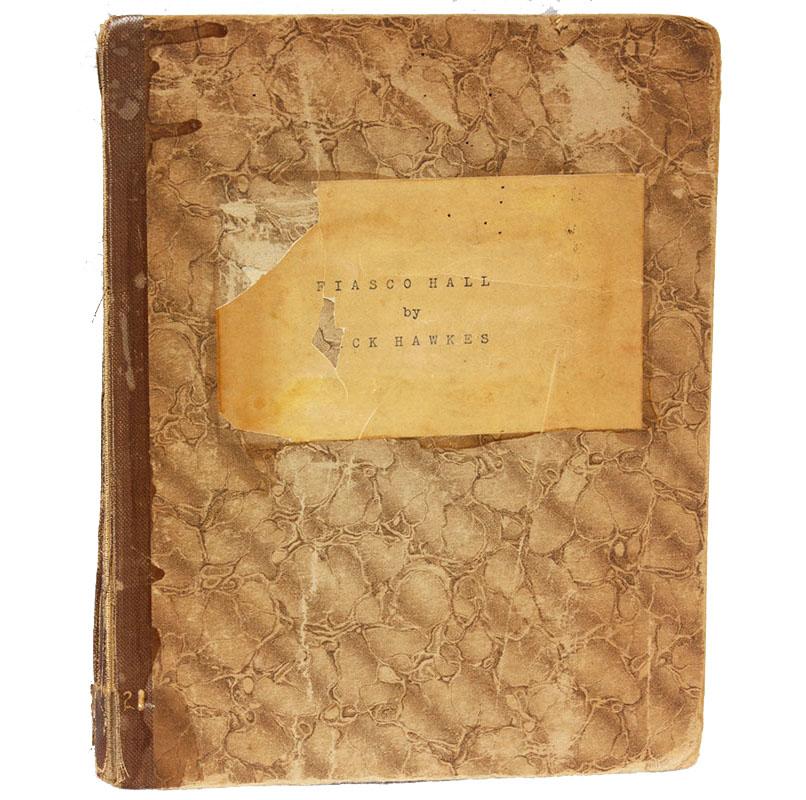 John HAWKES. Fiasco Hall (1943). Juvenilia, from His Juvenile Library