Charles C. Dawson's designs for Black Beauty Products
Dawson, Charles C. (1889–1981) A small archive of advertising labels for African American beauty products designed by Dawson. Chicago: Valmor Products & Co., circa 1936–1946. Totaling approximately 87 pieces in all, the labels vary in sizeand shape, ranging from 1 x 2 in to 6 x 6 in. Most the labels are in unused condition.
    A vibrant collection of product labels designed by the Black artist Charles C. Dawson for Valmor and its several subsidary companies, all of which marketed beauty products to an African American market.
     Based on the South Side of Chicago, Valmor Products was founded in 1926 to produce perfume, hair pomades, skin lighteners, wigs, and other cosmetic products. Its subsidiary brands included Lucky Brown, Madam Jones, King Novelty, and Famous Products Company. As Carolyn Morrow Long has observed, Valmor also produced spiritual tonics and sprays that tapped into traditions of African American rootwork.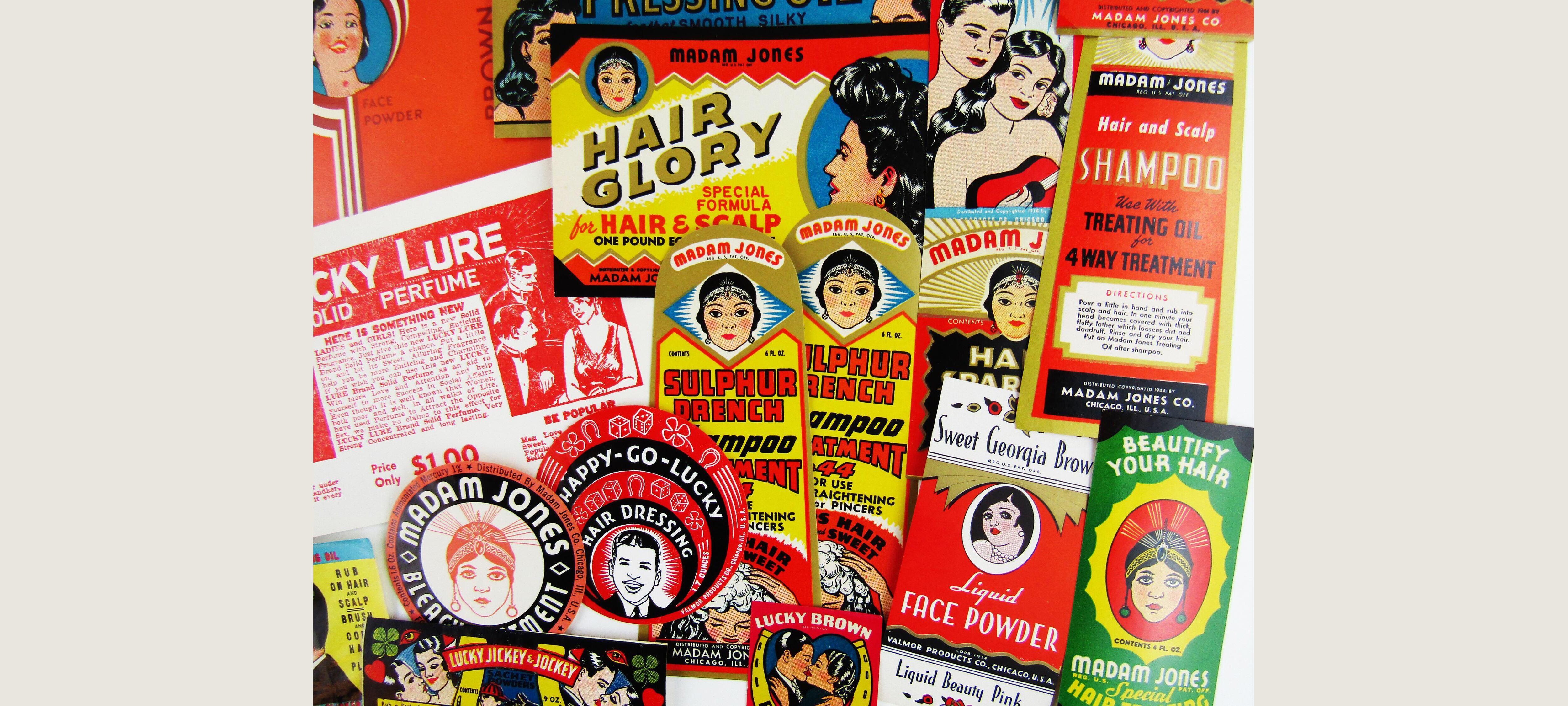 Like Madam C. J. Walker and other brands that catered to a Black market, Valmor might today be faulted for embracing white standards of beauty. As journalist Nadra Nittle notes, "the prevailing colorism of the day meant that although Sweet Georgia Brown face powder came in 'tantalizing dark brown,' none of the women illustrated in the artwork ever appeared darker than a paper bag." But the company also promoted the Black is Beautiful movement, and advertised heavily in Ebony and other flagships of race consciousness. Most significantly the founders, Rose and Morton Neumann (1898–1985) hired African American artists to design their products. Nittle observes that Valmor's designers
set out to depict African Americans with dignity on the merchandise. They didn't look like racial caricatures with funhouse facial features. Instead, they appeared well-groomed, well-dressed, and sometimes undressed — depending on the product advertised.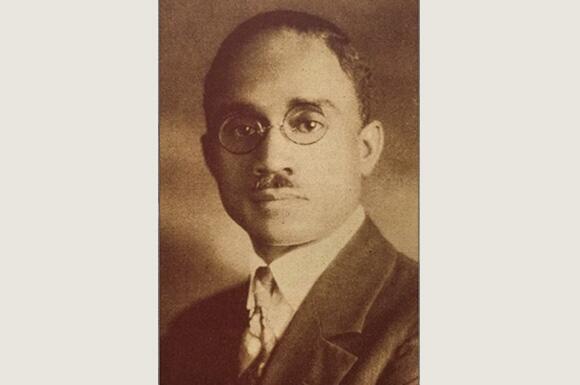 Charles C. Dawson
    Most of the labels in this collection were designed by Charles C. Dawson (1889–1981). A graduate of the Tuskegee Institute and the School of the Art Institute of Chicago, he funded his education by working as a pullman porter and a waiter. Active in the New Negro movement, his works was featured in The Crisis, in exhibitions organized by Alain Locke, in programs of the WPA, and in the 1940 American Negro Exposition. From 1940 to 1951 he served as curator of the Museum of Negro Art and Culture at Tuskegee University. Dawson's striking commercial work for Valmor products was concurrent with these other projects, and shared with them a common purpose of employing art in the service of racial pride in the years leading up to the Civil Rights Movement.
     An excellent collection, worthy of display.
Selected References
Dawson, Charles C. ABC's of great Negroes. Chicago: Dawson Publisers, 1933.
DePillars, Murry N. "Chicago's African American Visual Arts Renaissance." The Black Chicago Renaissance, edited by Darlene Clark Hine et al. (Bloomington, 2012), pp. 167–96.
Long, Carolyn Morrow. Spiritual merchants: religion, magic and commerce (Knoxville, 2001)
Nittle, Nadra. "Before Fenty: Over 100 years of Black makeup brands," Racked.com, 2018. https://www.racked.com/2018/1/23/16901594/black-makeup-brands-history
Samuelson, Tim, curator. Love for sale: The Graphic Art of Valmor Products. Chicago History Museum. https://www.chicago.gov/city/en/depts/dca/supp_info/valmor.html
Schulman, Daniel (2004). "'White City' and 'Black Metropolis': African American Painters in Chicago, 1893–1945." Chicago Modern, 1893–1945: Pursuit of the New (Chicago, 2004).
Zwigoff, Terry. "The Valmor Story." Weirdo #18 (1981)
---
Recommend this product
Charles C. Dawson's designs for Black Beauty Products