John MILTON. Pro populo Anglicano defensio (1651). Sympathy for the Devil, Not for the King
MILTON, John (1608-1674). Pro populo Anglicano defensio, contra Claudii Anonymi, aliàs Salmasii, defensionem regiam. [Bound after:] Claude SAUMAISE, Defensio Regia, pro Carolo I. London: Typis Du Gardianis [i.e. Utrecht: Theodorus ab Ackersdijck and Gisbertus a Zijll]], 1651. First edition. [20], 472, [20], 244 pages. 12mo, contemporary vellum, yapp edges; leaf ***7 torn, generally sound otherwise. Wickenheiser 2567, Maden 2, Wing M2167, Coleridge 45.
In 1667 Milton imagined a Satan beset with regrets, fixing in contemplative moments "his grieved look … sad, / Sometimes towards heaven and the full-blazing sun."  But sixteen years before he wrote Paradise Lost, the poet expressed no analogous sympathy for the king whom his co-conspirators had recently beheaded.  Saumaise, a professor at Leiden, published in 1649 a royalist tract decrying the execution of Charles I and offering a biting critique of the Puritan revolution.  Milton responded blisteringly, offering not only what the poet Thomas Warton characterized as "the best apology ever offered for bringing kings to the block," but also a full-throated ad hominem attack against Saumaise and his (Protestant) wife ("you French capon, with your mankind wife and your desks chock-full of emptiness…you eunuch priest, your wife for a husband … you cheap French mountebank … no one has heaped up more dung than you," etc.).  Milton's tract was banned with the restoration of Charles II in 1660, and copies were burned.
Perfect for your collection of banned books, British poetry, or saucy invective.
---
Recommend this product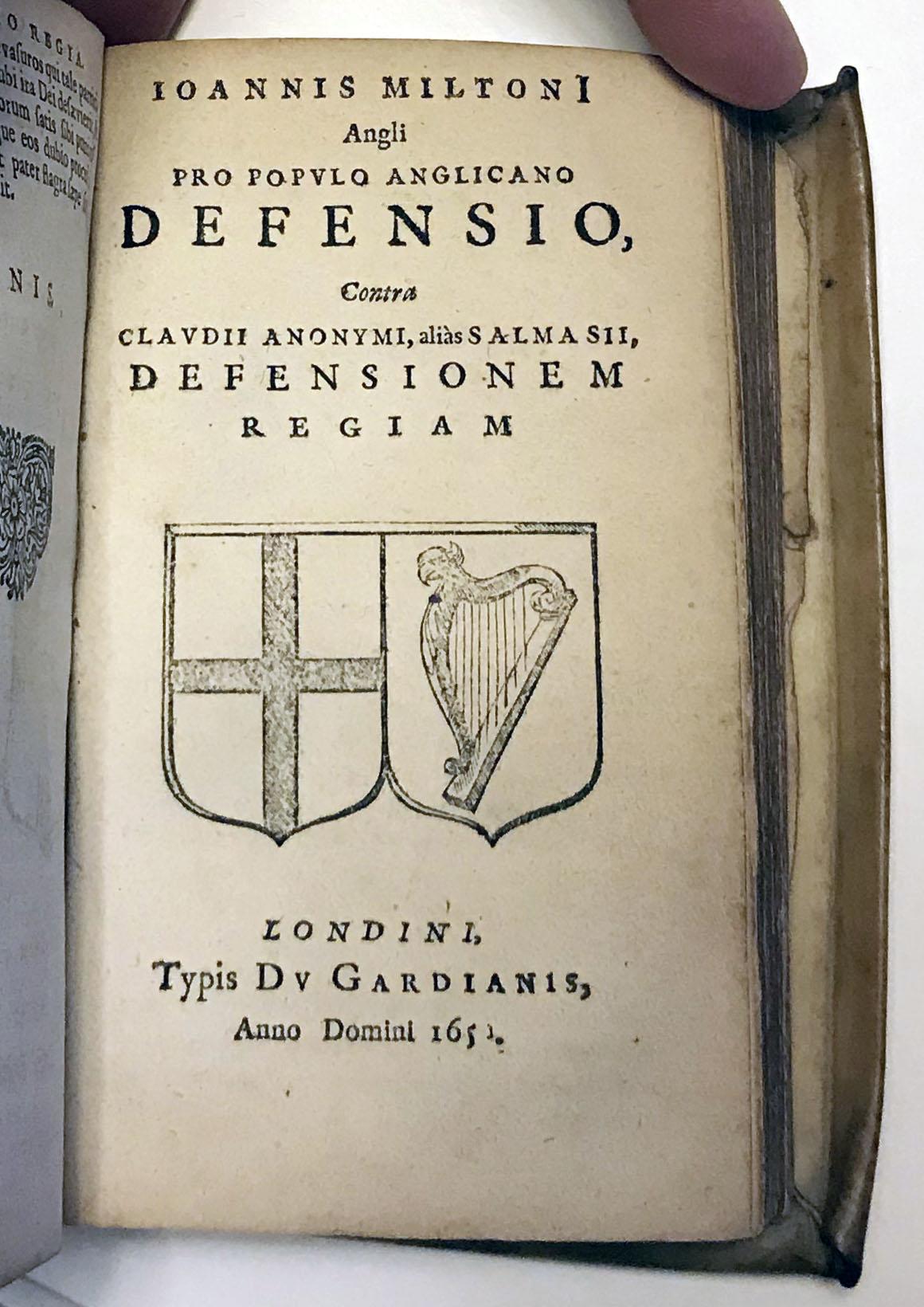 John MILTON. Pro populo Anglicano defensio (1651). Sympathy for the Devil, Not for the King