A Quaker title inscribed to abolitionist and women's rights activist Lucretia Mott
[Mott, Lucretia (1793-1880)] Extracts from the Minutes and Advices of the Yearly Meeting of Friends Held in London from its first institutions. Second edition. London: W. Phillips, 1802. xvi+232pp; 24.5 cm. Bound in full calf, rebacked, with wear to corners.
Inscribed on the first blank: "Presented by Rebecca B. Neall to Lucretia Mott, 1869."
A wonderful association. Descended from an eminent Quaker lineage, Lucretia Coffin Mott was recorded as a minister in the Society of Friends in 1821. As her sermons and speeches reveal, her theological convictions regarding the inward light – the belief that the Divine spirit resides within every individual -- directly inspired the egalitarian and humanistic visions that led to her tireless advocacy for the abolition of slavery, the eradication of war, and most famously the protection of the political and civil rights of women.
Rebecca Bunker Neall (ca. 1787-1880) was Mott's cousin. Her husband Daniel Neall was a leading abolitionist, the president of the Pennsylvania Hall Association, and the subject of a poem by John Greenleaf Whittier. As the children of prominent Quakers, Neall and Mott had a long and close association. In 1817, the two had organized a girls school under the auspices of the Pine Street Monthly Meeting (cf. Hallowell, 53-54). The two had fought side-by-side for the cause, though Neall was not nearly so prominent or battle-hardened as Mott, whom one black abolitionist called the most "belligerent Non-Resistant he ever saw" (Mott, Lucretia Mott Speaks, 141). In 1840, a mob in Delaware had seized Neall's husband. "The scene was truly awful at the time," Mott wrote. "[Rebecca] was not inured to Mobs as some of us are – she shook, as with an ague from head to foot. I plead hard with them to take me as I was the offender – if offence had been committed, & give him up to his wife – but they declined saying "you are a woman & we have nothing to say to you." (Mott, Selected Letters, 75)
This volume originally belonged to Neall's mother, Mott's aunt, Judith Folger Bunker, and bears her ownership signature, dated 1802. (There are the additional signatures of Ruth B. Chase and R. P. Hammell[?]). A wonderful association copy, illustrative of the powerful spiritual underpinnings of progressive reform in nineteenth century America.
Works Cited
Hallowell, Anna Davis, James and Lucretia Mott: Life and Letters (Boston, 1884)
Mott, Lucretia. Lucretia Mott Speaks: The Essential Speeches and Sermons, ed. Carol Faulkner et al. (Urbana, 2017)
-----. Selected Letters of Lucretia Coffin Mott, ed. Beverly Wilson Palmer (Urbana, 2002)
---
Recommend this product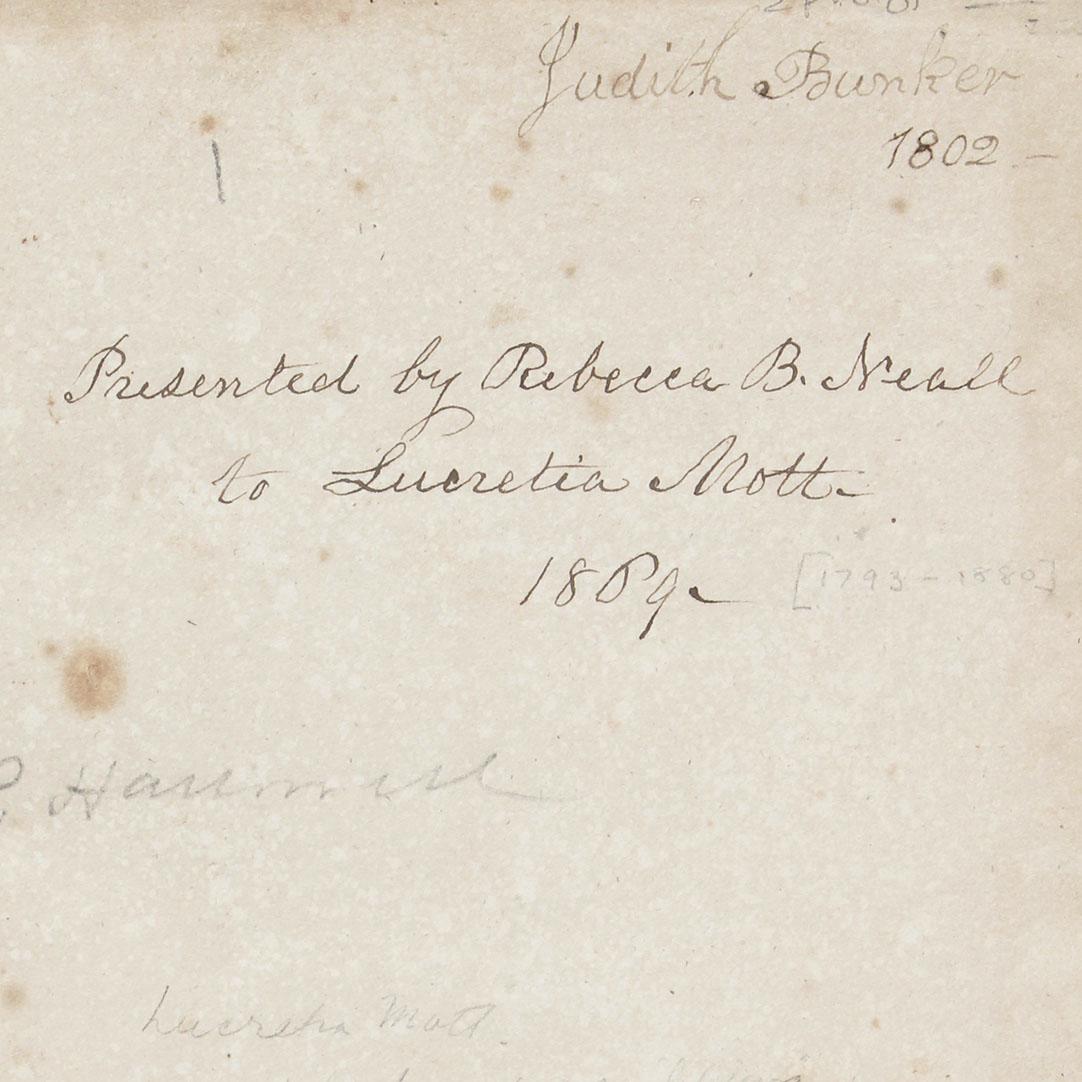 A Quaker title inscribed to abolitionist and women's rights activist Lucretia Mott