A Biblical imprint from the Ohio frontier
Bible. New Testament. The New Testament of Our Lord and Saviour Jesus Christ Translated Out of the Original Greek, and with the Former Translations Diligently Compared and Revised. Zanesville: Published and Sold by J. R. & A. Lippitt, 1835. 270 p.; 17 cm. First thus. Printed in double columns on cheap paper, with narrow margins. Stereotyped by J. Howe, Philadelphia. Contemporary ownership signatures of Mary and Archibald Galbraith. Very good in original boards backed with leather, all rather worn. American Imprints 30466; Hills, English Bible in America 919; Morgan 2732.
     An early Ohio imprint, and one of the first bibles to be published in the state.  When this volume was published, Zanesville was a young but thriving community – one-tenth the size of Cincinnati, it boasted a population in 1840 of 4,768 souls. William Davis, a wholesaler and retailer of Zanesville, published a New Testament in 1828 (Morgan 8566), but his best-seller was Lindley Murray's Introduction to the English Reader, which went through four printings between 1826 and 1828. The plates for both titles were purchased from the stereotyping shop of Jedediah Howe in Philadelphia. Around 1830, Davis decamped for Lower Sandusky, where he would publish the Sandusky County Democrat.  Before he left Zanesville he sold the plates for the New Testament and Murray's English Reader – and probably his press -- to J. R. and Arnold Lippitt.
     The Lippitt brothers maintained a store on Main Street in Zanesville stocked with books, stationery, drugs, medicines, and dye stuffs. Morgan lists 14 publications by the Lippitts, including three printings of the New Testament (1835, 1836, and 1841), and five printings of Murray's English Reader. 
     The older of the two, Arnold Lippitt (1802-1887) was an entrepreneur in the pioneer model. In addition to running the store with his brother, he served as a general contractor. He appears in the legislative annals of Ohio in the context of a lengthy investigation over the construction of a dam and lock on the Muskingham River between Zanesville and Dresden in June 1834. Perhaps it was the failure of that enterprise that led him to publishing. 
     By 1843, the younger sibling, J. R. Lippitt (1803-?), had moved to the rural hamlet of Norwich, 14 miles and a world away. Arnold remained in Zanesville, converting the general store to a bookstore (see Morgan 9493). While operating his store and his press, Lippitt also dabbled in the glassworks industry, and in the mid-1840s he abandoned retail to take over operations at a bottle factory. 1867, Lippitt moved from Zanesville to Jackson, Tennessee and opened a custom mill for making breadstuffs and feed.
     This copy of the Lippitts's Zanesville bible bears an ownership signature to the rear flyleaf, "Mary Galbraiths / Book / Price 25 Cts / A.D. 1841" A faint pencil inscription to the front free endpaper bears the name of Archibald Galbraith. A page of what we presume to be his notes is laid in. A resident of Salt Creek, Ohio (67 miles from Zanesville), Archibald Galbraith (1806-1872) appears in the annals as one of the founders in 1840 of the Duncans Falls Baptist church -- though it is possible that this was his father (d. 1843), who bore the same name. Mary (1781-1867) was Archibald's mother, born in Ireland.
     A fascinating example of an early American bible with a rich provenance and rustic binding, redolent of life on the Ohio frontier.
Sources
Biographical and Historical Memoirs of Muskingum County, Ohio (Goodspeed Pub. Co., 1892)
Journal of the House of Representatives of the State of Ohio, Volume 36 et eq.
W. F. Lyford, The Western Address Directory: Containing the Cards of Merchants, Manufacturers, and other Business Men (Baltimore, 1837)
Basil Meek, Twentieth Century History of Sandusky County, Ohio: And Representative Citizens (Richmond-Arnold, 1909)
George Washington Smith, A History of Southern Illinois, vol II (Lewis Pub. Co., 1912)
---
Recommend this product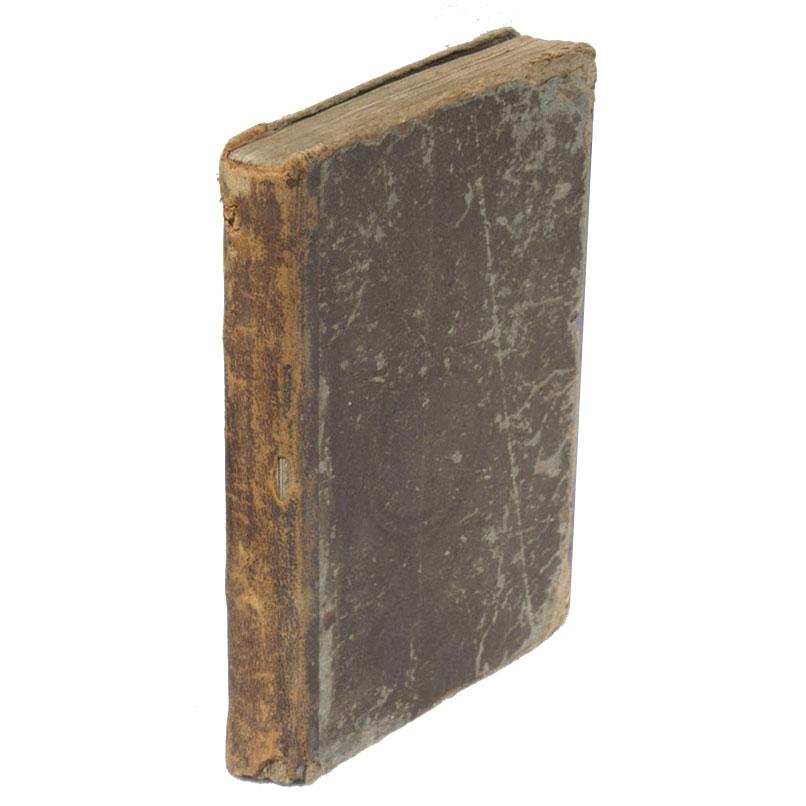 A Biblical imprint from the Ohio frontier