The Boston Chronicle: a Tory paper from the library of a prominent loyalist (1767-1768)
The Boston Chronicle, volume 1, Nos. 1-54, plus supplements. 21 December 1767 to 26 December 1768. 28 cm (4to.) Irregularly paginated, with some pages misnumbered (see Matthews, p. 482): pp. [2], [i-ii], [v-vi], 1-152, [NB: 153-156 not published], 157-412, 513-524 [NB: publisher's error], 421-492, [2]. Sewn, covers detached, signatures loose, initial pages loose with some shallow chipping at margins, but contents generally intact. Lacking the spine, one page of the index, and a supplemental page to the issue of 21 December 1767, but otherwise complete. Ownership signature and bookplate of E. A. Hitchcock (1768). Ownership signatures D. Wheelwright (1844), who has affixed a handmade label to the front cover. Housed in a custom clamshell case. Evans 10565; Brigham, American Newspapers, 276; Matthews, Boston Newspapers, pp. 480-483.
From the library of Edward Augustus Holyoke (1728-1829), a prominent loyalist, with his bookplate and ownership signature, dated 1768.



As Arthur M. Schlesinger noted, shortly after its founding, the Boston Chronicle: "quickly showed itself to be the most enterprising sheet on the continent in content as well as typographical appearance." Modeled on the London Chronicle, the weekly newspaper published articles from the foreign press, selections from John Wilkes, Laurence Sterne, Voltaire, and other noted authors. It also carried news and opinion from through the American colonies, including the text of John Dickinson's Letters from a Farmer in Pennsylvania, Jonathan Carver's reports on his exploration of the Mississippi Valley and Great Lakes region, accounts of rape, counterfeiting, and other crimes, John Winthrop's report of a lightning storm, referencing Benjamin Franklin, and many other events of note. Among the many fascinating advertisements is one for millinery imported by Franklin's sister, Jane Mecom. Most significantly, the Boston Chronicle also featured extensive coverage of the political turmoil following the Stamp Act crisis: the circular letter issued by the Massachusetts House of Representatives, the travails of Governor Francis Bernard, the planting of a liberty tree in Providence, the "Sermon to Asses" (here misattributed to Franklin), and the full text of John Dickinson's eight-stanza "Liberty Song," which begins:
Come, join hand in hand, brave Americans all,
And rouse your bold hearts at fair Liberty's call;
No tyrannous acts shall suppress your just claim,
Or stain with dishonor America's name.
     The editors, John Mein and John Fleeming came to be regarded as hardcore Tories -- one historian calls Mein "the scourge of patriots." But as these early issues reveal, at the outset they tried to strike an impartial position, reporting from both sides of the political divide. They made a splash in the first issue, printing a letter from London critical of William Pitt, the most popular British statesman in America:
It is confidently reported that the E[arl] of C[hatham]'s gout is only political, and that notwithstanding his late indisposition he will soon appear on the scene of action and struggle hard to guide the reins of government, but having lost the confidence of the people, whom he has deceived by his contradictions and changes, and never having been a favorite with the nobility, whom he always affected to despise, he will while he exists be considered by every disinterested man as a miserable monument of wrecked ambition.
When the Boston Gazette published an attack on the Chronicle in response, Mein cudgeled one of the editors "with force of arms, to wit, with a large club."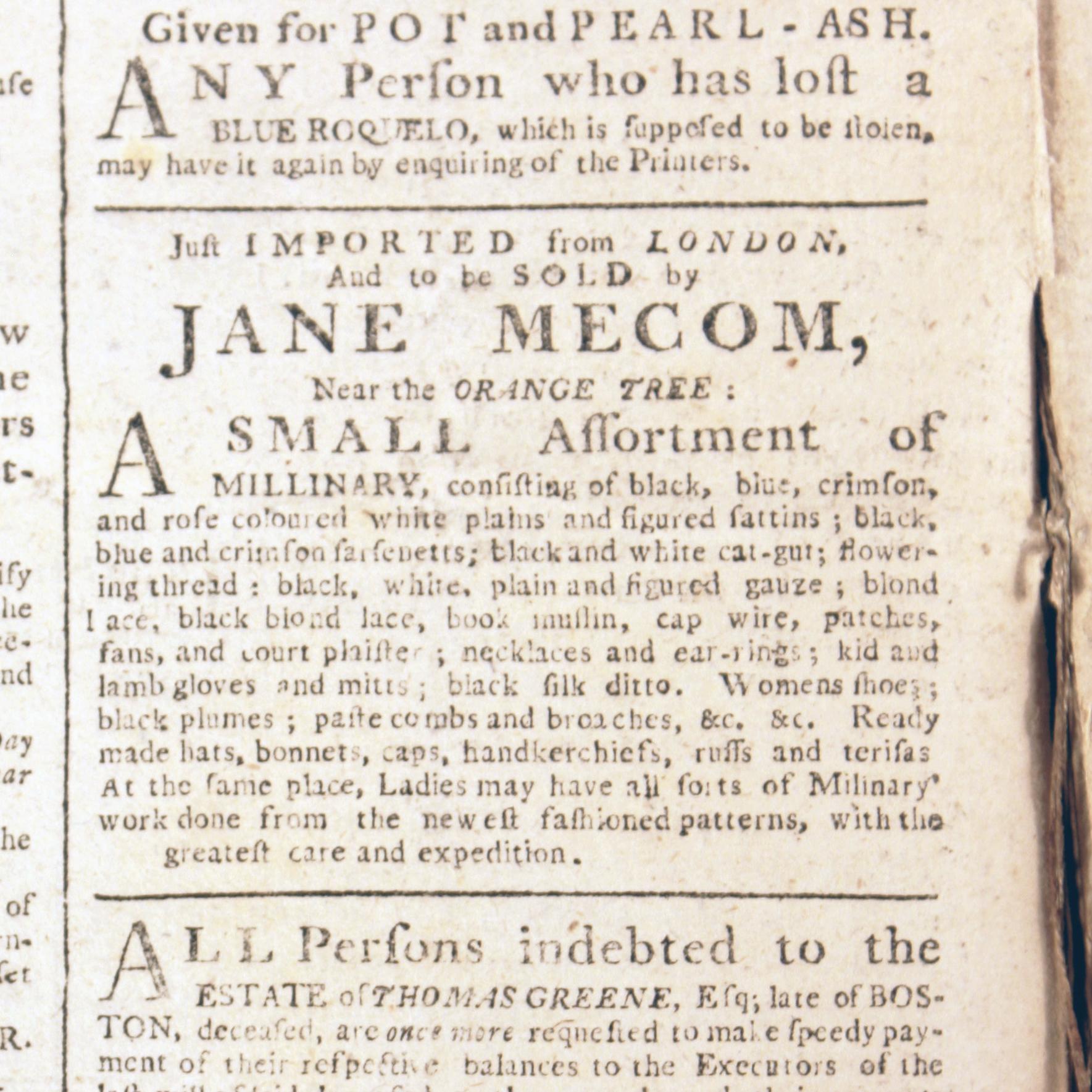 Benjamin Franklin's sister, Jane Mecom, advertised imported goods in the Boston Chronicle just as patriots were organizing a boycott of British goods to protest the Townsend Acts. This ad appears in the issue of 13 June 1768.
     Born in Edinburgh, John Mein emigrated to Boston in 1764. A bookseller and printer, he established the London Bookstore, located above the British Coffee-House on King Street (now State Street), which in 1770 would be the site of the Boston Massacre. Not surprisingly, the newspaper he founded with John Fleeming, another recent arrival from Scotland, inclined towards England. But it was the reaction to the Townsend Acts that would radicalize him, transforming him into what Arthur M. Schlesinger deemed "the shrewdest and most pertinacious controversialist in British America." Although John Adams once patronized his bookstore, which featured the colony's first circulating library, Mein's strong opposition to the nonimportation campaign, and his delight in embarrassing what he regarded as the hypocrisy of colonial merchants, earned him the enmity of such patriots as Samuel Adams, James Otis, and John Hancock. He was hanged in effigy (the placard read "Mean is the man – Mein his name"),  assaulted on the street, and after one altercation in 1769 was compelled to flee to England. "Fleeming was less obnoxious," according to Isaiah Thomas, and he continued to publish the Boston Chronicle for some months after Mein's departure before giving up in May 1770.
     Given the political orientation of the Boston Chronicle, the provenance of this copy is particularly interesting. It bears the bookplate of Edward Augustus Holyoke (1728-1829) who, as his biographers note, "favored the royal cause."

Benjamin Blyth, Portrait of Edward Augustus Holyoke, ca. 1777 (from StreetsofSalem.com)
     A graduate of Harvard (class of 1746), where his father served as president, Holyoke established a medical practice in Salem, where he trained many other doctors and served as Justice of the Peace. A polymath who published papers on several of the sciences, he was elected to the American Philosophical Society in 1768.  He was a founder of other learned societies as well, including the American Academy of Arts and Sciences and the Massachusetts Medical Society.
     "The period of the revolution was a trying one to the subject of this memoir," noted Holyoke's biographer in 1829, "and he never loved to dwell upon the recollection of it. …. In referring to that period, he said to one of his family, he thought he should have died, with the sense of weight and oppression at his heart."  Lorenzo Sabine summarized Holyoke's politics more succinctly: "He was an Addresser of [loyalist governor Thomas] Hutchinson, on his departure, and of [British general Thomas] Gage on his arrival; and for addressing the first, became a Recanter. He committed himself no more, and was allowed to remain in the country without molestation." 
     Holyoke and the other residents of Salem who wrote to tell General Gage that they were "deeply sensible of his Majesty's paternal care and affection … in these troublesome and difficult times" attended a ball in his honor in 1774. But their esteem for the man who had been appointed military governor of the Province of Massachusetts and instructed to implement the Intolerable Acts in retribution for the Boston Tea Party would not have seemed untoward to readers of the Boston Chronicle, which had regularly reported on Gage with approbation.
     Generally broken up for individual sale, complete volumes of the Boston Chronicle are seldom encountered today. Collation is difficult, thanks to irregular pagination -- as Matthews notes, "Pages 120, 184, 348, 400, 412-424, 440, are in some copies misnumbered 110, 148, 340, 398, 512-524, 340, respectively," and so on. There are a fair number of supplements, some of which are unnumbered, and several recorded variants of the issues of 21 and 28 December 1767). The variants here represent the first printings, not the December 1768 reprints, as witnessed by the colophons.  We believe that this set is complete as bound, with the exception of a page missing from the index, and perhaps a page supplemental to the first issue printing the first of Dickinson's letters that would have been bound in between page 8 and 9. Fearing that rebinding the volume would threaten the integrity of its contents, we have chosen to leave it intact as found, housing it in a clamshell case.
     A vital source of information on colonial America during the revolutionary era, with an important provenance.
References
Alden, John Eliot. "John Mein, publisher: an essay in bibliographic detection." The Papers of the Bibliographical Society of America, vol. 36, no. 3, 1942, pp. 199–214
-----. "'John Mein, scourge of patriots,'. Colonial Society of Massachusetts, Publications XXXIV. (1942), 571-599.
Barnes, Timothy M. Loyalist Newspapers of the American Revolution. 1763-1783: A Bibliography. Worcester: American Antiquarian Society, 1974.
Bell, Whitfield J., and Charles Greifenstein, Jr. Patriot-improvers: biographical sketches of members of the American Philosophical Society. 3 vols. Philadelphia: American Philosophical Society, 1997, 3:537–543.
Dow, George Francis. The Holyoke Diaries, 1709-1856 (Salem: Essex Institute, 1911)
Essex South District Medical Society, Memoir of Edward A. Holyoke, M.D. LL.D. Boston : Perkins & Marvin, 1829
Humphrey, Carol Sue. The American revolution and the press: the promise of independence (Evanston: Northeastern University Press, 2013)
Matthews, Albert. "Bibliographical Notes to Check List of Boston Newspapers, 1704–1780," Colonial Society of Massachusetts, Publications 9 (1907), 480–483
Sabine, Lorenzo. The American loyalists; or, biographical sketches of adherents to the British Crown in the war of the revolution (Boston: Little, Brown & Co., 1847)
Schlesinger, Arthur Meier. The Colonial Merchants and the American Revolution, 1763-1776. (NY: Columbia University Press, 1918)
Stark, James Henry. The loyalists of Massachusetts and the other side of the American revolution (Boston : W. B. Clarke, 1907)
Stern, Jeremy A. "Jane Franklin Mecom: a Boston woman in revolutionary times," Early American Studies 4 (2006) 147-91.
Thomas, Isaiah. The history of printing in America, with a biography of printers, 2nd ed. (1874; New York: Burt Franklin, n.d.) 1: 151-54; 2:59-61.
---
Recommend this product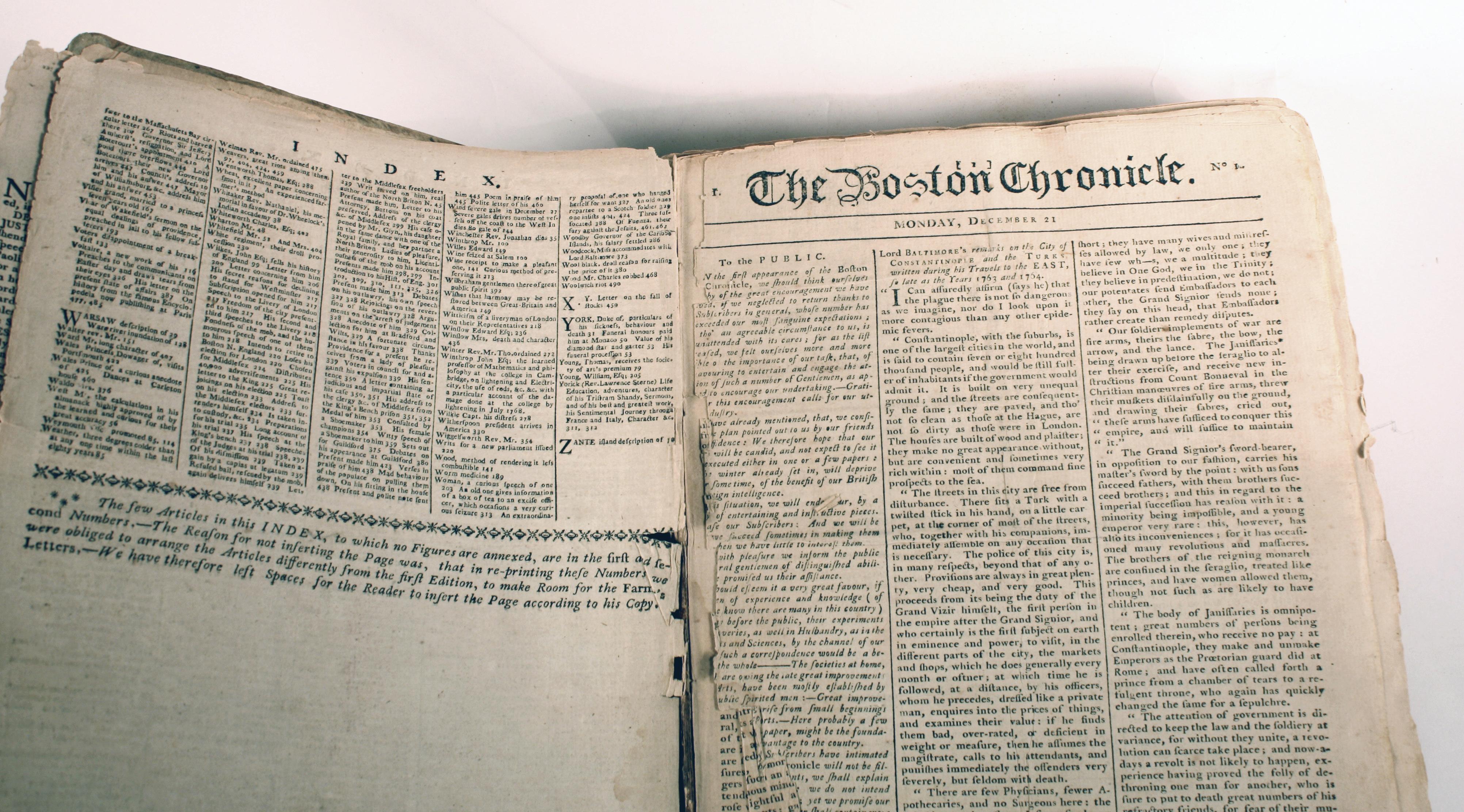 The Boston Chronicle: a Tory paper from the library of a prominent loyalist (1767-1768)