A 1797 Hudson Printing of George Washington's Farewell Address
Washington, George. America's lecacy [sic]: being the address of G. Washington, on his declining a re-election to the presidency, to the people of the United States.  Printed in Hudson [N.Y.] : by A[shbel] Stoddard, M,DCC,XCVII. [1797]. 13 cm. (12mo.); [1]-99 pp. Handsomely bound in full calf tooled in gilt. Evans 33148, ESTC W19302, Howes W128.


An immensely rare printing of Washington's farewell address, perhaps the most important speech ever delivered by an American president. Despite popular appeals that he remain in office, Washington declined to serve for a third term, establishing a precedent that has been followed ever since. In his valedictory address, which he drafted with extensive help from James Madison and Alexander Hamilton, Washington offered guidance on the most pressing issues of the day: unity and sectionalism, the Constitution and political parties, check and balances and the separation of powers, national morality and civil religion, monetary policy and free trade, and perhaps most lastingly, the ideal of American neutrality in foreign affairs. The legacy of this epochal document is honored every year by the members of the United States Senate, who since 1862 have celebrated Washington's birthday by reading the address aloud on the Senate floor.
     Following the speech's initial publication in the American Daily Advertiser on September 19, 1796, regional printers rushed copies into print. Ashbel Stoddard (1763-1840) was one of these. Born in Saybrook, Connecticut, the scion of a long line of Congregationalist ministers, Stoddard served an apprenticeship at one of New England's leading journals, the Connecticut Courant, before settling in Hudson, N.Y. in 1784, just one year after the town was founded. There, he established himself as the first printer in Hudson, and publisher of the Hudson Weekly Gazette, the first newspaper in Columbia County. Some 400 publications have been identified as issuing from his press, including journals, chapbooks, pamphlets, broadsides, religious works, juvenile fiction, an annual almanac -- and works by the nation's founding fathers.
     In 1797, Stoddard published two editions of Washington's farewell address. This slim 99-page issue, presumably the earliest, was assembled in such haste that he did not have the opportunity to correct the egregious misspelling on the title page ("Lecacy" for "Legacy").  Evidently fearing that the offering was too slim, Stoddard subsequently published an expanded version plumped up to 200 pages by appending reprints of three earlier speeches dating from the revolutionary war. The Boston Public Library has both editions in their rare book collection, the 99-page version in a scaleboard binding, the 200-page version in calf.
     Although Washington's address was widely printed, all copies dating from his lifetime are rare, and WorldCat locates only 11 copies of both editions of Stoddard's edition.
References
Paltsits, Victor Hugo. Washington's Farewell Address in Facsimile, with Transliterations of all the Drafts of Washington, Madison, & Hamilton; Together with Their Correspondence and Other Supporting Documents (The New York Public Library, 1935)
Stair Auctioneers & Appraisers, "Portraits of Ashbel Stoddard (1763-1840) and Patience Bowles (1762-1841)," http://www.stairgalleries.com/auction/03-10-12/phillips/ammi-phillips-02.html.
---
Recommend this product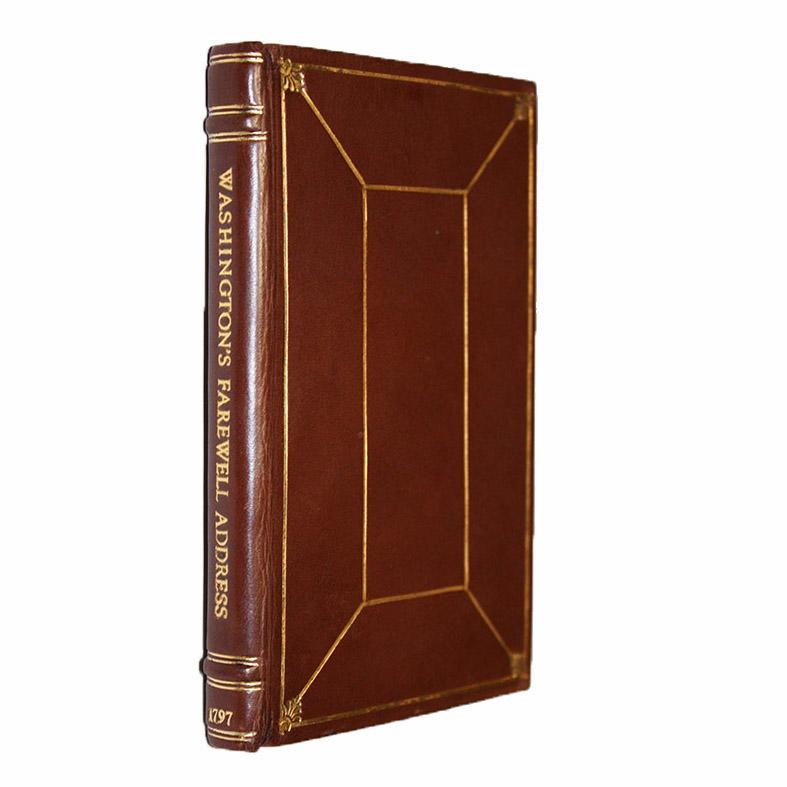 A 1797 Hudson Printing of George Washington's Farewell Address