Bartolomeo Pinelli. Roman costumes (1817). The Italian Origins of British Romanticism
Pinelli. Bartolomeo. Roman Costumes: Nuova raccolta di cinquanta costumi pittoreschi incisi all'acquaforte, da Bartolomeo Pinelli. Roma, Giovanni Scudellari, 1817. 1 leaf, 50 plates 20 x 27 cm. A contemporary booksellers' label (Swane & Son, Brighton) adorns the rear pastedown. All plates present. Pages foxed, with some water staining, but no chips or tears. Wear to points and signs of minor repair to spine.  For all that, a nicely preserved very good copy in original cloth, and rare thus.
A wonderful collection of 50 copperplate etchings depicting everyday Roman life in picturesque form by the illustrator Bartolomeo Pinelli (1781-1835).  Depicted here are street musicians and washerwomen, holy men and acrobats, hunters and fortunetellers, shepherds, scribes, revelers and mourners, and the picturesque poor. Plate 35 depicts prostitutes (l'innamorati di giorno). There are rustic entertainments, games (bocce, morra, zecchinetta), dances, brawls and catfights, a magic lantern performance, a puppet show, and a dancing bear. Plates depicting the dress particular to each region informed the sartorial sensibilities of the armchair traveler. A splendid penultimate plate depicts the Roman Carnevale.
For evidence of the fact that Pinelli's work was immensely popular in England, one need look no further than the front cover, which bestows an English title upon this gathering of Italian plates. Further proof may be found in the contemporary booksellers' label (Swane & Son, Brighton) that adorns the rear pastedown. The vision of Italian life Pinelli presented was influential in the development of both British romanticism and Victorian tourism.  While one may find rebound copies of the book, examples in the original cloth are rare, and indeed this appears to be the only one currently on the market.
---
Recommend this product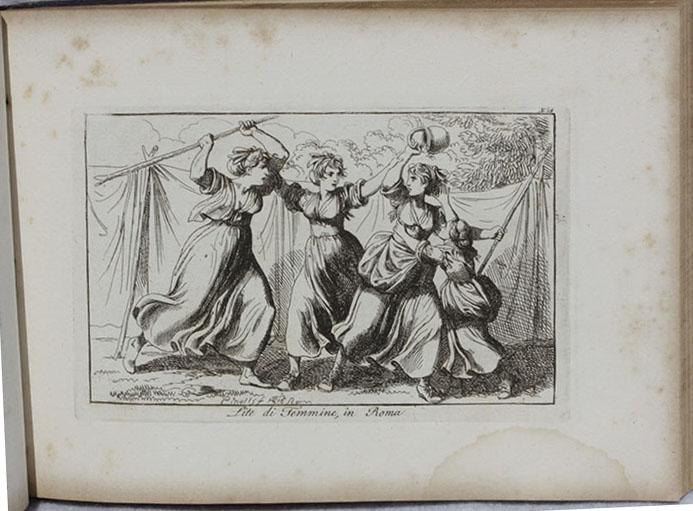 Bartolomeo Pinelli. Roman costumes (1817). The Italian Origins of British Romanticism