Longfellow's First Book, inscribed to One of the "Five of Clubs"
Longfellow, Henry Wadsworth.  Voices of the Night.  Cambridge, MA: John Owen, 1839.  First edition.  Inscribed by the author "Mrs. Charles Amory, from the author, with his regards and best wishes, December 25, 1839."  The first edition of the author's first book of poems, printed in an edition of only 900 copies. BAL 12065.


     Longfellow met Amory (1808-1898) in 1829, when both were students at Gottingen.  They renewed the acquaintance in 1836 when both found themselves at Harvard, where Longfellow had been appointed as a professor and Amory was studying medicine. In his journal for 1838, the poet referred to Amory as "my usual resource" for dinner.  With three other companions, including the future senator Charles Sumner, the two formed a small circle known as "The Five of Clubs." In 1841, Longfellow would allude to Amory and two other friends with the same surname in his poem "To the River Charles": "thy name reminds me / Of three friends, all true and tried, / And that name, like magic binds me / Closer, closer to thy side." Amory's wife, Martha Babcock Greene Amory (1812-1880) was the granddaughter of John Singleton Copley, and his first biographer. She married Amory in 1832, and chronicled their wedding journey in detailed letters published in 1922.
     Small pencil inscription to second blank: "Morris Carter from S.G.D." Susan Greene Dexter (1840-1903) was the Amory's daughter. Carter (1877-1965) was the first director of the Isabella Stewart Gardner Museum.  An exceptional association copy with an impeccable provenance connecting some of the first families of Boston.  Beautifully bound in maroon calf tooled in gold.
Sources
Martha Babcock Amory, The Wedding Journey of Charles and Martha Babcock Amory (D. B. Updike, 1922)
Charles C. Calhoun, Longfellow: A Rediscovered Life (Beacon Press, 2004)
Samuel Longfellow, Life of Henry Wadsworth Longfellow (Kegan Paul, Trench & co., 1886)
Recommend this product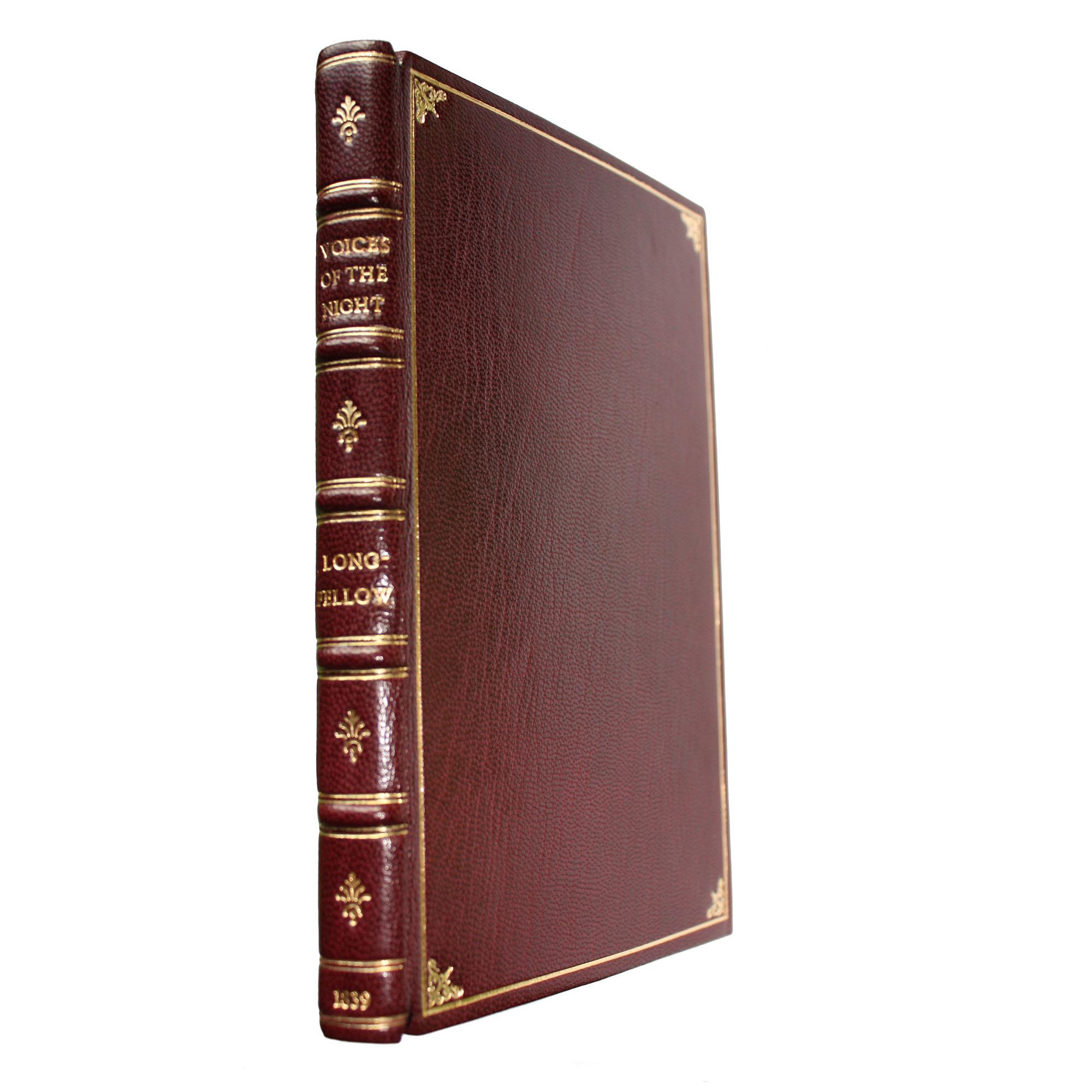 Longfellow's First Book, inscribed to One of the "Five of Clubs"