Flora L. Shaw. Phyllis Browne. First edition (1883)
Shaw, Flora L[ouise] (1852-1929). Phyllis Browne. Boston: Roberts Brothers, 1883. First edition. 385p., 4 illustrated plates; 17 cm. Original blue cloth. Spine faded, hinges reinforced; near fine.


Joan Whitney Payson's copy, with her bookplate. Gift inscription from her mother, Helen Hay Whitney: "Joan from Mother / favorite book when I was a little girl."  


Largely forgotten today, Flora Shaw wrote only five novels for younger readers before shifting her energies to journalism. The first of her books, Castle Blair (1877), was immensely popular and is still reprinted periodically. In 1892, she stopped writing novels, taking a position as the first editor in the new colonial department of the London Times, and marrying Lord Lugard, high commissioner of Northern Nigeria. Shaw would go on to write studies in cultural and political history. Her work on behalf of refugees during the First World War earned her the award of Dame of the British Empire.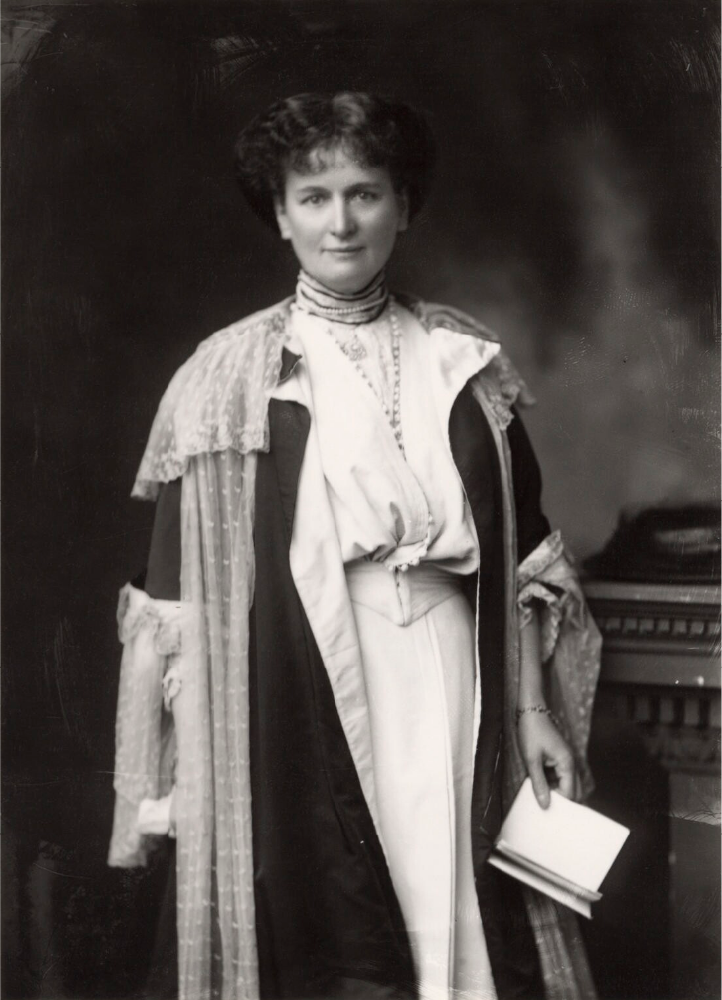 Flora Shaw in 1908.
     As Bridget Carrington argues in her studies of the author, Shaw distinguished herself from many of peers in deliberately seeking to reach a young adult readership; like Charlotte Yonge, she wrote for girls "between fifteen and five-and-twenty," salting her adventures with moral instruction intended to cultivate the virtues of womanhood. But where Yonge's moral teachings centered on individual probity -- her characters are rather "goody-goody" -- Shaw's stories for young women sought to develop their social conscience. Encouraged by George Meredith and influenced by John Ruskin (who pronounced Shaw's talents as equal to Maria Edgeworth's and surpassing those of Harriet Martineau), Shaw's novels expressed concern for the impoverished condition of the working classes. 
     Phyllis Browne relates the lively adventures of an spirited English girl of fourteen and her Polish cousin, young Count Ladislas (Lal). Lal is an orphan and Phyllis nearly so, her mother having died and her father being distant. Nevertheless both recognize it as their duty to help those less fortunate than themselves, and to hew to honorable standards of conduct even in the face of ingratitude and adversity. While hardly a suffragette, young Phyllis expresses frustrations at the social limits on her sex: 
Talk of men and what they do! I'm sure there's nothing one thousandth part as hard as to sit at home and eat your heart out when you might be of use!
And it is her indomitable pluck that saves Lal and other boys when they find themselves in mortal danger. When the novel opens, Phyllis is shy in the presence of adults. By the end she has come into her own. A mentor reminds the young woman of her place in society:
It is the woman's courage for which you must train yourself. . . . . But do not think that the woman has less to train herself for than the man.  See these flower-edged streams which turn the mills.  They are always here, left behind by the powder which goes to make noise in the world, but they are no less a force than it.  All that it does is truly done by them.  Out of rough materials its power is first perfected by their steady gentleness and strength.
     Given the novel's message to young women on their potential for public impact, the provenance of this copy is particularly interesting. Helen Hay Whitney was the daughter of John Hay, Secretary of State under Abraham Lincoln and U.S. Ambassador to Great Britain. A writer of verse and children's books (The Bed-Time Book, Verses for Jock and Joan, etc.), Whitney was also a major philanthropist. Her daughter, Joan Whitney Payson, was equally accomplished. Her achievements included founding the first children's bookstore in New York City, and establishing the New York Mets baseball team. Flora Shaw's words on what girls might accomplish certainly fell on fruitful soil!
     In England, Phyllis Browne appears to have been published only as a serial in Aunt Judy's Magazine. The book was published only in America, and it is decidedly uncommon. It is not represented in the British Library or the Bodleian (which holds Shaw's papers), and according to Worldcat genuine copies of the first editions (as opposed to reprints and ebooks) are held by only a handful of libraries in the United States and none in the British isles.
References
Avery, Gillian. Heroes and heroines of English children's stories, 1780-1900 (London: Hodder & Stoughton, 1965)
Callaway, Helen and Dorothy O. Helly, "Crusader for Empire: Flora Shaw/Lady Lugard," in Nupur Chaudhuri and Margaret Strobel, eds. Western women and imperialism: complicity and resistance (Bloomington and Indianapolis: Indiana University Press, 1992), pp. 79-97
-----. "Lugard, Dame Flora Louise, Lady Lugard (1852–1929)," Oxford Dictionary of National Biography.
Carrington, Bridget. ''Good, and lovely, and true': A consideration of the contribution and legacy of Flora Shaw's fiction for children' in A Victorian quartet: four forgotten women writers (Lichfield: Pied Piper, 2008)
---- Paths of virtue? The development of fiction for young adult girls. Ph. D. diss, Roehampton University, 2009.
Recommend this product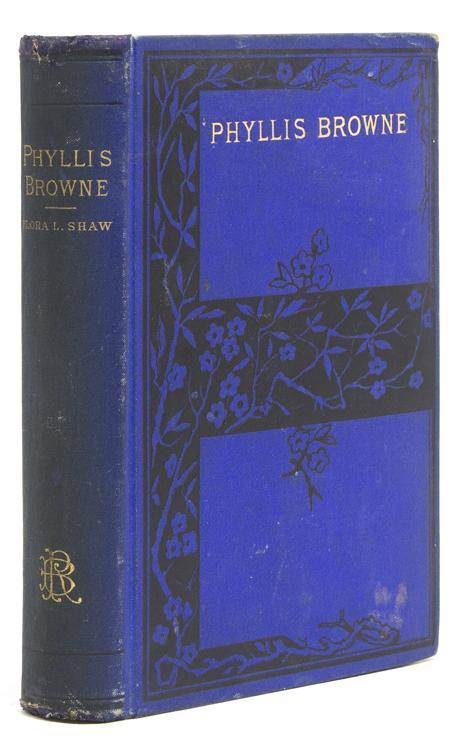 Flora L. Shaw. Phyllis Browne. First edition (1883)