A San Francisco judge starts in Cleveland (1849-1850)
Cowles, Samuel (1823-1880). Diary, July 1849 to July 1850. About 50 pages, written in a clear, easily legible hand with a few lines in Pitman's shorthand. Leather-backed boards, rebacked. Bookseller's label to front pastedown: M. C. Younglove, Cleveland.
     Featuring eyewitness accounts of the cholera epidemic of 1849, several disasters, and numerous crimes, this personal and legal diary is an important primary source for the early history of Cleveland, and offers insight into the early career of one of San Francisco's distinguished jurists.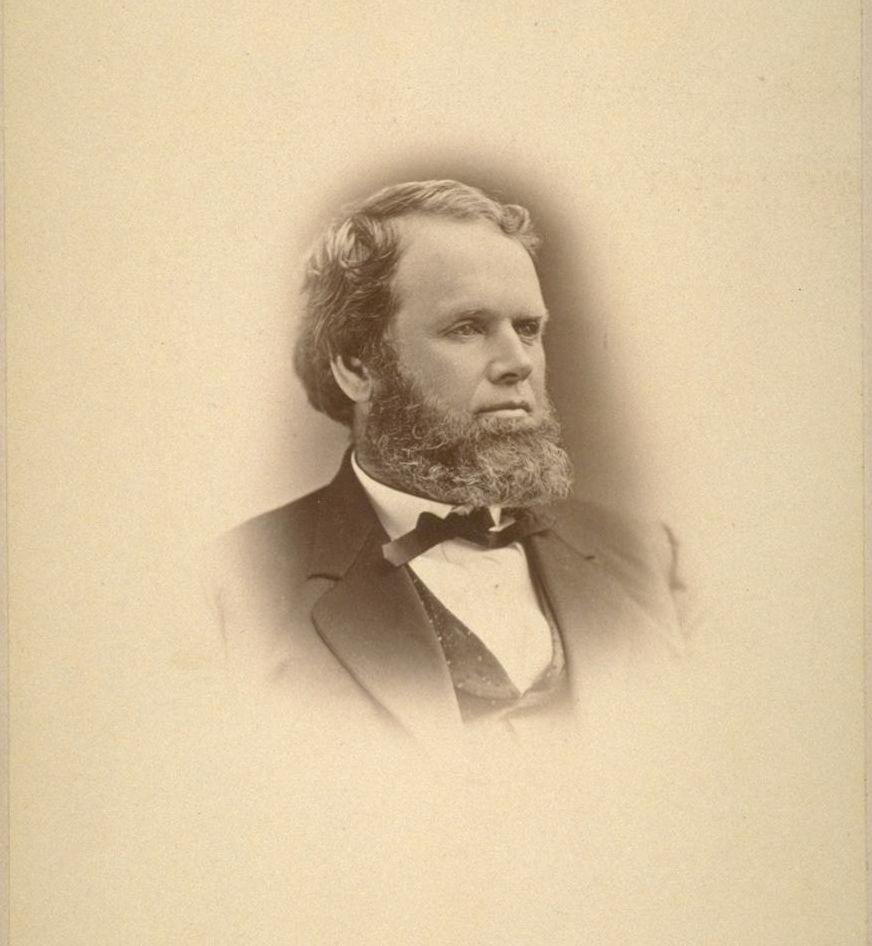 Samuel Cowles in the 1870s (Bancroft Library)


     Samuel Cowles was the son of a doctor, and the grandson of Giles Hooker Cowles, the first settled minister of Ashtabula County. He attended Grand River Institute, Austinburg, and the Western Reserve College (now Case Western) before turning to the study of law. Admitted to the bar in 1847, he established his own legal practice in partnership with Loren Prentiss. In 1850, just after this diary ends, Cowles parted ways with Prentiss to join a new enterprise with his childhood friend Edwin P. Mastick. In 1852, Cowles and Mastick, struck with "California fever," headed west.
     In San Francisco, Cowles quickly built a reputation for his legal acumen and integrity, and served with distinction in a number of important civic posts, including as a deputy clerk of the Supreme Court of California, a member of the vigilance committee of 1856, a municipal judge from 1860 to 1863, a county judge from 1863 to 1868, a member of the committee of safety during the railroad strikes of 1877, and the president of the Savings and Loan Society, popularly known as the Clay Street Bank. His recorded decisions form a significant chapter in the annals of jurisprudence in the City and County of San Francisco and the State of California.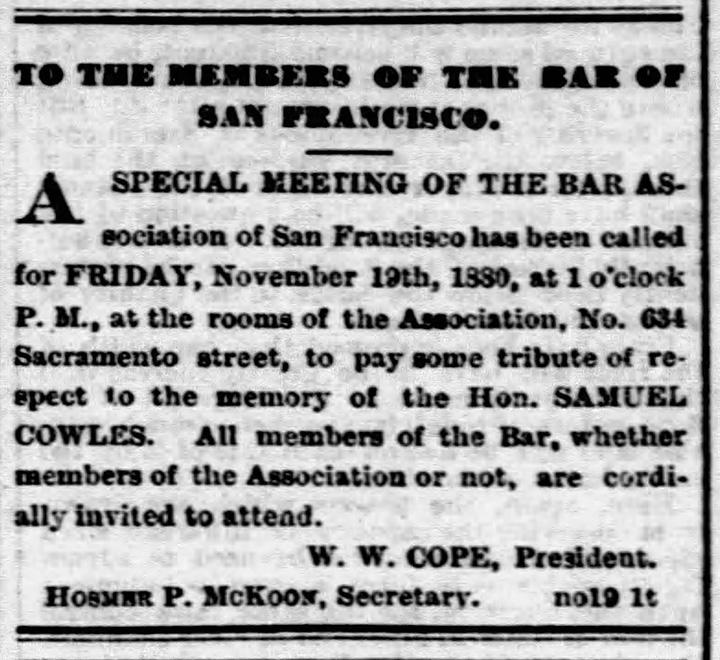 Notice in the San Francisco Examiner, 19 November 1880, p. 2
     Cowles' brothers were equally successful -- one (Edwin Cowles) was the printer of the city directory and would go on to found the Cleveland Leader, the other (Alfred Cowles) was one of the founders of the Chicago Tribune.
     With brief but substantial entries for every day from July 1849 to July 1850, Cowles's diary offers a fascinating window into the life of hardworking lawyer in early Cleveland. His practice appears to have focused on criminal defense and real estate transactions, though it is clear he handled a range of civil matters as well. His clients appear to have included people accused of rape, arson, and insanity. When prisoners broke out of jail in 1850, he joined a posse to round them up.
     Cowles served as secretary and treasurer to the Cataract Fire Company, No. V, and there are a number of references to the company and to fires. He was involved in politics and writes of meeting Henry Clay, and of the disputes between LocoFocos, Whigs, and the Free Soil Party. His hour-by-hour account of the death of President Taylor offers interesting testimony to the swift distribution of news.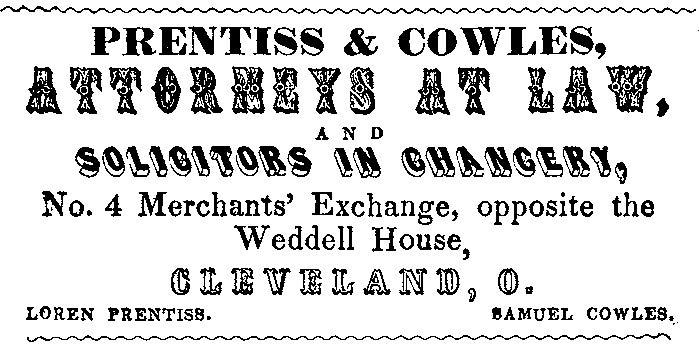 From Smead & Cowles' Cleveland directory for 1848-9, p. 153
     There are detailed accounts of the cholera outbreak of 1849 -- Cowles appears to have caught the disease and describes his symptoms. He records a number of disasters, including several devastating steamboat fires. In one particularly poignant moment he writes of encountering a naked man in the streets, crazy with grief over having lost his wife and children in a steamboat fire the day before.
     Cowles also writes on personal matters, including the marriage of his partner, the birth of his son, and the departure of his brother for Chicago. The grandson of a minister, Cowles was a pious man and felt guilty if he missed church on Sunday. At one point he indulges himself in an antisemitic rant, and speaks with disdain of the Dutch (i.e. German) population of Cleveland. Cowles turned his critical eye also on himself, noting bouts of depression and boredom, and fears of failure. "Business stagnated, and the door of the poor house opens in the distance." It is not surprising that he would quit the city two years after this diary ends to seek his fortune in the Golden State.
Selected References
Shuck, Oscar T. 

History of the Bench and Bar of California: Being Biographies of Many Remarkable Men: A Store of Humorous and Pathetic Recollections, Accounts of Important Legislation and Extraordinary Cases, Comprehending the Judicial History of the State. Los Angeles: Commercial Printing House, 1901.

Upton, Harriet Taylor and Harry Gardner Cutler, 

History of the Western Reserve. The Lewis Publishing Company, 1910.
[Williams, William W.].  History of Ashtabula County, Ohio, with Illustrations and Biographical Sketches of Its Pioneers and Most Prominent Men, 1798-1878. Phila.: Williams Brothers, 1878.
---
Recommend this product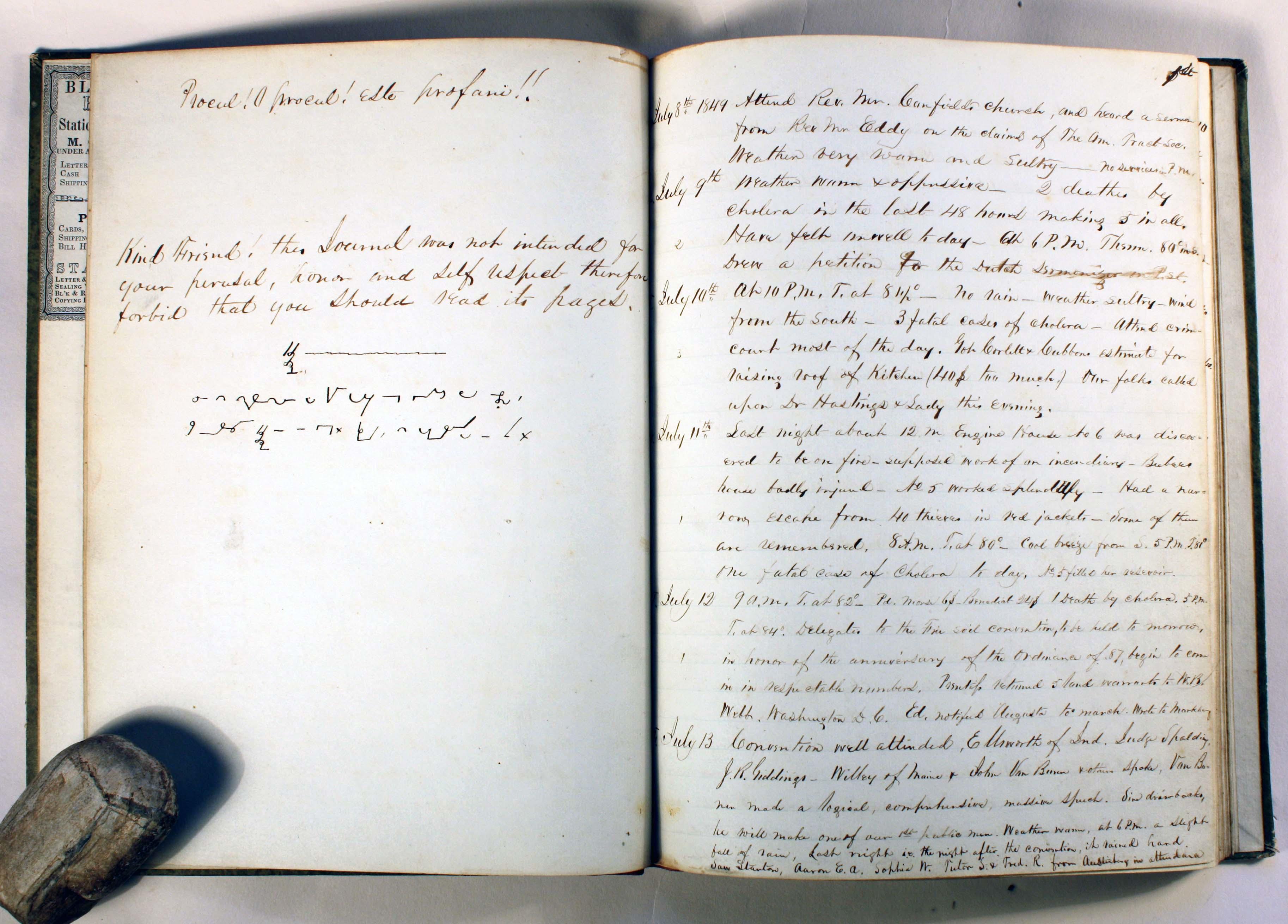 A San Francisco judge starts in Cleveland (1849-1850)