The Diary of Samuel Cowles: Cleveland, Ohio, 1849-1850
Cowles, Samuel (1823-1880). Diary, July 1849 to July 1850. About 50 pages, written in a clear, easily legible hand with a few lines in Pitman's shorthand. Leather-backed boards, rebacked. Bookseller's label to front pastedown: M. C. Younglove, Cleveland.
Offering eyewitness accounts of the cholera epidemic of 1849, several disasters, and numerous crimes, this personal and legal diary is an important primary source for the early history of Cleveland, and offers insight into the early career of one of San Francisco's distinguished jurists.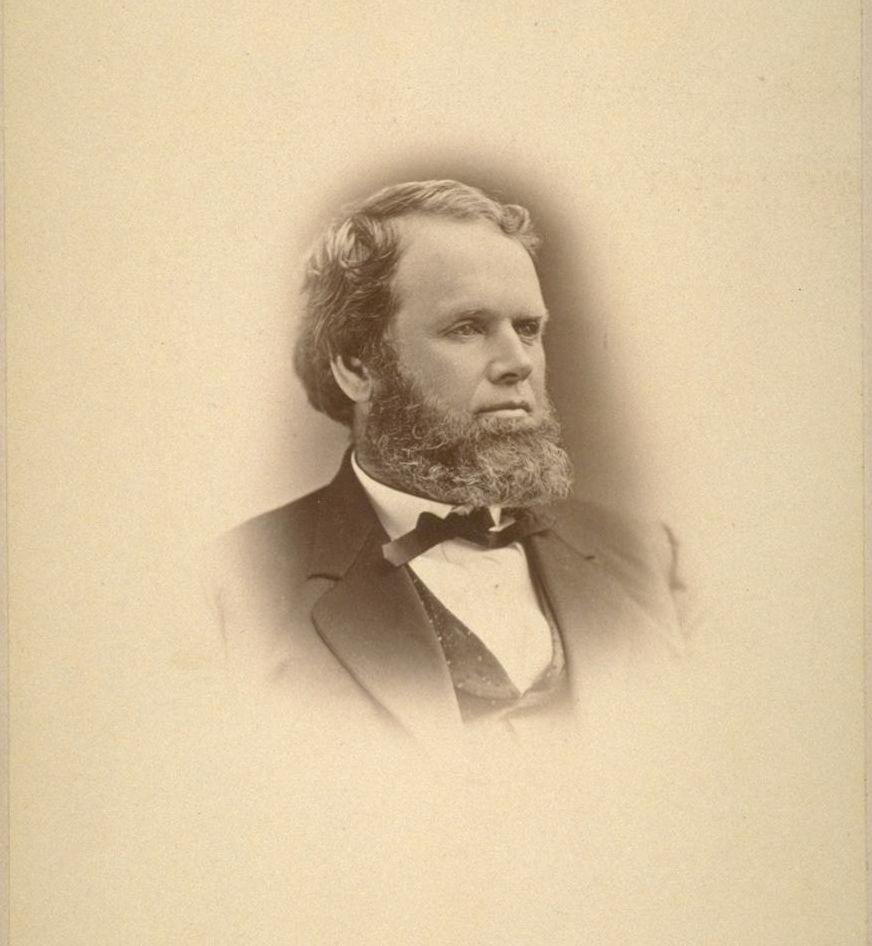 Samuel Cowles in the 1870s (Bancroft Library)


     Samuel Cowles was the son of a doctor, and the grandson of Giles Hooker Cowles, the first settled minister of Ashtabula County. He attended Grand River Institute, Austinburg, and the Western Reserve College (now Case Western) before turning to the study of law. Admitted to the bar in 1847, he established his own legal practice in partnership with Loren Prentiss. In 1850, just after this diary ends, Cowles parted ways with Prentiss to join a new enterprise with his childhood friend Edwin P. Mastick. In 1852, Cowles and Mastick, struck with "California fever," headed west.
     In San Francisco, Cowles quickly built a reputation for his legal acumen and integrity, and served with distinction in a number of important civic posts, including as a deputy clerk of the Supreme Court of California, a member of the vigilance committee of 1856, a municipal judge from 1860 to 1863, a county judge from 1863 to 1868, a member of the committee of safety during the railroad strikes of 1877, and the president of the Savings and Loan Society, popularly known as the Clay Street Bank. His recorded decisions form a significant chapter in the annals of jurisprudence in the City and County of San Francisco and the State of California.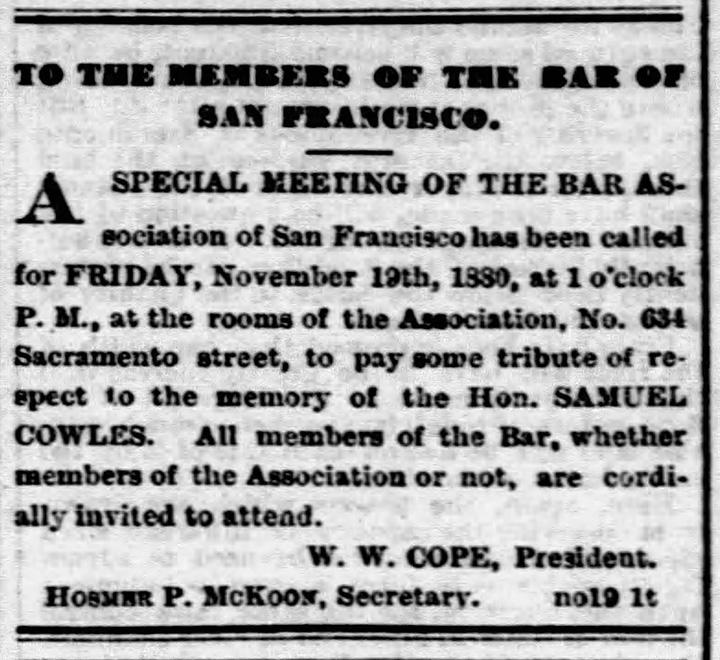 Notice in the San Francisco Examiner, 19 November 1880, p. 2
     Cowles' brothers were equally successful -- one (Edwin Cowles) was the printer of the city directory and would go on to found the Cleveland Leader, the other (Alfred Cowles) was one of the founders of the Chicago Tribune.
     With brief but substantial entries for every day from July 1849 to July 1850, Cowles's diary offers a fascinating window into the life of hardworking lawyer in early Cleveland. His practice appears to have focused on criminal defense and real estate transactions, though it is clear he handled a range of civil matters as well. His clients appear to have included people accused of rape, arson, and insanity. When prisoners broke out of jail in 1850, he joined a posse to round them up.
     Cowles served as secretary and treasurer to the Cataract Fire Company, No. V, and there are a number of references to the company and to fires. He was involved in politics and writes of meeting Henry Clay, and of the disputes between LocoFocos, Whigs, and the Free Soil Party. His hour-by-hour account of the death of President Taylor offers interesting testimony to the swift distribution of news.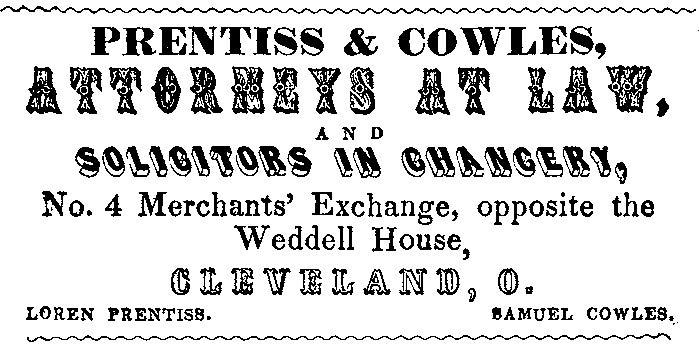 From Smead & Cowles' Cleveland directory for 1848-9, p. 153
     There are detailed accounts of the cholera outbreak of 1849 -- Cowles appears to have caught the disease and describes his symptoms. He records a number of disasters, including several devastating steamboat fires. In one particularly poignant moment he writes of encountering a naked man in the streets, crazy with grief over having lost his wife and children in a steamboat fire the day before.
     Cowles also writes on personal matters, including the marriage of his partner, the birth of his son, and the departure of his brother for Chicago. The grandson of a minister, Cowles was a pious man and felt guilty if he missed church on Sunday. At one point he indulges himself in an antisemitic rant, and speaks with disdain of the Dutch (i.e. German) population of Cleveland. Cowles turned his critical eye also on himself, noting bouts of depression and boredom, and fears of failure. "Business stagnated, and the door of the poor house opens in the distance." It is not surprising that he would quit the city two years after this diary ends to seek his fortune in the Golden State.
Selections from Clowes' Diary
1849
July 9. Weather warm & oppressive, 2 deaths by cholera in the last 48 hours making 5 in all. Have felt unwell today. Drew a petition for the Dutch sermonizer on P[rospect] St.
July 26. A new partner was taken into the firm of P&C. between 8 & 9 p.m. i.e., Prentiss was married. I am ahead of him on this subject by some 4 months. Two fatal cases of cholera today.


July 30. Fearful fatality attends the cholera in Sandusky. Near 50 death there yesterday.


Aug 7. Wrote two articles, one for the Herald and one for the True Democrat on fire dept.


Sept. 15. S[aturday]. Saw Henry Clay on his return from the New York State agricultural fair. He looked feeble.


Oct. 6. Have been most the day at "the Stone" [i.e., First Presbyterian Church]. Prentiss has goin to Warrensville to make a political speech. No. 6 sent home by the Chief Engineer after having assembled to attend the funeral of a fireman.


Oct. 9. Election Day. Prentiss has gone to Chilicothe on business as admnr of the Haskins' Estate. Whigs badly whipped. Free Soilers also. Entire LocoFoco ticket elected.


Oct. 13. Have had a very bad cold for the last 2 days. Attended sale of Canal Boat American Eagle. Lucia Newton was put on trial today.


Oct. 26. Uncle and Wife went off Oberlinwards today. Young Holt is on trial for burning St. Paul's. Great interest is manifested in the trial.


Oct. 29. Have got Alfred [Cowles, later founder of the Chicago Tribune] ready to start for Mich. He is waiting for a boat.


Nov. 15. Mrs. S[eeley] called at the office this afternoon. She is now at our house – just returned from Buckham. Con[stitituion] of the Californians has excluded slavery.


Dec 7. A new era in Cleveland. The streets were this evening lighted with Gas. Saw a few of [mesmerist Heman] Burr's experiments in Biology. They were far from satisfactory to me.


Dec. 8. Drew petition to Gov. Ford asking that the Execution clemency might be extend[ed] to James Hammond now in the Ohio Penitentiary for the crime of manslaughter.


Dec 9. Sunday, and Anna and I failed to go to church.


Dec. 11. Have read some today – wrote some – and loafed a little. I must brush up in my legal studies or bring up the man in my calling. Our business is very fluctuating – we have not done enough today to pay office rent. Have had the blue devils like thunder. Pshaw! Ubi est acumen!


Dec. 21. Found our quondam client Sandreth undergoing an examination before Esq. Strong on charge of rape.


Dec 23. Was down sick with a cold and didn't attend church. I am rejoiced that my failure to attend church was based upon good reason.


Dec 31. This is the tail end of 1849. The Dutch have already commenced their senseless custom of shooting muskets.
1850
Jan. 4. Called on Dan P. in the evening. Further deponent saith not.


Feb 22. Washington's birthday! The military were out, and two of the fire companies. Great celebration that!


Feb 24. Was prevented from attending church today, my services having been required at Mrs. [William F.] May's, owing to the return of insanity in Miss Sarah's case. Was up with her all night sabbath night.


March 1. Arranged Hoyt's claim vs. Howe where I was surety. If I am caught that way again let me know it.


March 6. Have been figuring some after the City Attorneyship. … I never was cut out for a politician, and yet it will not kill me if I am disappointed in my present humble aspirations.


March 11. William J. May called in to the office this morning and informed me of the death of his cousin Sarah. She died in the Lunatic Asylum at Columbia on the 6th inst. Poor woman! Her death was a melancholy affliction. She was a kind hearted woman.


March 16. Started this morning for Independence to see Folt. Didn't go farther than Newburgh. Whig convention met this afternoon and nominated Andrews & Hitchcock for the for the convention to frame a new constitution. The democratic convention nominated Stark[weather] & Orson Spencer. Locofocoism is horror stricken at the idea of union between the Whigs and Freesoilers, when it offered to go [for] any two old libertymen the Freesoilers might nominate.


March 18. John E. Cary appointed City Attorney, an appointment that left me on my back.


March 21. This is my birthday, but whether I am 26 or 27 years of age is a matter about which I cannot speak with certainty.


April 9. Prentiss re[ceive]d a letter today from Walter Van Dyke, Sacramento City. Van seems to have had a hard time getting to the gold regions.


April 10. [Joel] Engleheart, the Jew, has finally left No. 115 [Superior St.]. The Jews as a class are the most thievish, unprincipled set of men on the Footstool to do business with. It seems as if they were curled with dispositions that make them odious to all mankind. "Jew" is a synonym for avarice & meanness.


April 14. Read at random in the Encyclopedia of History. I must increase my miscellaneous library by buying, begging, or borrowing.


April 23. Recd. a letter this morning from Frank S. who has the California fever as bad as ever.


April 27. An epoch in my history. About 9 & ½ P.M. my wife gave birth to a large, fat, rugged, live, kicking boy, weighing eight pounds. Anna is doing well. The boy is a prodigy.


May 17. Yesterday the weather was appropriately warm. Today it is as cold as Greenland.


May 23. Last night the office of the Cleveland Insurance Co., it is claimed, was entered and robbed of some $12,000.00. Who struck Billy Patterson!


May 24. Dull, dull, dull! Business stagnated, and the door of the poor house opens in the distance. Have made $1.50 today as notary, and further deponent saith not.


May 25. Frank started from Plymouth for California Tuesday May 7. He left New York … on board the Brig Alfonso. News came last evening that Cuba had been invaded by the forces under [John] Quitman & [Narciso] Lopez – A new edition of Texas History!


June 17. A day long to be remembered. This morning about 4 A.M. the Steamer G. P. Griffith took fire some 16 miles east of here & burned to the water's edge. As hear as can be learned some 290 lives were lost. This afternoon I visited the wreck. Saw about 100 poor emigrants, men, women & children, buried in one huge grave. It was a sight both touching and awful. Thirty bodies have been brought to this city. Some have been taken to Buffalo, & a hundred or more steep in the water.


June 23. In the afternoon on my way to church found a crazy man, without clothing on his person, frightening horses, women & children on Euclid St. He was taken to jail, is from Mich[igan], said to have lost a wife & six children on the Griffith.


June 24. A Miss Cook committed suicide at the American today, by taking oxalic acid. She was a cousin of Judge Hitchcock's. A case of disappointed love. Royal Cowles [a jeweler in Cleveland] implicated – Poor fellow!


June 30. Staid at home and read a moral tale! by [James Fenimore] Cooper called Vulcan's Peak, or the Crater.


July 9. A dispatch from Washington announced the dangerous illness of President Taylor. It was recd. at 11 A.M.. At 12 M. another came that he was no better. At 2 P.M.. another was recd that the President was just live no better. AT 4½ p.m. he was just alive. At 6 P.M. he was improving. At 25 minutes past 10 p.m. he breathed his last.
July 11. Last night the accomplices of Stanley & Marvin entered the jail, stole Root's keys, and let out all the Penitentiary birds. I was out on the track from 4 A.M. till 2 P.M.


July 12. This day was observed by the citizens and military as one of mourning for the death of the Chief Magistrate of the nation. Some of the jail birds brought back. Went out to East Cleveland again with the Sheriff and his posse.
Selected Sources
Shuck, Oscar T. 

History of the Bench and Bar of California: Being Biographies of Many Remarkable Men: A Store of Humorous and Pathetic Recollections, Accounts of Important Legislation and Extraordinary Cases, Comprehending the Judicial History of the State. Los Angeles: Commercial Printing House, 1901.

Upton, Harriet Taylor and Harry Gardner Cutler, 

History of the Western Reserve. The Lewis Publishing Company, 1910.
[Williams, William W.].  History of Ashtabula County, Ohio, with Illustrations and Biographical Sketches of Its Pioneers and Most Prominent Men, 1798-1878. Phila.: Williams Brothers, 1878.
---
Recommend this product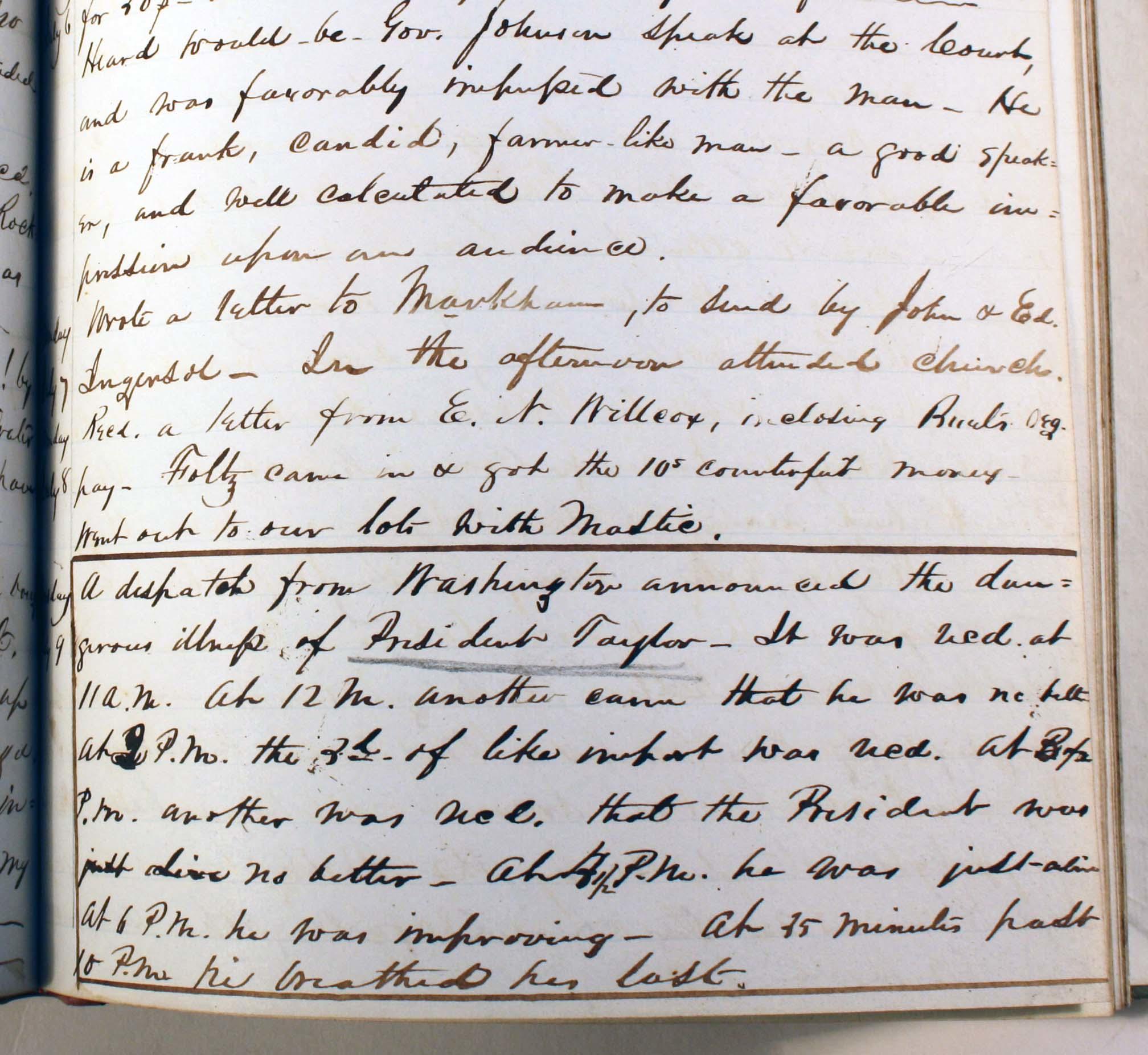 The Diary of Samuel Cowles: Cleveland, Ohio, 1849-1850