Rhode Island General Assembly Proceedings, October 1770
Rhode Island. General Assembly. October 1771 [i.e. 1770]. At the General Assembly of the governor and Company of the English colony of Rhode-Island and Providence Plantations, in New-England, in America; begun and held at Providence, within and for the said colony, on the last Monday in October, in the year of our Lord one thousand seven hundred and seventy, and eleventh of the reign of His Most Sacred Majesty, George the Third, by the grace of God, king of Great-Britain, and so forth. ... Newport [R.I.]: : Printed by Solomon Southwick., [1771]. p. 61-84 [i.e., 67-90] ; 30 cm (fol.). Signed in manuscript on the final page by Henry Ward, secretary. Front wrapper lacking (supplied in facsimile); a good copy. Evans 11835; ESTC W33058; Alden, Rhode Island imprints, 474


A compilation of acts and resolutions richly evocative of life in colonial Rhode Island, proudly bearing the Royal coat of arms. Published annually since 1747, this collection includes a number of references to currency. There are appropriations for paying justices "for the Trial of a Number of Criminals for counterfeiting Gold and Silver Coins," among whom was the silversmith Samuel Casey (1723/24 – ca 1773), who was sentenced to death. There are also appropriations for posting rewards for Casey and other inmates, who escaped from the King's County gaol shortly after their arrest. There is also an accounting of the lawful burning of £46,014 7s. 7d. of outdated paper money by a committee of the treasury. Other significant acts include the incorporation of the Benevolent Congregational Society, which later would reestablish itself as the First Unitarian Church, the approval of a fundraising lottery by Rhode Island Baptists, the building of a bridge over the Pawtucket river, and the appointment of an agent to complete the paperwork required to establish a school for Indian children. The latter had been initiated by Thomas Ninigret (1736-1770), the English-educated sachem of the Narragansett nation, and grandson of the sachem who befriended Roger Williams. Ninigret had died before the deed for school lands was completed.
     The final page bears the manuscript signature of Henry Ward (1732-1797), who served as Rhode Island's secretary of state from 1760 until his death. A patriot, he was a member of the 1765 Stamp Act Congress, and of the committee of correspondence during the revolution.
     A fascinating record.
---
Recommend this product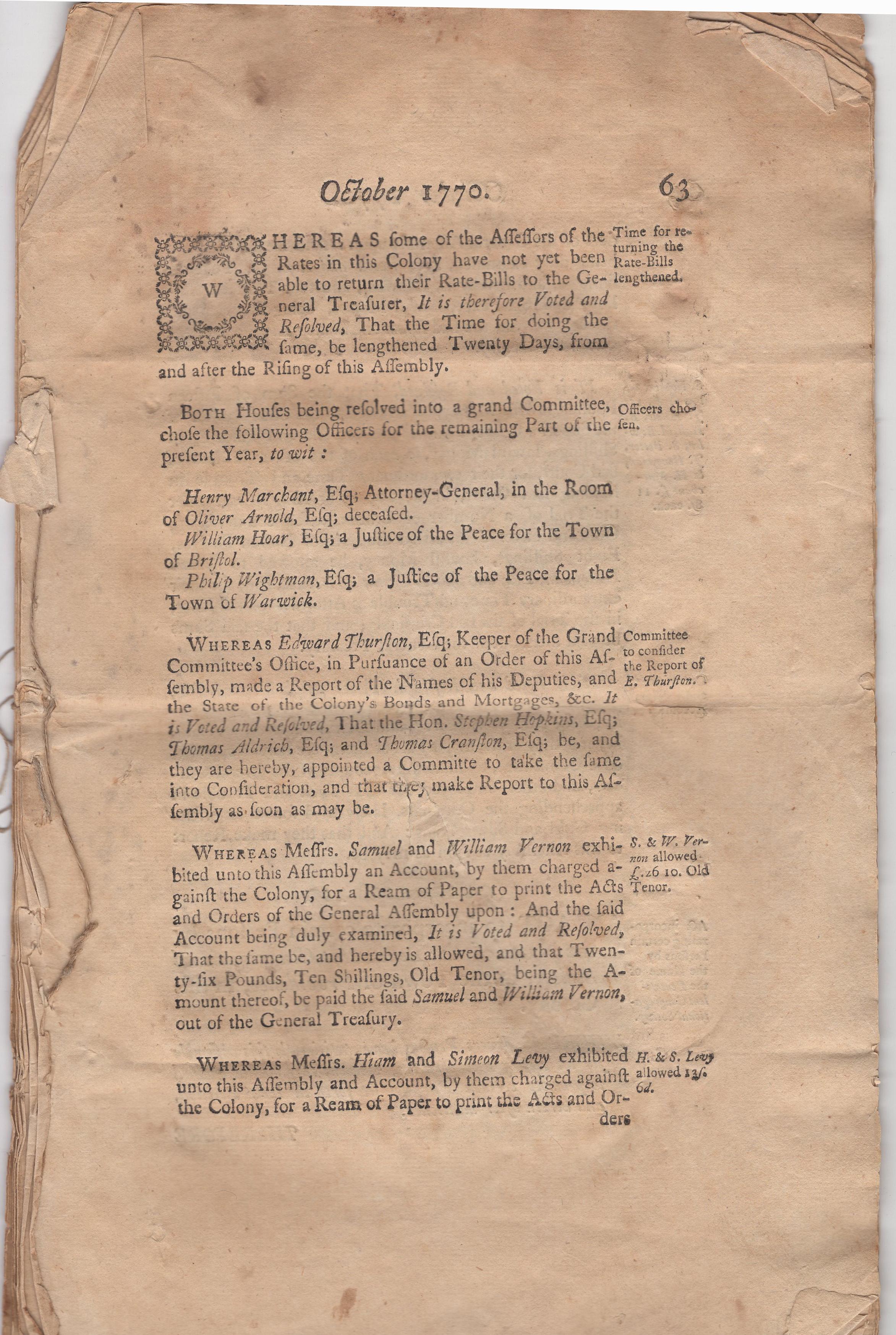 Rhode Island General Assembly Proceedings, October 1770