A Whittier between the Devil and Lowell factory girls
Whittier, [ _____ ], letter to William West, July 9, 1832. A lengthy, substantial, and amusing letter written on three sides of a single sheet, 39 cm x 24.5 cm, addressed and postmarked Portsmouth, New Hampshire on one side. Folded and lightly worn.
An amusing letter signed "Whittier," not the poet, but probably a relation from Haverhill. His correspondent is William West, likely a scion of one of the several West families native to Haverhill. The letter, written on Whittier's return to "my native village" after a visit to Boston, is abrim with youthful vigor and local color, with gossipy references to local personalities, industries, and the workings of the Devil.
Whittier writes to West in care of Benjamin Fuller & Company, which is listed in the 1832 edition of Stimpson's Boston Directory as a shoe store on 173 Washington Street, Boston. Internal evidence suggest that Whittier was also in the industry -- he writes of visiting the factories in Lowell. Although John Greenleaf Whittier was born to farmers, other relations were in the shoe industry, which thrived in Haverhill. In 1832, the town boasted 28 shoemakers. In 1837, there were 42 (Chase, 535, 536).
While Whittier claims to prefer the town to city life -- "to breathe the pure air of the country is enough to make the push-proud aristocrat envy the lonely habitation of the poor peasant" – he notes that his old friends have changed. "The boys who used to sport with me in the fields and on the banks of the river and in the gay circle, had either become men with faces indicating a cold and selfish heart – human nature had begun to show itself in all its horn'd deformity – or had payed the debt which we all owe to old dame nature." He offers a rich description of a celebration on July 4th, which he claims started with pomp and oratory and ended in debauchery. "If the D....l was there I must have seen his cloven foot! What think ye? Mary Magdalen had fewer devils in her -- do you suppose the factory girls are fun as the angels in heaven? Methinks I can see West in an attitude of wonder and astonishment!!" The factory girls in question were from Lowell as he makes clear: on the 5th, "I had the pleasure of treading on Lowell dust – of [visiting?] those huge factories – of seeing when the 'railway' may probably pop."
Whittier writes satirically of a running into a musical couple named Callander – "his Royal Worship and Lady" -- and asks for news from Boston: "How do the inmates of the 'Castle of State' feel at this time? Has the fear of the Cholera placed anyone in 'durance vile?'" Writing from Portsmouth, NH, he announces that he intends to take a stage shortly to move "Down-East," and instructs Wesh to direct his response to him in care of Joseph Wilson, merchant, Portland. "Say nothing that you haive rec'd a letter from me as there will be wonder in the camp." He ends the letter with a mysterious benediction: "let darkness reign throughout the castle."
Work Cited
Chase, George Wingate. The History of Haverhill, Massachusetts, from its first settlement, in 1640, to the year 1860 (Haverhill, 1861).
---
Recommend this product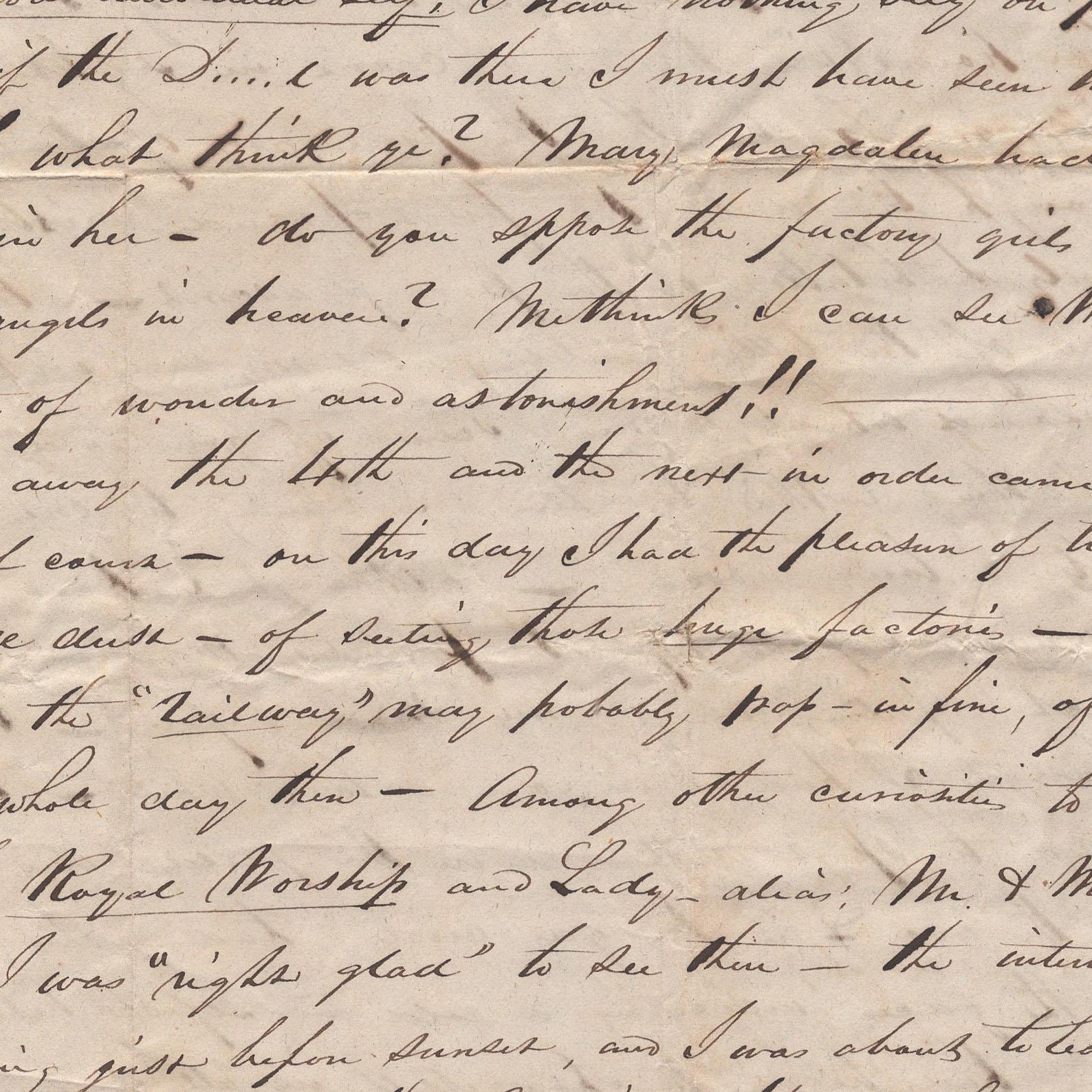 A Whittier between the Devil and Lowell factory girls