Jonathan Edwards. Two Dissertations. First edition. (1765)
Edwards, Jonathan (1703 – 1758). Two dissertations: I. Concerning the end for which God created the world. II. The nature of true virtue. Boston: Printed and sold by S. Kneeland, opposite to the probate-office in Queen-Street, M,DCC,LXV [1765]. [2],iii,[3],191,[1]p.; 19 cm. First edition, with original front wrapper intact. In good condition with some wear to the first page. Ownership signature of Zenas Hill. Housed in a custom clamshell case. Evans 9962; ESTC W28418; Johnson, Jonathan Edwards, 228 (1940 ed), 311 (2003 ed).
Jonathan Edwards was America's first philosopher and perhaps its greatest metaphysician. "In logical acuteness and subtlety," remarked Dugald Stewart (1753-1828), Edwards "does not yield to any disputant bred in the universities of Europe." Two Dissertations collects two of his most important exercises in philosophical theology, edited for publication seven years after his death by Thomas Foxcroft (1697-1769), minister of the First Church of Boston.
     The first, Concerning the end for which God created the world, represented a lifelong project for Edwards, begun in 1720 and completed 35 years later. In it, he offers a tightly argued brief against an anthropocentric view of creation. "The church of Christ [is that] toward whom and in whom are the emanations of his glory and communication of his fullness," Edwards writes. Therefore,
God in seeking his glory, therein seeks the good of his creatures: because the emanation of his glory . . . implies the communicated excellency and happiness of his creature. Their excellency and happiness is nothing but the emanation and expression of God's glory: God in seeking their glory and happiness, seeks himself: and in seeking himself, i.e. himself diffused and expressed . . . he seeks their glory and happiness.
     If the first text presents Edwards's metaphysics, the second, The nature of true virtue, follows offers a God-centered model of social ethics. Distinguishing between "common morality" and "true virtue," Edwards recalls that the end of creation is the magnification of the God's glory. Thus, against Aristotle, Hobbes, Locke, and others who located virtue in the social well-being or rational self-interest, Edwards argued that "no affection limited to any private system, not depending on nor subordinate to being in general, can be of the nature of true virtue." Rather,
true virtue must chiefly consist in love to God, the being of beings, infinitely the greatest and best … Because God is not only infinitely greater and more excellent than all other being, but he is the head of the universal system of existence; the foundation and fountain of all being and all beauty; from whom all is perfectly derived, and on whom all is most absolutely and perfectly dependent; of whom, and through whom, and to whom is all being and all perfection and whose being and beauty are, as it were, the sum and comprehension of all existence and excellence: much more than the sun is the fountain and summary comprehension of all the light and brightness of the day.
     One cannot overstate the impact Edwards had on both philosophical and theological thought in America and Europe. The brilliantly argued and luminously written texts of Two Dissertations are foundational for both theological ethics and evangelical practice today.
     The volume bears the ownship signature of Zenas Hill (1730-1818). Born in Wallingford, Connecticut, Hill was a tailor. Around 1761, he and his wife moved from Goshen to Bethlehem, where they were admitted to the Congregational Church. The pastor of the church was Joseph Bellamy, one of the leading figures of the "New Light" movement, and it was here that Hill encountered the work of Jonathan Edwards. Bellamy had studied under Edwards before accepting the call to the pulpit at Bethlehem in 1740. He was a fervent voice in the Great Awakening, delivering more than 450 sermons as a traveling evangelist. Dedicated to the principle of education for clergy and laity alike, Bellamy established what is thought to be the first Sunday school in America. Among his students were Jonathan Edwards, Jr., Timothy Dwight, Aaron Burr -- and presumably Zenas Hill. "When I was young I thought it was the thunder that killed people," wrote Bellamy, "but when I grew older and wiser, I found it was the lightening. So I determined to do what I advise you to — thunder less, lighten more!" If the Jonathan Edwards of "Sinners in the Hands of an Angry God" was thunder, the Edwards of Two Dissertations is lightning.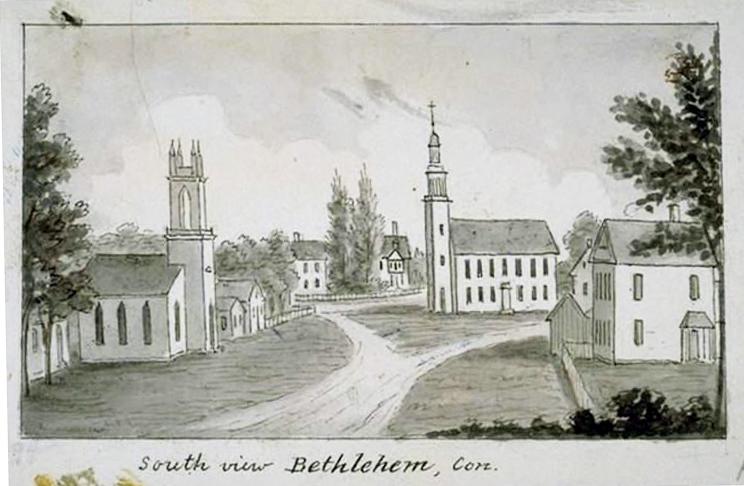 View of the church Zenas Hill attended in Bethlehem (Connecticut Historical Society)
     Around 1772, Hill moved to Richmond, Massachusetts. Reverend Bellamy had been a staunch patriot, and so was Hill. Shortly after the War broke out, Hill, then 47 years old, enlisted twice as a private in the Berkshire County militia, serving first under Col. David Rossiter, and then Col. John Brown, but was discharged shortly before the Battle of Bennington. In 1780 he moved with his wife and nine children to Tinmouth, Vermont, where he rounded out his days.
     Hill's service in the militia was brief, but his dedication to God and country endured, as revealed in a letter he wrote to the local paper in the fall of 1795. The Vermont Gazette had run a series of articles by "Belisarius" originally published in the Philadelphia Aurora that were highly critical of George Washington. Hill was indignant. Quoting verse by Lord Roscommon that he had likely encountered either in Isaac Watts' Horae Lyricae or Cotton Mather's The Christian Philiosopher, he wrote:
"Ye dragons, whose contagious breath 
People the dark retreats of death,
Change your dire hissing into heavenly songs
And praise your Maker with your forked tongues."
Praise him for raising up such a man as our worthy President, for being the cause, under God, of our civil liberty.  ... If you continue to publish such pieces, which tend to inflame the minds of the good citizens of this state, and prejudice them against the government of the United States ... [then you may] blot the name of Zenas Hill, out of the list of your customers. (Rutland Herald, 26 October 1795, p. 4)
     A well loved copy of one of Jonathan Edwards' most enduring and influential works in its orginal binding, with a fascinating provenance.
---
Recommend this product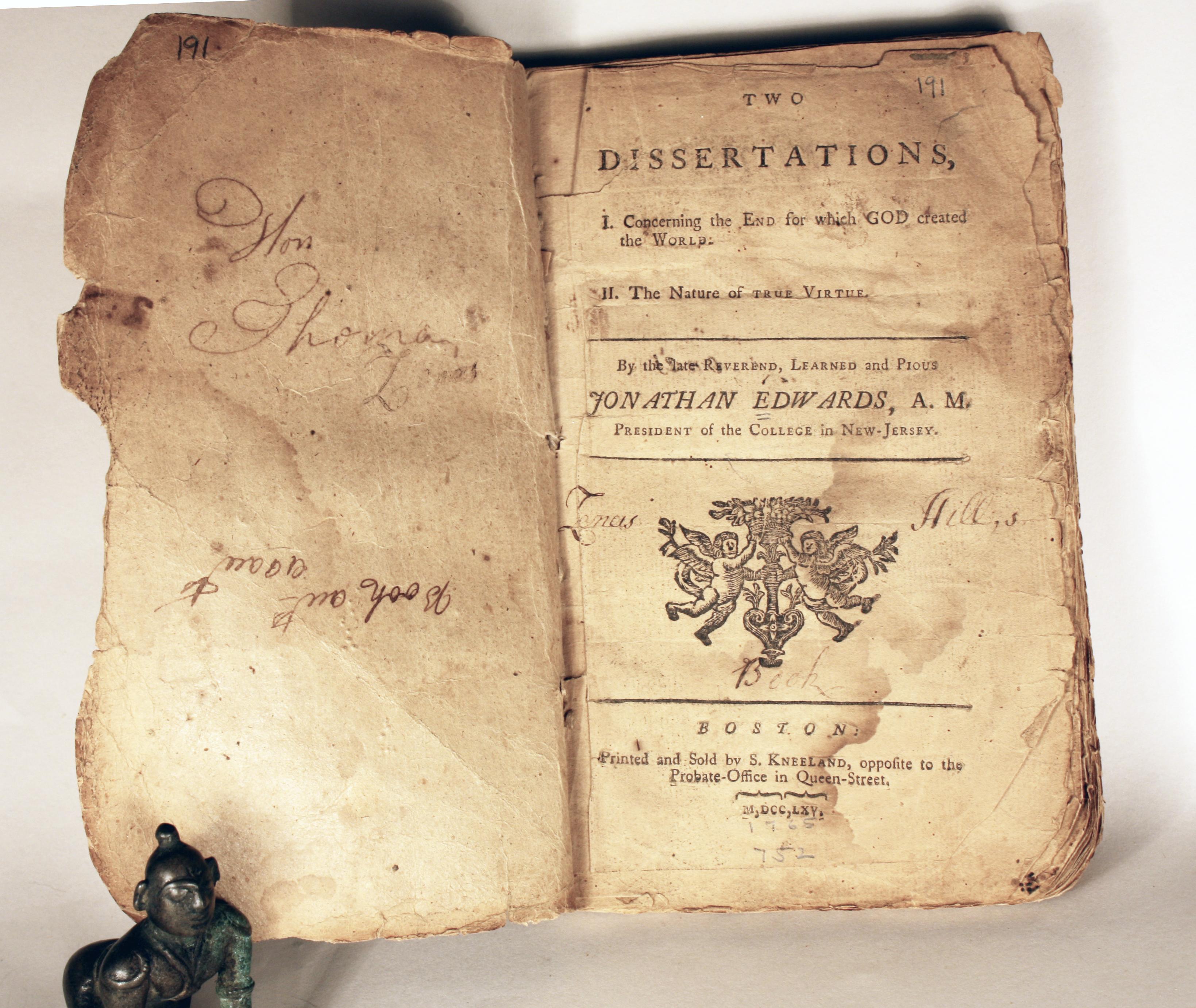 Jonathan Edwards. Two Dissertations. First edition. (1765)