A feminist view on the Civil War: Caroline Kirkland's A Few Words [1863]
[Kirkland, Caroline (1801-1864)]. A Few words in behalf of the loyal women of the United States, by one of themselves. Loyal Publication Society, no. 10. [New York: W. Bryant & Co., 1863]. First edition. 23p.  Of the several variants, this is one without the outer wrapper and with page 23 beginning "attempt at corrupting." Covers lightly foxing and soiling to covers; a very good copy.
      A rare political pamphlet published anonymously by the writer best known for her memoirs of life on the Western frontier. A native of New York, Kirkland and her family moved in 1835 to pioneer settlements in Michigan, where they lived until returning to New York in 1843. Edgar Allan Poe praised her work highly, noting that the sensation caused by her work "lay not so much in for picturesque description, in racy humor, or in animated individual portraiture, as in truth and novelty." Dependent upon the income earned by her writing after the death of her husband in 1846, Kirkland earned a wide readership as well as the friendship and admiration of such writers as Poe, William Cullen Bryant, Charles Dickens, Elizabeth Barrett Browning, and Harriet Martineau.
     During the Civil War Kirkland organized writers to raise funds for the Sanitary Commission, which organized medical supplies for soldiers. This pamphlet offers a feminist perspective on the war, noting that women on both sides tended to the sick, managed the domestic front, and suffered the loss of loved ones. A women's rights advocate and an abolitionist, Kirkland criticizes the role of Southern women in furthering the evils of slavery, and praises the independence and self-reliance of women in the western United States, who embody the strength and hope of America. A fascinating and significant ephemeral work by an important writer.
Recommend this product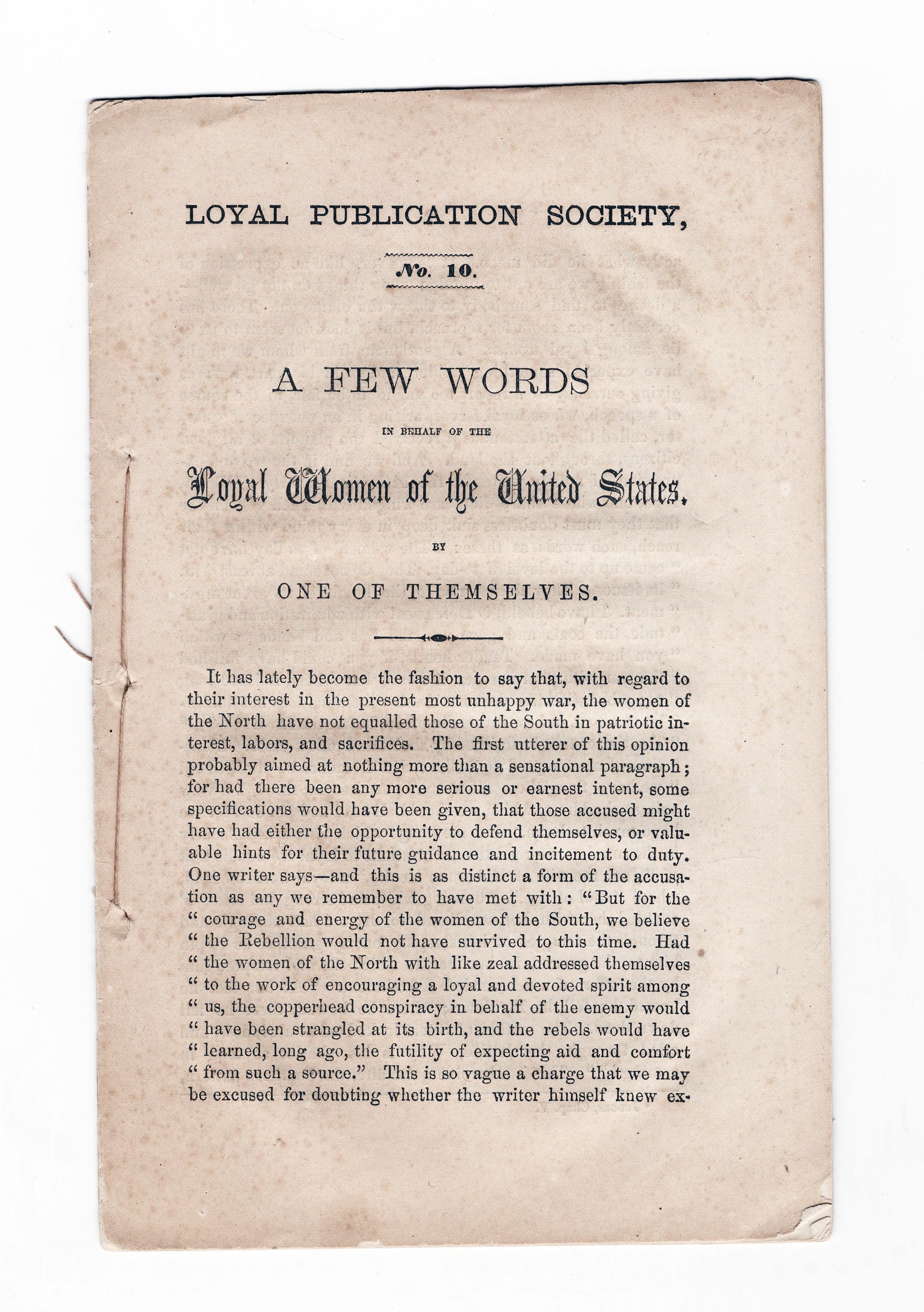 A feminist view on the Civil War: Caroline Kirkland's A Few Words [1863]