Arthur Conan Doyle. Micah Clarke (1889). First edition, signed. Vincent Starrett's copy.
Doyle, Arthur Conan (1859-1930). Micah Clarke, his Statement as Made to his Three Grandchildren, Joseph, Gervas, & Reuben, During the Hard Winter of 1734. London: Longmans, Green, and Co., 1889.  First edition, first issue with printed endpapers. Green & Gibson A3a. Wrinkled to front board, but otherwise a remarkably fine, fresh copy housed in a sumptuously tooled half leather slipcase with inner chemise.


Signed by the author and dated May [19]22. With the ownership signature of Vincent Starrett.


     A rather wonderful association. Doyle signed the book during the tour that he would later chronicle in Our American Adventure (1923). Starrett himself did not obtain the signature himself -- as he writes in his autobiography, he met Doyle only once, in 1930. But this novel -- a spirited story of Monmouth's rebellion against James II -- was one of the adventures that thrilled Starrett as a youth, and introduced him to a writer who would be one of his lifelong obsessions
     Recalling his high school years, Starrett noted that his passion for Doyle's works began with his historical fiction. "I had had already begun my career of Conan Doyle idolatry, although at that time I preferred his historical romances to Sherlock Holmes: Micah Clarke, The White Company, The Refugee and three or four others," he wrote. "I had reached Doyle, I think, through Dumas and Walter Scott (and of course Henty)."
     It was through this novel that Doyle returned to Sherlock Holmes, whom he had introduced in A Study in Scarlet, sold for a pittance to a minor publisher in 1887. On the basis of Micah Clarke, Doyle was invited to a dinner by the American editor of who invited him and one of the other guests to write something for Lippincott's Monthly Magazine. Doyle agreed, and brought Sherlock Holmes back for his second adventure in The Sign of the Four. The other author, who expressed his enthusiasm for Micah Clarke, also agreed. Some scholars believe that Doyle's dinner companion drew on Judge George Jeffreys, a handsome and brilliant but deeply flawed character in Micah Clarke, to develop the protagonist of the story he would contribute to Lippincott's. The other guest's name was Oscar Wilde, and the story he wrote was entitled The Picture of Dorian Gray.
Sources
Doyle, Arthur Conan. Memories and Adventures (Hodder & Stoughton, 1924)
Starrett, Vincent. Born in a Bookshop: Chapters from the Chicago Renascence (U. Oklahoma Press, 1965)
---
Recommend this product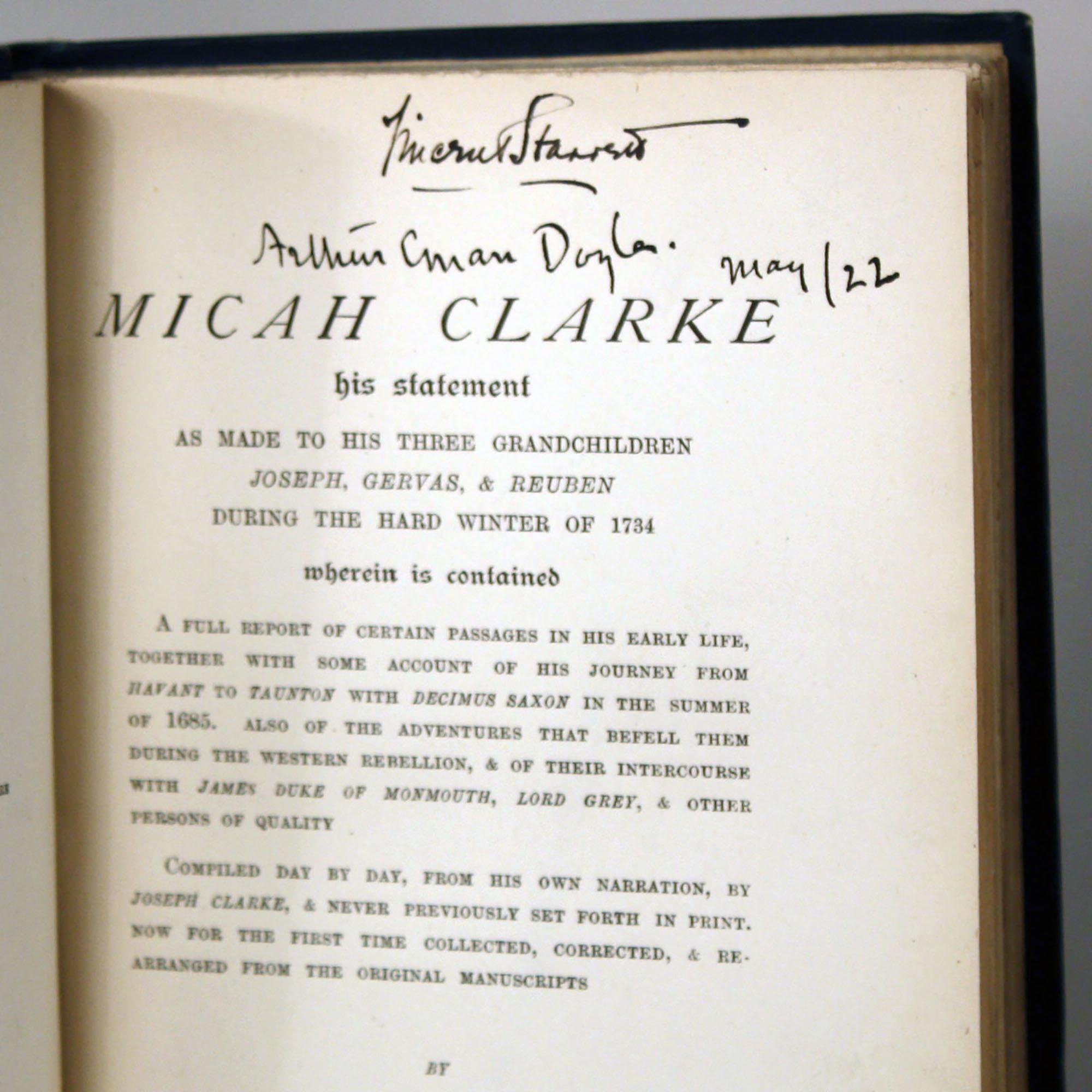 Arthur Conan Doyle. Micah Clarke (1889). First edition, signed. Vincent Starrett's copy.