"The Smallest Cookbook in the World"
Wiener Kochbuch. Das kleinste Kochbuch der Welt: enthält über 100 praktisch erprobte Recepte v. Suppen, Fleisch- und Mehlspeisen, Fische, Gemüse, Saucen, Salate etc. etc. [Vienna, ca. 1900]. 24mm; 136p. Bound in embossed silver, with clasp. Contents lightly worn.


     An immensely charming item, serving both as a practical cookbook and as a pendant – the silver binding in the art nouveau style includes a ring for attaching the book to a chain.
     As a cookbook, the volume offers – as the title promises – over 100 recipes for soups, meat and pastries, fish, vegetables, sauces, salads, and the like. They may indeed be "praktisch," but only for those with excellent eyesight. We imagine one of Beatrix Potter's diminutive homemakers having daily recourse to such a work as this. Although we have not attempted to trace the sources of the recipes, there were several dozen Viennese cookbooks published between 1791 and 1900, so we expect that this tiny tome was compiled from octavo analogue.

     As an object, it serves as a fascinating – and highly displayable – emblem of the cult of domesticity in the nineteenth century, a piece of decorative jewelry that exemplifies and celebrates the role of the bourgeois housewife whose life was (at least in its ideal formulation) dedicated to rectitude, labor, and sacrifice, all within the narrow confines of the home. Worn around the neck as a silver pendant, was this functioning cookbook regarded as a medal of honor to glorify what the Viennese called the "Priesterin des Herdes" (Priestess of the Hearth), or as a dainty bauble to brighten the chain of domestic servitude?
     A rare volume. OCLC locates only five copies worldwide, three in Germany and two in American collections of miniature books (Morgan Library, University of Virginia).
https://www.facebook.com/watch/?v=564680133977854
Recommend this product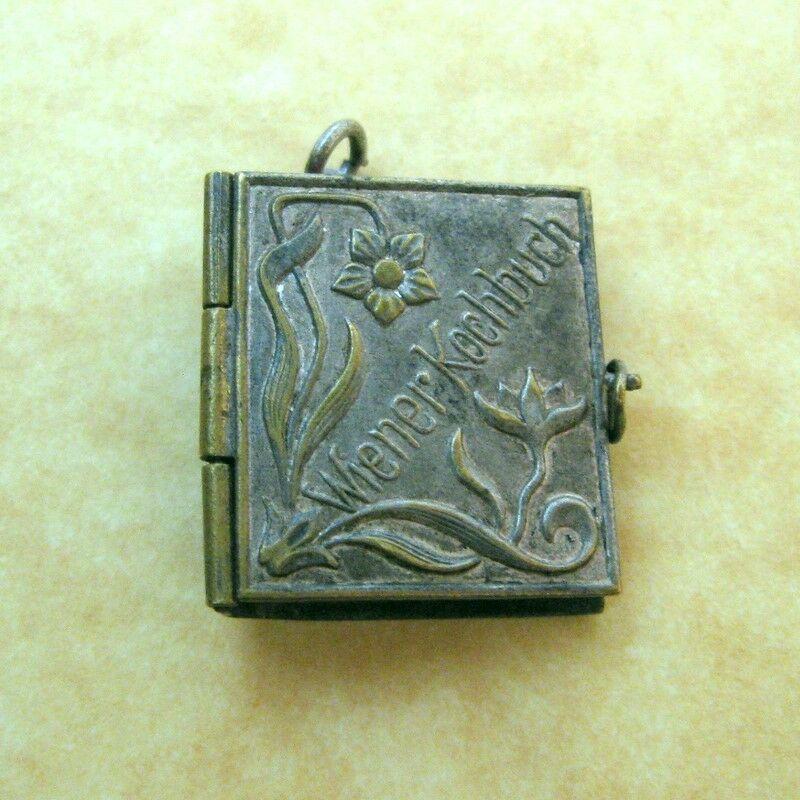 "The Smallest Cookbook in the World"