A letter from Tahitian missionary George Pritchard to his daughter (1841)
Pritchard, George (1796-1883). ALS to his daughter, Elizabeth ("Eliza") Sarah Pritchard, Surrey Chapel House, 17 November 1841. 2 p.  
     A short letter by the British missionary and diplomat who served in Tahiti from 1824 until 1844. Pritchard arrived in the South Seas as a representative of the London Missionary Society. In 1837, he was appointed British consul at Tahiti, advising Queen Pōmare IV.  Ill health compelled him to return with his family to England in February 1841.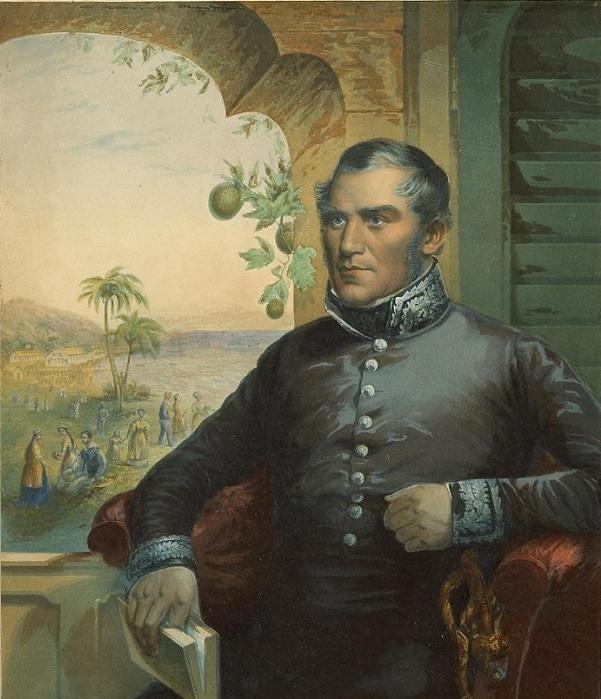 George Baxter, George Prichard (1845)
     This letter dates from what was intended to be only a brief sojourn in England.  The recipient, his daughter
Eliza Sarah Pritchard (1827-1858) was born on Papeete and had not seen English soil until her family arrived in June, 1841.  Years later, her brother William Thomas Pritchard would recall, "Born in the Pacific, of English parents, I hardly knew whether to call England or Tahiti my native land."
 It is clear from the letter that the Pritchards fully expected to return. "I wish you to apply very closely to your studies, that you may return with me next midsummer," Pritchard writes.
     Return to Tahiti the Pritchards did, embarking in August 1842. This time, however, their time was brief. In 1844 the islands were annexed to France; as a representative of the Crown, and one moreover who plead the cause of Tahitian independence, Pritchard was imprisoned, and released on conditions of exile, though his wife and family remained until making their way separately to England.
     Pritchard would return to the Pacific in 1845 as Counsel in Samoa. His children remained in England to pursue their education. Eliza would go to Bombay where in 1847 she would marry another missionary, Joseph Van Someren Taylor (1820-1881). Eliza and her husband served in Mahi Kantha until 1856, translating the Bible into Gujarati, when ill health forced them back to England. She never recovered and died at Ochilton, near Stirling, at the age of 31.
     Although brief, this letter, dating from Eliza's first months in her strange ancestral land, offers some intriguing tidbits. Pritchard mentions a Mrs. Fay, to whose care he had evidently entrusted his daughter, and sends his daughter a bible -- innocuous enough, but rather surprising upon reflection: what was her situation that she did not have one already? He instructs the 14-year-old to stop writing to a Mr. Ford and focus on her academic work -- again, rather intriguing given Emily Manktelow's analyses of the sexual dynamics within early missions. As Manketlow points out, missionary children -- and daughters especially -- grew up in a grey area of sexual threat and opportunity amid the complex intercultural power relations that characterized colonial life in the tropics. The greatest danger came not from indigenous men but from lascivious missionaries. Eliza's uncle, Rev. Alexander Simpson, was charged with repeated counts of sexual abuse against the teenage daughters of the South Seas Mission. In 1843, Eliza would be in the room when Rev. Simpson attempted the statutory rape of her 15-year-old classmate, Elizabeth Bicknell; Eliza's cries that she would tell her aunt drove Simpson away. The moral dangers that colonial life posed for the daughters of missionaries color Pritchard's remark that Eliza's prospects for returning to Tahiti depended upon her studies. "You must not consider it settled that you will return with me," he writes. 
     As Manktelow has noted, "missionary children, their presence and experience, fundamentally shaped the evolution of mission itself." This letter offers a brief glimpse into these processes as they played out in the lives of this most prominent Anglo-Taitian family.
-----------------------------------------------------------------------------------------
Surrey Chapel House
Nov 17, 1841
My Dear Eliza,
I herewith send you a Bible which I hope God will bless to your soul. I have just returned from Windsor & am going this afternoon to Birmingham. I hope to be in London again in about a fortnight, or a little more. I think you had better not write to Mr. Ford at present, as I wish you to apply very closely to your studies, that you may return with me next midsummer.
You must not consider it settled that you will return with me. When I come to London again I will talk with Mrs. Fay on the subject. I hope you will be very diligent in applying to your studies. 
Your Affectionate Father,
G. Pritchard
p.s. Had about 3000 children at Surrey Chapel on Sabbath afternoon, & in the evening the chapel was crowded to excess; up the pulpit stairs &c. &c.
Sources
Gunson, Neil. Messengers of Grace: evangelical missionaries in the South Seas, 1797-1860 (Melbourne: Oxford UP, 1978)
Manktelow, Emily J. Missionary families : race, gender and generation on the spiritual frontier (Manchester University Press, 2013)
-----. Gender, Power, and Sexual Abuse in the Pacific: Rev. Simpson's "Improper Liberties." (London: Bloomsbury, 2018)
Pritchard, George.  The Missionary's Reward; or, The Success of the Gospel in the Pacific (London: John Snow, 1844) 
Pritchard, W. T. Polynesian Reminiscences; or Life in the South Pacific Islands (London, 1866)

Whitehouse, John Owen. 

London Missionary Society: a Register of Missionaries, Deputations, Etc., from 1796 to 1896

 (London: London Missionary Society, 1896)



Recommend this product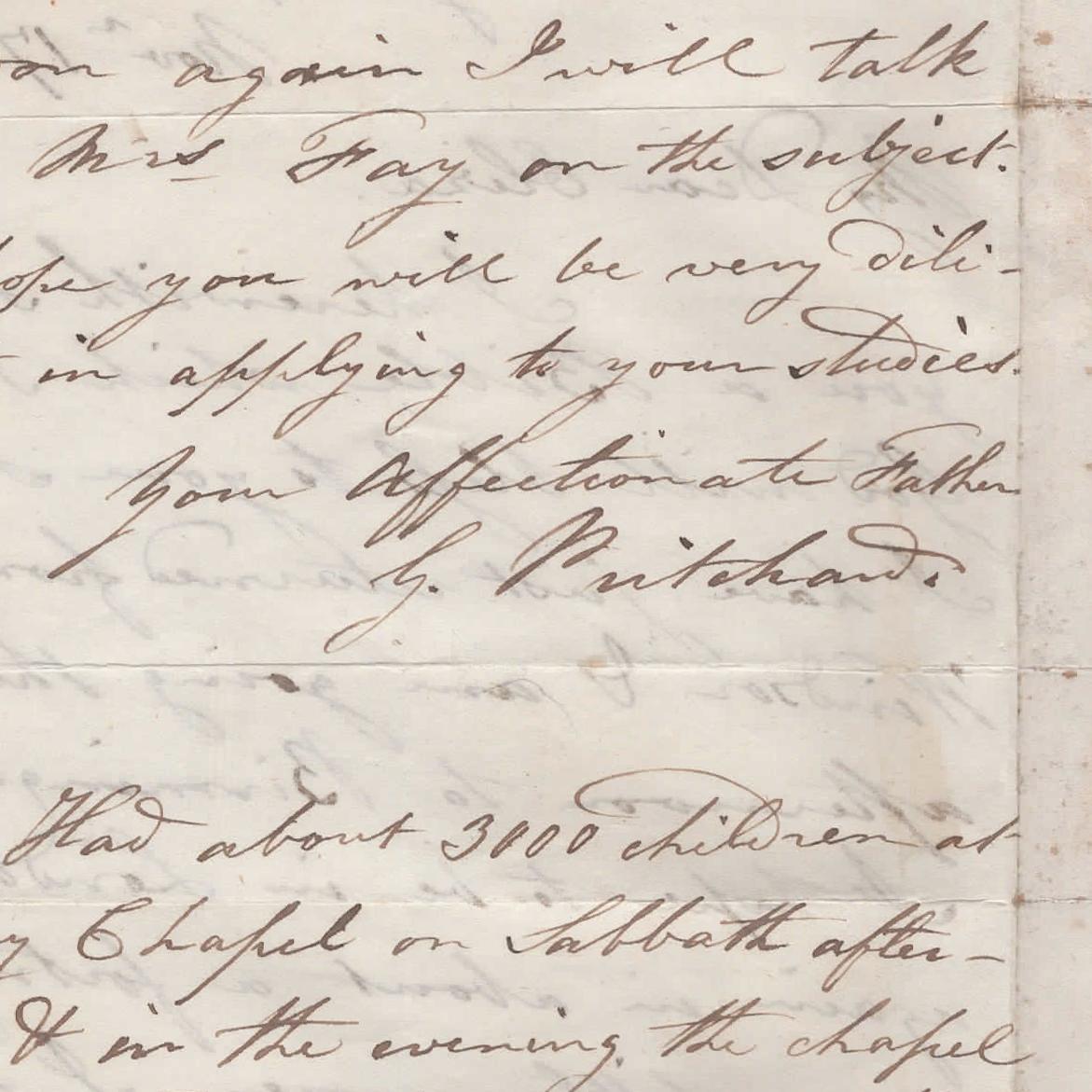 A letter from Tahitian missionary George Pritchard to his daughter (1841)