Thornton Wilder Adapted Despite Himself
Wilder, Thornton (1897-1975).  A small archive of correspondence from the Pulitzer Prize-winning author to Leona Johnpoll a young and ambitious publicist, comprising three ANS, two ALS, and a TLS from Wilder's sister Isobel, with original envelope, 1938-1944.
     In September 1938, shortly after Wilder won the Pulitzer Prize for drama, Leona Johnpoll (1919-1994), a college student in Queens, wrote to request an interview. Her ambition, it is clear from later correspondence, was to convince Wilder to allow her to adapt Heaven's My Destination as a radio play. Her persistence paid off.
     Wilder was making his Broadway debut at the time, serving as a replacement for the role of the Stage Manager in the New York production of Our Town.  His letter of October 7, 1938 apologizes for his tardy response. "I was so worried by my sister's grave illness and by my being an actor that in my anxiety I left all letter writing aside." However, by that point he had returned  to New Haven. "Now I am no longer a New Yorker. However, I may some day oblige you."  She tried again later that year when he was back in New York for The Merchant of Yonkers.
     His reply, dated December 4, 1938, asks her to make arrangements for an interview through his producer, Herman Shumlin.  In January 1939, he wrote her, "In all my ten years of teaching I don't think I ever disappointed an ambitious young student as I'm afraid I am going to have to disappoint you." He was on the brink of leaving for Mexico, he said, but encouraged her to submit her questions by mail.
     In 1940, she finally broached her subject, was repaid with a brisk refusal.  "I do not believe in dramatized novels. After reading a number of attempts, I believe that my novels are even less suited for dramatization than most. Let them stay as they are. Find an original subject for a play of your own, and all best wishes to you."
     Johnpoll persisted in her ambitions.  By 1942, she was reading plays for Alfred Bloomingdale – Billboard (28 February 1942) reported that he'd produce a play "as soon as he finds one. Comedies and musicals particularly wanted." Johnpoll wrote Wilder again. "Yes, I recognize your name," Wilder responded in his reply of 26 March 1942, "and am cheered up by your persistence. But the answer remains the same. I don't want to try the dramatization myself … and the dramatizations I've seen by others make me not want to read any more. But as I say your enthusiasm is exhilarating."
     In 1944 Johnpoll had a new job at the Columbia Broadcasting System, and finally she got her wish. Through her agency, CBS inaugurated This is My Best, a radio series sponsored by the Cresta Blanca Winery of adaptations of novels and other works by such authors as Joseph Conrad, F. Scott Fitzgerald, John Steinbeck, Stephen Vincent Benet, John Dos Passos, and Kay Boyle.  The eighth episode, broadcast on October 17, 1944, was an adaptation of Heaven's My Destination, starring Van Johnson, very likely scripted by Johnpoll (though we have not been able to verify this). She wrote Wilder to tell him the news, but he was overseas serving as an intelligence officer with the U.S. Army Air Force. 
     His sister Isabel replied: "He has never seen how a play or movie can be made of [Heaven's My Destination], although many, like you, have a firm conviction that a very good play and film can be dug out of that novel. … When the request for permission to make a radio version of the book came in to my brother's agents, they submitted the decision to me. A few years ago my brother would not have been interested in the idea, but now since we are also considering selling the movie rights, and he feels differently about these other mediums, I took the responsibility of accepting the offer."
     CBS publicity would pitch things a little differently. An article touting This is My Best claimed that the Wilder authorized the adaptation himself. "When Thornton Wilder, now a major in the U.S. Air Forces, cabled from his station in the Mediterranean theater that Heaven's My Destination was his choice from among his own works to be adapted for radio, the search began for a leading man…." (Jean Meredith, "Radio Producer's Dream Show," Radio Life, 31 December 1944, pp. 28-29).  However it came about, the broadcast represented the first of what would be many adaptations of Wilder's novels for radio, television, and film.
     Johnpoll's long efforts to shepherd Wilder's work from novel to radio play reveals a doggedness and creative vision that served her throughout her long career.  Born on Christmas Day (her name is "A Noel' backwards), Johnpoll worked for independent producers, CBS, and the William Morris Agency. Bulletins in the late 1940s and early 1950s identify her as an occasional screenwriter for television, and a publicist in Broadway and Hollywood (including a stint as Liberace's beard). By the early 1960s, she was back in New York City, where she worked for a while as a political publicist before becoming the director of the motion picture development office for the state Department of Commerce.
     A fascinating look at the behind-the-scenes dynamics of Wilder's work, and the beginnings of influential but largely unrecognized career of a woman in the male-dominated field of early broadcasting.
Recommend this product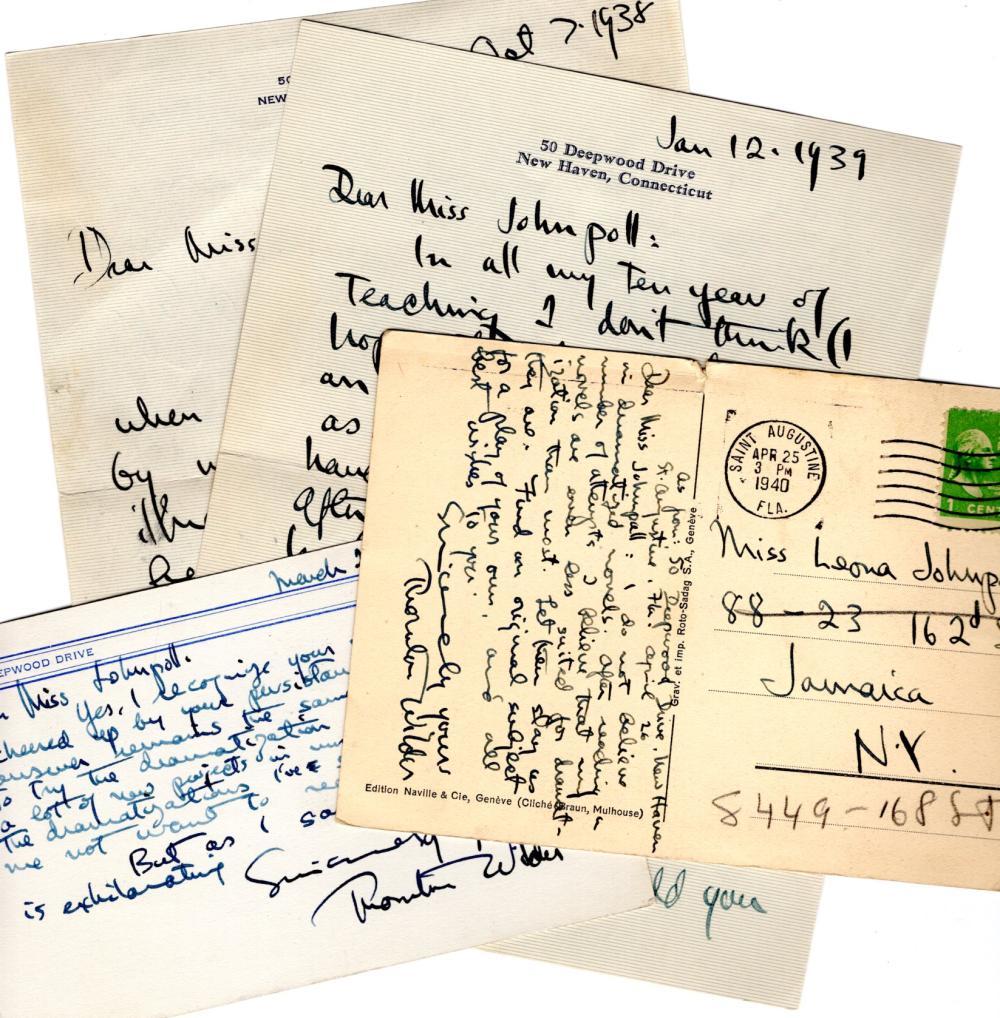 Thornton Wilder Adapted Despite Himself