Indian Clubbing
Kehoe, Sim[on] D. The Indian Club Exercise; With Explanatory Figures and Positions. Also, General Remarks on Physical Culture. Illustrated with Portraitures of Celebrated Athletes, Exhibiting Great Muscular Development from the Club Exercise, Engraved from Photographs. New York: Frederic A. Brady, 1867. First edition [?]. 123p. + [3]pp ads.; 30 cm. frontis., 20 illustrations. 30 cm. Pages bordered in red, and printed on one side only. A very good copy in original ¾ leather rubbed at the corners and the extremities of the spine.


     Visiting England in 1861, Sim Kehoe, a salesman specializing in gymnastic equipment, witnessed soldiers practicing calisthenics with clubs and saw an opportunity.  The following year he founded a firm to manufacture Indian clubs for an American market, and met with tremendous success.  Known in Persia as meels, and in India as jori, the implements came to be known in the United States as "Kehoe clubs." By the end of the century, more than a dozen American producers of sporting goods, including A. G Spalding & Co., were manufacturing Indian clubs. Kehoe's book, written as a promotional exercise, became hugely popular and was reprinted many times over the next 50 years.  The exercises were used by the US Army and early baseball teams.
     This volume, prepared to promote Kehoe's enterprise, is the first work on Indian clubs published in the United States, and a fine artefact of the athletic revival of the 19th century.  The exercises, Kehoe argued, strengthened the vigor of both the body and the mind.  "The headquarters of the celebrated Base-Ball Clubs [of Brooklyn, Manhattan, and Philadelphia] … are all adorned with Kehoe's missives of Muscular Christianity."
     Like Donald Walker before him, Kehoe promoted the virtues of exercise for Victorian women, producing a line of smaller, lighter clubs for this market niche.  The final chapter (pp. 107-21), illustrated with three stunning plates, opens with an explanation of the special utility of Indian clubs for women's health and deportment:
As a means of exercise, both pleasing and beneficial, there is nothing for ladies more suitable and simple than the Indian Clubs. ...
Many of the exercises can be executed with such skill and grace as to approach 'the poetry of motion," and when accompanied by music they can be rendered pleasing accomplishments.
Half an hour with the Clubs, daily, divided morning and evening will soon do away with much that is artificial about womankind, and promote the natural development of a graceful form and movement.
     The counterintuitive suggestion that exercising with clubs fit perfectly with Victorian ideals of womanhood took hold. One historian notes that church groups organized "swing club socials" for women. The present example bears a gift inscription suggesting that this copy was owned by a woman: "Presented to / Russell L. Johnson / by / Aunt Annie Russell / Oct. 1897."  Since the book had gone through multiple printings by the end of the century, one surmises that Aunt Annie had used it for 30 years before passing it on to her nephew. A pressed rose is laid in at Exercise No. 19.
     The printing history of this title has yet to be unraveled. The book was copyrighted in 1866, and the author's preface is dated November 30th.  A number of New York publishers issued editions – Dick & Fitzgerald, Peck & Snyder, Craft & Axford, American News Company. OCLC and other sources list the publication dates of these editions as 1866, but of the early printings that we have examined, only the present example has a date on the copyright page. This copy also has at the rear three pages of advertisements for merchandise sold by Sim. D. Kehoe, 103 Elm Street, New York -- including Indian clubs for men, ladies, and children, policeman's clubs, dumb bells, baseball bats, boxing gloves, punching bags stuffed with imported curled hair, and masonic columns and emblems. Furthermore, whereas rival editions are printed on both sides of the pages (generally clocking in at 78p.), this one is printed on rectos only (for a total of 123p.). From these details and the high production values, we conclude that the Frederic A. Brady edition of 1867 is the true first edition of this influential work.  Even reprints are uncommon (there is only one listed in Copac, at the BL). The only other copy of the Brady edition we have been able to find in American institutions is housed at the Library of Congress.
Selected References
Jonathan Black, Making the American Body: The Remarkable Saga of the Men and Women Whose Feats, Feuds, and Passions Shaped Fitness History (University of Nebraska Press, 2013)
Harvey Green, The Light of the Home: An Intimate View of the Lives of Women in Victorian America (Pantheon, 1983)
Alice J. Hoffman, Indian Clubs (New York: Harry N. Abrams, 1996)
Recommend this product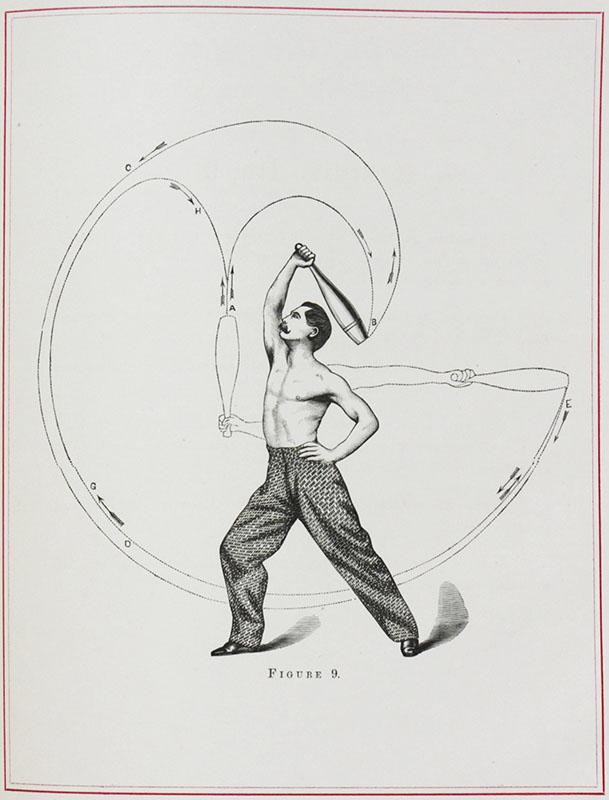 Indian Clubbing