Robert W. Chambers, The King in Yellow. First edition, inscribed by the author.
Chambers, Robert W.The King in Yellow. Chicago: F. Tennyson Neely, 1895. First Edition. First Issue. Pictorial cloth a little toned and soiled, short tear to lower spine tip. Edges rolled. Scratch to upper board. A very good copy overall. In a custom clamshell case.


Inscribed by the author.


     It is difficult to overestimate the influence of this collection of weird and macabre stories, which Everett F. Bleiler called "one of the most important works of American supernatural fiction." A key work of literary decadence, The King in Yellow drew inspiration from Ambrose Bierce, but Chambers created a mad all his own. The first four tales are connected by reference to a book that induces madness in those who read it -- a literary device that would be adopted by H. P. Lovecraft. Raymond Chandler paid homage to the work, as has Stephen King and Alan Moore; the HBO series True Detective alludes to it frequently.
     Seldom encountered signed, this copy bears a fine bibliographic inscription by the author: "This is the genuine / first issue, first / edition of The / King in Yellow. / Robert W. Chambers / Oct 28th 1918." Published in multiple states in the initial year of publication, the book is bibliographically rather complicated. This copy has all the points identifying it as the first issue -- as the author's inscription confirms!
     A remarkable copy of a very important book.


References: Bleiler, Supernatural Fiction Writers, p. 739; Barron, Horror Literature, p.97; Jones and Newman, 100 Best Horror Books, pp. 65-67; Sullivan, Penguin Encyclopedia of Horror and the Supernatural, p. 74; Clute & Grant, Encyclopedia of Fantasy, p.177.


Offered in partnership with Hyraxia Books.
Recommend this product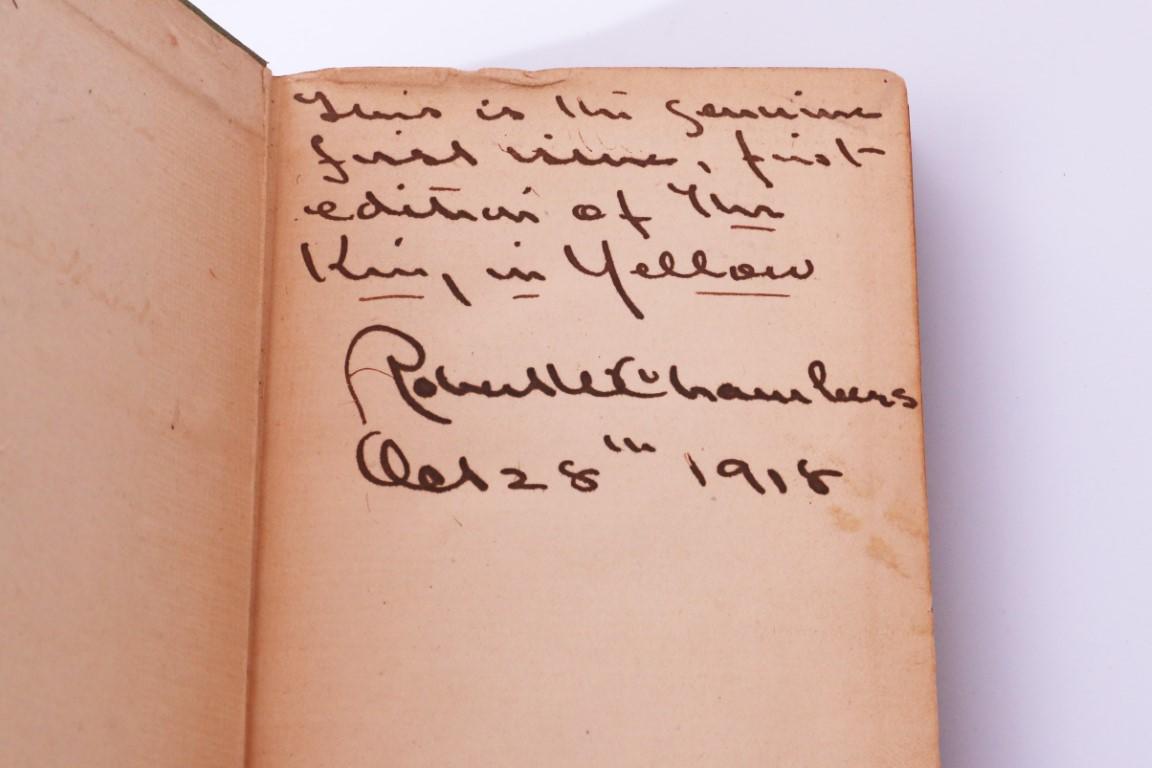 Robert W. Chambers, The King in Yellow. First edition, inscribed by the author.