Richard Allen: the modest power of an pioneering African-American leader
Allen, Richard (1760-1831). Holograph document, signed. Philadelphia, 26 October 1799. 4 3/4 x 8 1/4 in. (121 x 212 mm). Scattered spotting, light to moderate horizontal center crease. Framed with a modern bust portrait of Allen.
     An incidental but highly suggestive document from the life of Richard Allen, whom historian Richard Newman has argued should be recognized as being numbered among "the broader pantheon of American founders" (Newman, 14). As far as documents go, it would be hard to imagine anything more modest -- this is a receipt for sweeping the chimneys at

the Pennsylvania Hospital. But further examination reveals layers of social significance and power hidden beneath the surface.



     Born into slavery, Allen taught himself to read and write. Performing extra work for pay, he was able to buy his freedom in 1780. Inspired by circuit-riding ministers, Allen joined the Methodists in 1777, and was qualified as a preacher in 1784. Repudiating their second-class status at St. George's Methodist Episcopal Church, which segregated white and black congregants, Allen and his colleague Absalom Jones (1746-1818) formed the Free African Society in 1787. In 1794, this was reorganized as the Bethel African Methodist Episcopal Church, which after years of legal struggle gave rise to the AME Church, the first independent African-American denomination. In addition to his revolutionary religious leadership, Allen would serve the black community in other ways as well, though his efforts on behalf of the causes of abolition and African colonization.
     Allen's came to prominence as a mediator between Philadelphia's power elite and the black community through his leadership during the yellow fever epidemic of 1793. The epidemic hit the city of 50,000 residents in August 1793. By November, one out of ten Philadelphians had succumbed to the disease, and almost 20,000 people had fled the city. Benjamin Rush, a physician, abolitionist, and signer of the Declaration of Independence, established camps to tend to the sick. Believing that people of color were resistant to yellow fever as they were to malaria, Rush turned to the black community for help. Richard Allen and Absalom Jones stepped forward, "sensible that it was our duty to do all the good we could to our suffering fellow mortals" (Jones & Allen, 3). The work included heavy labor such as hauling away the dead as well as delicate operations, such as bleeding infected patients – the remedy recommended by the College of Physicians. Writing to his wife, Rush expressed gratitude to his "African brethren" who "furnish nurses to most of my patients." (Butterfield, 654) As Newman argues, Richard Allen's leadership during the yellow fever epidemic provided the foundations for his establishment of the AME Church and his political activities.

 
     Allen funded his religious and political activities through economic enterprises. His various businesses included laboring as a whitewasher, dry goods dealer and cobbler, as well as a master chimney sweep. As Newman notes:

 
Allen's chimney-sweeping business was particularly profitable. Ever known as a dangerous trade, chimney sweeps stuffed themselves into the narrowest possible fireplace chutes, danced on top of sharply slanted roofs, and spent their days face-to-face with ashes and soot. (Newman, 56)

 
Because the work was both necessary and dangerous, Newman continues, "Philadelphians had established a price index that paid chimney sweepers according to risk – the higher the chimney, the greater the wages" (Newman, 56). Chimney sweeping was also one of the few lucrative avenues of employment open to young men of color, for whom other positions of mastery in labor were closed off. Allen started his business in 1789, and hired apprentices to help him, offering employment opportunities "to black men and women transiting from slavery to freedom." (Newman, 57). The work also exposed him to powerful white leaders. In the winters of 1797 and 1798, the customers for Allen's chimney sweeping service included George Washington's presidential mansion at Sixth and Market. The present document, dated 

October 26, 1799, is a receipt in the amount of £1 12s. for work Allen performed sweeping the chimneys at the Pennsylvania Hospital.
     Commissions for labor at prestigious were signs not only of Allen's professional and managerial skill, but also of his social position.  Benjamin Rush and other staff at the Pennsylvania Hospital had striven alongside Allen on the front lines during the yellow fever epidemic several years earlier. Given that Allen was one of a number of chimneysweeps operating in Philadelphia, including (presumably) members of the trade who were white,

one must recognize this work also as a form of payback or tribute. George Washington and Benjamin Rush gave their custom to Allen as a way of honoring his leadership in the community. In similar token, Allen's proximity to the white leaders he served allowed him to press the political causes that he championed. Indeed, Allen's 

biographer speculates that Allen's direct interaction with the president, which would have occurred only in the context of chimneysweeping, 

may have influenced Washington's increasingly abolitionist sentiments (Newman, 127, 140-42).

 
     Manuscript material by Richard Allen is very rare. His business activities are known from Washington's account books, from newspaper advertisements, and from reports of the Pennsylvania Abolition Society, but we have not located other receipts akin to this example. This document is a wonderful survival documenting a subtle and important relationship between one of America's founders and the communities he served.

 
Works Cited
Butterfield, Lyman Henry, ed., 

Letters of Benjamin Rush, Volume II: 1793-1813

 (Princeton, 1951)

Jones, Absalom and Richard Allen,

 A Narrative of the Proceedings of the Black People During the Late Awful Calamity in Philadelphia…

 (Philadelphia, 1794).

Newman, Richard, 

Freedom's Prophet: Bishop Richard Allen, the AME Church, and the Black Founding Fathers 

(New York, 2008).
Offered in partnership with Auger Down Books. 
Recommend this product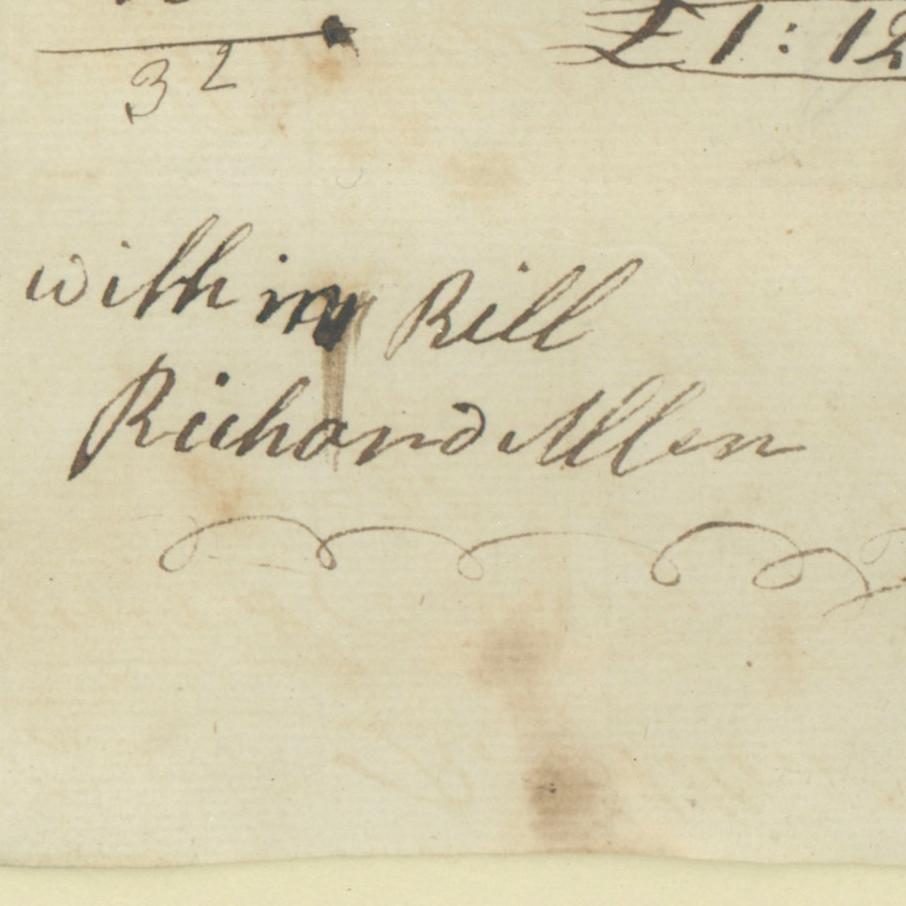 Richard Allen: the modest power of an pioneering African-American leader