A die-cut advertisement for Josephine Baker's Paris Mes Amours (1959)
[Baker, Joséphine (1906-1975)] Paris Mes Amours. Paris: L'Olympia / RCA Records, 1959. Die-cut counter advertisement, irregularly shaped: about 48.5 x 37 cm at its widest points. Coated paper on stiff cardboard, folded stand at rear intact. A worn but still attractive example.


     Baker's 1959 review at the Olympia was a perfomance with a mission, Having recently adopted a tenth child for her "rainbow tribe," a South American baby named Mara, she needed to raise money to provide for their education. The new revue included some of her classic numbers (the title referenced her classic song, J'ai deux Amours). But there was a great deal of new material as well, including a gypsy number called "Donnez-moi la main," and a risqué calypso song, "Don't touch my tomatoes." It was during this show that Baker debuted "Avec," which would remain a key song in her repertoire for the remainder of her career.
     Not only was Baker at the top of her form in Paris Mes Amours but, as her biographer reports, she outpaced the younger performers: 
Joséphine wore the company out during rehearsals, going on until the early hours of the morning. Eventually so many dancers reported late through fatigue, that [producer] Bruno Coquatrix gave the whole company two days paid leave to recover.
Writing for the New Yorker, Janet Flanner praised Baker in fulsome terms:
She is 53 years old and slightly heavier, but still, when clad from head to foot in black tights, as wonderfully shapely as an ebony statuette, and her voice is better trained, being richer and truer than ever before.
Soon after the show closed at the end of the year, Baker adopted her eleventh child.
     Other relics of this show occasionally surface -- programs, posters, and of course the record on French RCA. But we have never before encountered another example of this striking die-cut.
---
Recommend this product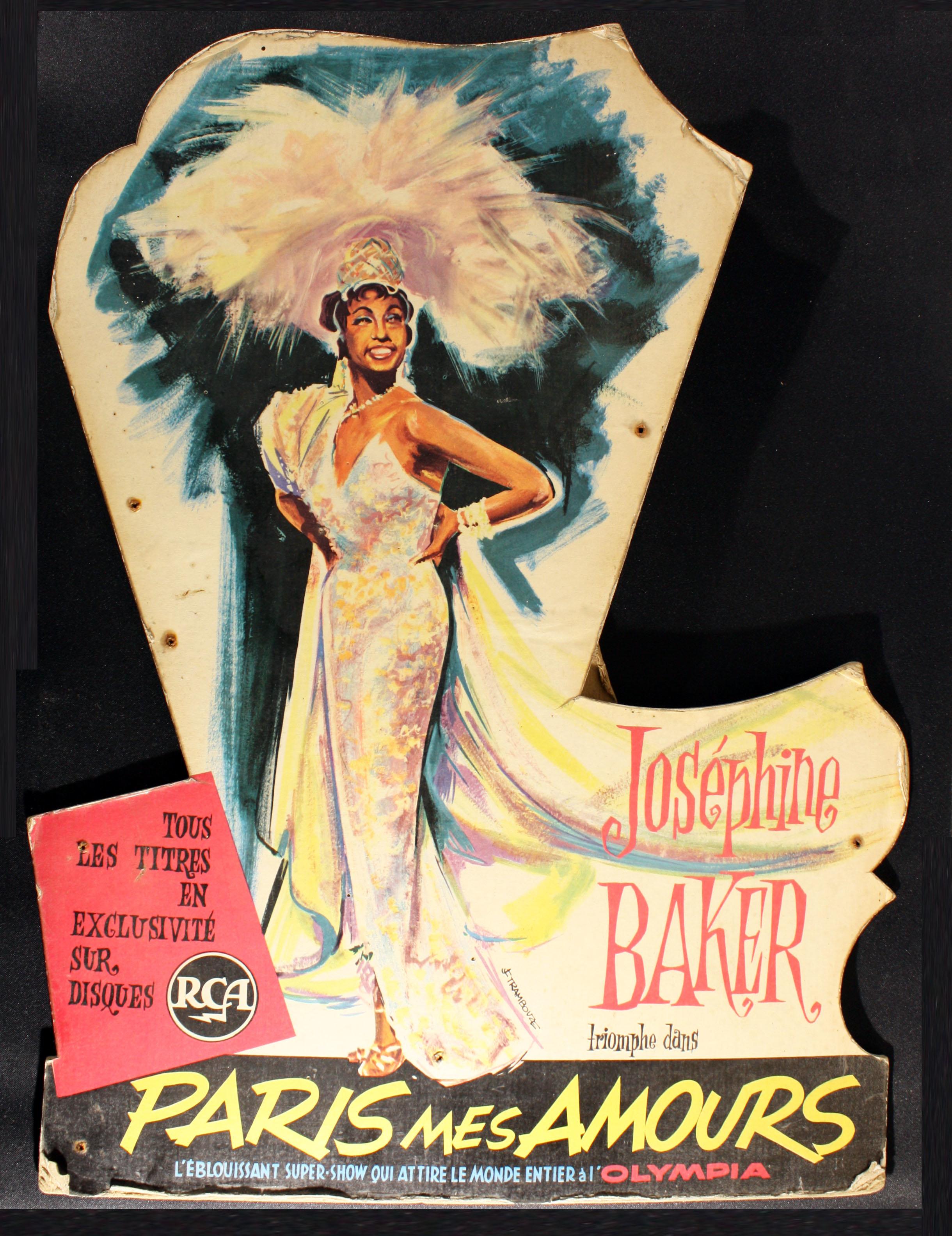 A die-cut advertisement for Josephine Baker's Paris Mes Amours (1959)