Signed typescript for a coded play by Lynn Riggs, queer Cherokee nationalist
Riggs, [Rolla] Lynn (1899-1954). A World Elsewhere, carbon typescript, circa 1943-1947. The author has written his name, address (1 Christopher Street, N.Y.C.), and phone number written in pencil on first leaf. Bound in a printed folder from Samuel French, in very good condition.
     Best revered for his play, Green Grow the Lilacs, adopted by Rogers and Hammerstein as Oklahoma!, Riggs has been called "our foremost Native American playwright." Born on Indian Territory to Cherokee parents in the Verdigris Valley, Riggs drew on his years living in Mexico in the 1930s for A World Elsewhere.
      The play is set in the revolutionary context of agrarian cardenismo, a reform program of the 1930s that involved redistributing land from hacendados to indigenous communities. It focuses on a white family vacationing in Mexico held captive by a counterrevolutionary junta led by the charismatic hacendero General Gonzalo Fernandez Aguirre. While the broken English spoken by the working class Mexican characters is painful for contemporary ears, the principle character, General Aguirre, is eloquent and urbane: a handsome, sophisticated and gracious figure whose both menaces and seduces the Americans in his care: the sexual frisson of his pas-de-deux with the central female character, a married women named Claire, provides much of the emotional fuel for the play.
      A World Elsewhere may be read as a melodrama of social upheaval, but literary historians have argued that the play has hidden depths. James H. Cox focuses on the anticolonial themes of the work. "Placed within the context of his entire career and read through the perspective of early twentieth-century Cherokee history in Indian Territory and Oklahoma," A World Elsewhere presents Mexico "as a place where indigenous people could more forcefully assert themselves." The play, he notes, offers "a devastating critique of colonialism and an unequivocal assertion about the feasibility of decolonization." (Cox, 15, 87).
     On a more personal level, the urbane, handsome and seductive General Aguirre was likely based on the Mexican playwright Enrique Gasque-Molina, who was Riggs's lover between 1937 and 1941. Cleverly, Craig S. Womak suggests that Riggs was a Cherokee code talker, revealing his sexual identity through dramatic representations that could be understood only those who had sympathetic experience.
     Riggs wrote the play between 1936 and 1937. A one-act version was published in The Best One-Act Plays of 1939, edited by Margaret Mayorga. This typecript is an expanded two-act version. It dates from sometime between 1943, when he moved to Christopher Street, and 1947, when A World Elsewhere was published in Four Plays (Samuel French, 1947).
Sources
Braunlich, Phyllis Cole. Haunted by Home: The Life and Letters of Lynn Riggs (University of Oklahoma Press, 1988)

Cox, James H. The Red Land to the South: American Indian Writers and Indigenous Mexico (University of Minnesota Press, 2012)

Erhard, Thomas A., "(Rolla) Lynn Riggs," in Andrew Wiget, Handbook of Native American Literature (Routledge, 2012)

Michael, Jason James Edward. Lynn Riggs: Forgotten Genius, MFA thesis, Virginia Commonwealth University, 2014.

Womack, Craig S. Red on Red: Native American Literary Separatism (University of Minnesota Press, 1999)
Recommend this product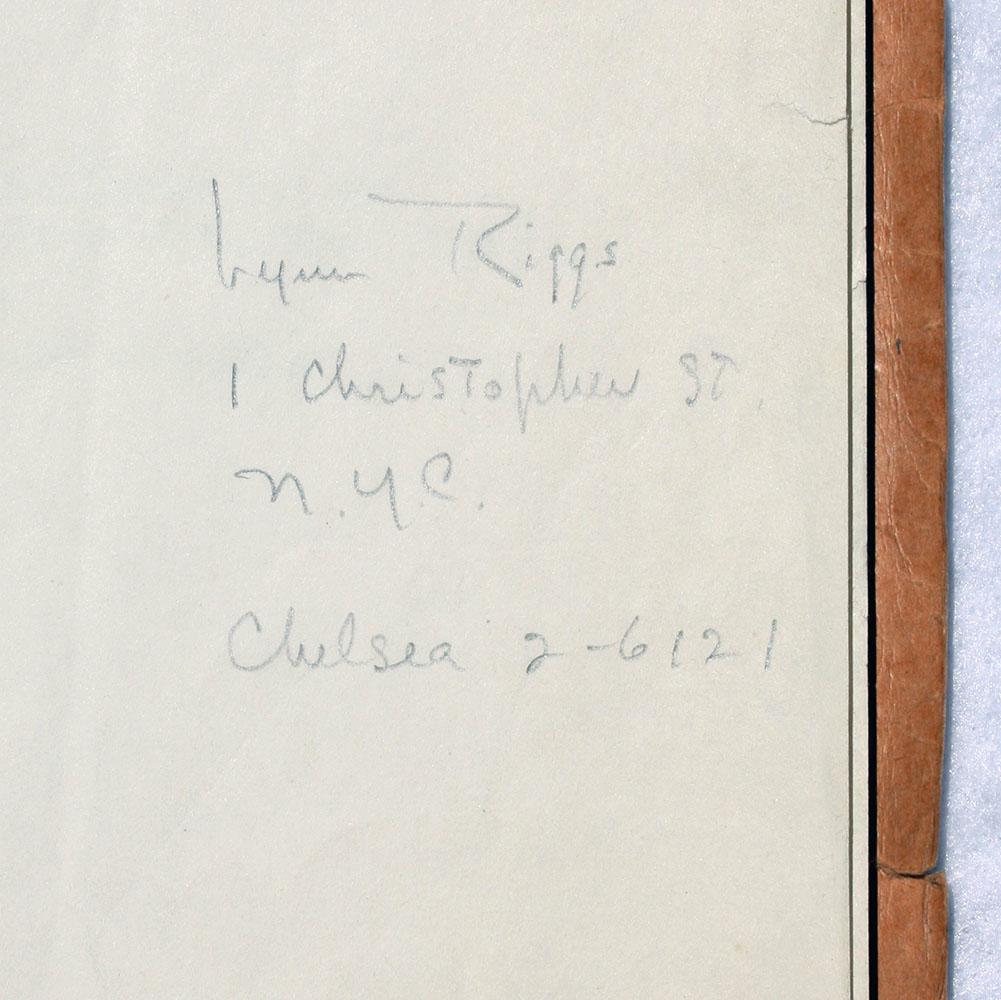 Signed typescript for a coded play by Lynn Riggs, queer Cherokee nationalist