Lerner and Loewe among the Lambs
Loewe, Frederick and Alan Jay Lerner.Herman Levin Presents a Musical Play … My Fair Lady … Vocal Score (edited by by Franz Allers). [New York: Chappell, 1956]. First edition. 256 p.; 31 cm. Very good sans dustjacket as issued. [With] An original poster for a celebration in honor of Lerner and Loewe at the Lambs Club, February 23, 1958. Illustration by Russell H. Patterson. 17 x 22". [With] An original seating schedule for the Lambs Club dinner, four pages, stapled, 8½ x 11 pages.
     Inscribed by Lerner and Loewe, and additionally by George Feinberg, to Murray M. Wax. Opening at the Mark Helinger Theatre on 15 March 1956, My Fair Lady ran for six years, breaking box office records before finally closing on September 30, 1962. Widely considered Lerner and Loewe's greatest achievement and a triumph of American musical theater, the work was immediately hailed as "one of the best musicals of the century," in Brooke Atkinson's oft-quoted estimation. This volume is the first printing of the score arranged for piano, with some instrumental cues from the script. Vocal scores such as this were issued in very limited numbers, and distributed only to people associated with the production. The book was signed when the musical was at the height of its success, and 1958 was a great year for Lerner and Loewe. The London production of My Fair Lady was slated to open on April 30.  Gigi was at the final stages of editing and set to premiere at New York's Royale Theater on May 15. But these honors paled before the most prestigious of all of Lerner and Loewe's achievements during this annus mirabilis: they were being feted with a testimonial dinner at the Lambs Club.
     The Lambs was the first professional theater club in America, founded in 1874, and numbered among its roster all of the leading figures of the industry. Russell Patterson, who designed the poster for this gathering, and many classic sets and costumes besides, had been a member since 1929. "Fritz" Loewe entered the flock in 1933. Lerner joined in 1940, back when he was churning out comedy material for radio, and soon Moss Hart had him writing lyrics for the Gambols, the club's annual show. In 1942, when his friends left for the War (his poor eyesight rendered him unfit for service), Lerner took up residence at the club. And it was there that he met his collaborator.
     There are many versions of the fateful encounter, but Lerner tells it best. According to his story, Loewe had gotten lost on the way to the men's room when he stopped at Lerner's table.
"You're Lerner, aren't you?" he asked.
I could not deny it.
"You write lyrics, don't you?" he continued.
"I try," I replied.
"Well," he said, "would you like to write with me?"
I immediately said, "Yes." And we went to work.
     The social milieu that brought Lerner and Loewe together is revealed by the dinner seating schedule included with this copy. A fascinating relic in itself, the schedule offers some insight into the internal organization of the Lambs. Seated on the dais with the guests of honor were Mickey Alpert, Belan Amperan, General Robert Booth, Victor Borge, Maurice Chevalier, Douglas Fairbanks, William Gaxton, Walter Greaza, Harry Hershfield, Celeste Holm, Sally Ann Howe, Bert Lahr, Loring Smith, Peter Ustinov, and Fred Waring. Kirk Douglas and his wife were at Table B with George Axelrod, Edward Chodorov, Goddard Lieberson, and Irene Selznick. Sir Laurence Olivier held court at Table F surrounded by the young guests of Sally Anne Howe and Belan Amperan. Mr. and Mrs. Ed Sullivan had table N to themselves.
     George Feinberg, who added his inscription to that of Lerner and Loewe, was a prominent member of the Lambs Club, having joined in 1939. As director of Dazian's, Feinberg was the major supplier of costumes, drapery and other theatrical fabrics, including the backdrops for My Fair Lady. Highly active in civic circles, Feinberg's philanthropy included the endowment of the theater collection of the Museum of the City of New York. Murray Wax, the beneficiary of Feinberg's largesse, worked in set design in New York before devoting himself fully to the fine arts.  We assume that he was Feinberg's guest for the evening and almost certainly had a backstage hand in the production.
     Dare we say that with the choice inscriptions and the extra materials, this copy is just loverly?
Sources
William A. Everett and Paul R. Laird, The Cambridge Companion to the Musical, 2nd ed. (Cambridge, 2008)
Gene Lees, The Musical Worlds of Lerner and Loewe (Nebraska, 1990)
Alan Jay Lerner, The Street Where I Live (Norton, 1980)
Dominic McHugh, Loverly: The Life and Times of My Fair Lady (Oxford, 2012)
"Museum Will Open Theater Library," New York Times, February 23, 1964.
Recommend this product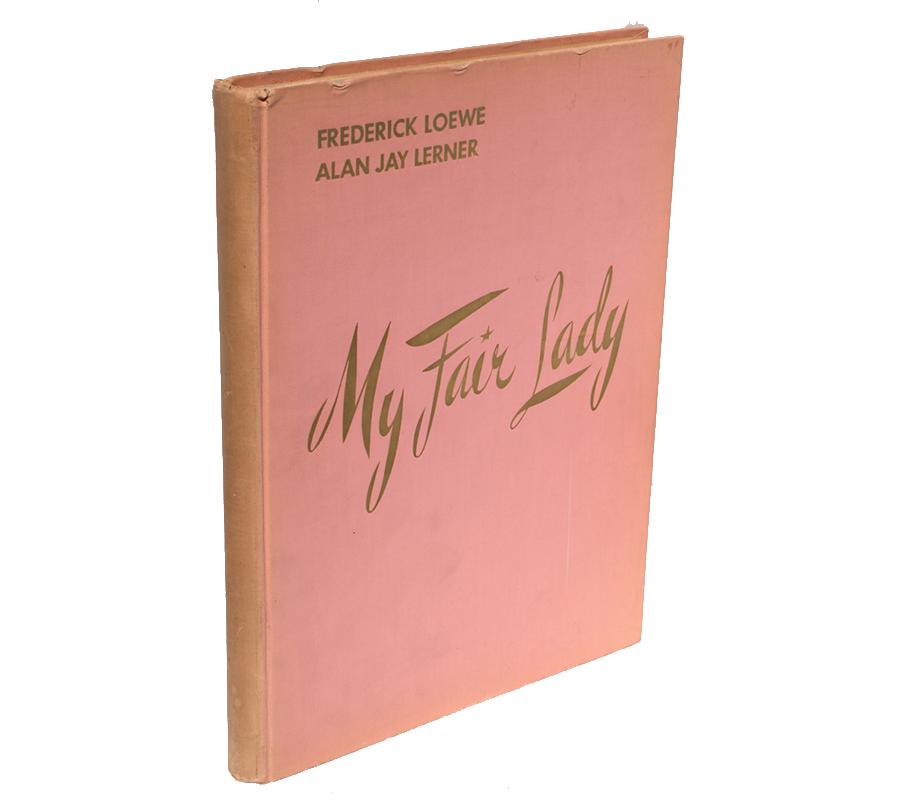 Lerner and Loewe among the Lambs